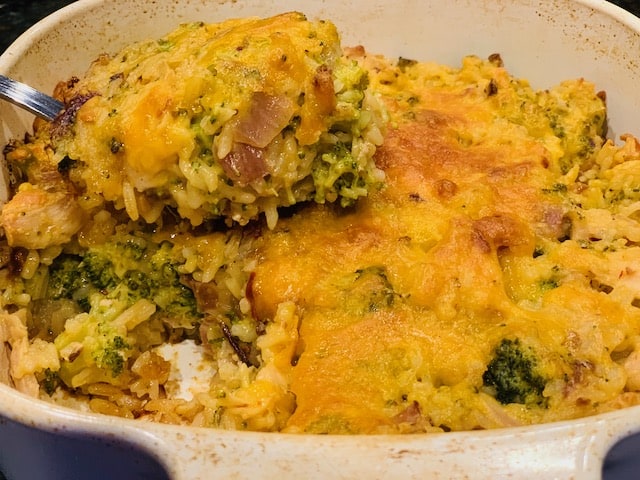 While i am in no hurry for chilly weather and Minnesota's unending winter; I do love a good casserole. Warm, cozy, hardy and often a complete meal in one dish. Casseroles are a perfect choice for a cold night.
Chipotle chicken broccoli rice casserole certainly checks all the boxes. Chicken and rice is a classic combination generally complemented by a creamy, cheesy sauce. Now add some chipotle pepper for smoky heat. Then add broccoli for more flavor, color and the all-important green veggie. A delicious, complete one-dish meal.
Chipotle pepper basics:
Chipotle peppers in adobo sauce: These canned peppers are found in the Hispanic section in the International isle of the grocery store. Chipotle peppers are jalapeño peppers that have been dried, smoked and packed in a tomato spice mixture called adobo sauce.
A small can yields about 6-8 peppers surrounded with the smoky flavorful sauce. The leftovers can be stored in the refrigerator in an air-proof container for about a week, or as I prefer, frozen. I transfer the peppers and the sauce from the can to a Ziplock bag after giving the peppers a rough chop. Once transferred to the Ziplock bag press flat to easily remove sections for later use. Typically I use 1-2 tablespoons of the mixture per recipe so a can lasts several months.
We love the smoky flavor of chipotle. This skillet Chipotle chicken and rice also highlights their terrific flavor.
Chipotle peppers do bring the heat. If you are sensitive to spicy add with care. Also as with any spicy pepper wear gloves or wash your hand thoroughly after handling. If you have ever taken out contact lenses with trace of spicy pepper on your hand you know what I mean. Ouch!
Broccoli & cheddar cheese:
Another classic combination made even better combined with chicken, rice and spicy chipotle. The broccoli should be steamed until slightly tender but still crisp as it will continue to cook in the casserole. The cheddar cheese is part of the rich, creamy, smoky and slightly spicy sauce that brings the casserole together.
Instructions:
Like most casseroles this dish is very easy to prepare. The rice is cooked and the broccoli is steamed. After the onions are cooked add garlic and chipotle peppers then sprinkle with flour. Stir the flour into the onion mixture until combined. Slowly add milk and half & half, stirring constantly until smooth. Once mixture starts to thicken add cheddar cheese and stir until melted.
Add chicken, rice and broccoli to the sauce and stir until well combined. Transfer to casserole dish.
This recipe serves about 4 people. Husband gets a nice amount of leftovers for lunch the next day.
Enjoy this delicious casserole!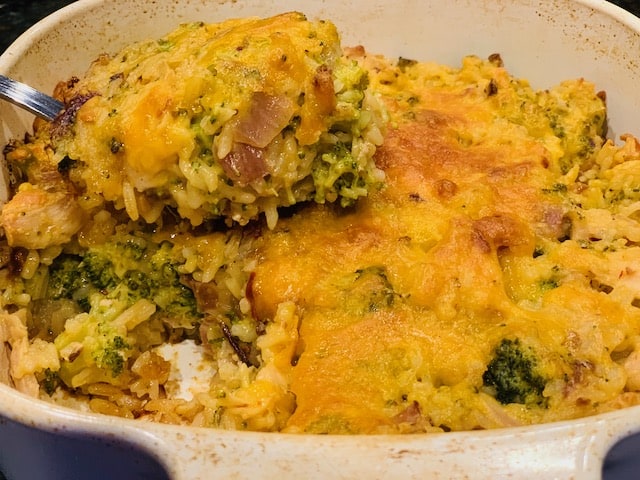 Chipotle Chicken Broccoli Rice Casserole
Ingredients
1

cup

uncooked rice

2-3

cups

fresh broccoli

steamed until crisp tender

1

Tbsp

butter

1½

Tbsp

all-purpose flour

1

small

onion

diced

½

cup

half & half

½

cup

milk

1

clove

garlic

minced

1½

Tbsp

chipotles in adobo sauce

minced

Salt and pepper

to taste

6

oz

cheddar cheese

shredded

1

cup

cooked shredded chicken
Instructions
Preheat oven to 400 degrees.

Cook or steam rice until tender. Set aside.

Steam broccoli until crisp tender; about 10 minutes. Chop into bite sized pieces and set aside.

In a large pot over medium heat, melt the butter. Add onion to butter and cook until onions becoming translucent; about 5 minutes. Add garlic and minced chipotle peppers; cook and stir for one minute. Add salt and pepper.

Sprinkle the flour over the mixture and stir until everything is combined. Slowly add the milk and half & half; stir until mixture is smooth. Let the sauce simmer, reducing the heat if necessary, about 5 minutes, until thickened and bubbling.

Slowly add the cheddar cheese, stirring until cheese is completely incorporated and mixture is smooth.

Add broccoli, rice, and chicken to the pot and mix well.

Transfer mixture to a casserole dish and bake 30-35 minutes, until the top is nicely browned.