Cajun rice takes plain, white rice to a whole new level!
We eat a lot of rice around here. It is so versatile, from burrito bowls and casseroles to jambalaya. Plain white rice is a perfect base for a stir fry, but cajun rice is plenty flavorful enough all on its own.
I bought a container of cajun seasonings years ago, the first time I tried jambalaya. Hubby loved it. We both enjoy bold, spicy flavors, and I have been adding this seasoning mix to recipes ever since.
Ingredients
White Rice: We always have a big bag of long-grain white rice around. I have never tried this recipe with brown rice, even though I love it. But I bet it would be delicious if that is your preference.
Cajun Seasoning: Spicy and smoky, this flavorful seasoning gives the rice a great cajun flavor.
Lemon Juice: Adds brightness and acidity to the rice.
Olive Oil: Used to saute the garlic and bell pepper.
Garlic: Adds great flavor.
Ripe Bell Pepper: Bell peppers are a staple in cajun food.
Red Onion: I love the combination of red onions and bell peppers. White or yellow onions would also be fine.
Tomato: Fresh tomato adds a bit of moisture and a pleasing red color to the rice.
Green Onion: A sharp, fresh pop of flavor.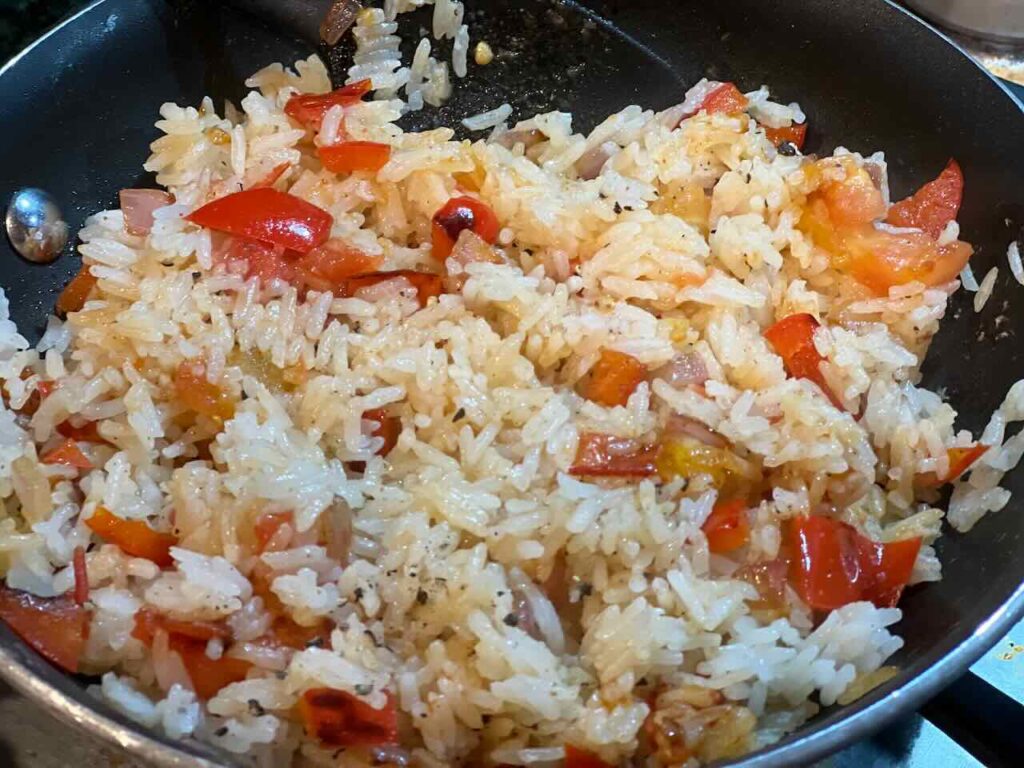 Instructions
Start by preparing the rice. At this point, I pull out my rice cooker and add the rice, cajun seasonings, and lemon juice. I started adding seasoning to rice while it cooks years ago, and I find it really helps the rice absorb the flavors. You could also add the seasoning and lemon juice to the rice right before you serve.
While the rice is cooking, add olive oil to a skillet. Sauté the peppers and onions until they start to soften, then add the garlic.
Add the chopped tomato. Cook until the tomato softens and releases its juices. The tomato doesn't need to completely cook down, in fact, I really like a few pieces of tomato in the rice.
Once the rice has cooked, add it to the skillet. Stir the tomato, onions, and peppers into the rice.
Plate the rice and sprinkle with sliced green onions.
Cajun rice has more than enough flavor to be a stand-alone side. You can also serve it as the base of these scrumptious creamy cajun chicken meatballs.
Cajun Rice
Ingredients
1

cup

uncooked white rice

1

tsp

Cajun seasoning

1

Tbsp

lemon juice

1

Tbsp

olive oil

½

cup

ripe bell pepper

diced

¼

cup

red onion

diced

1

clove

garlic

minced

1

medium

tomato

chopped

2

green

onions

sliced
Instructions
Add rice to a saucepan or steamer along with the cajun seasonings and lemon juice. Add water and cook until tender.

Heat oil in a medium non-stick pan over medium-high heat. Add the bell pepper and onion and sauté for about 5 minutes, or until peppers soften slightly. Add the garlic and sauté for one minute.

Add chopped tomato and stir; allow juice to cook down slightly.

Add in the rice, stirring constantly until the rice is warm.

Sprinkle with green onion and immediately.