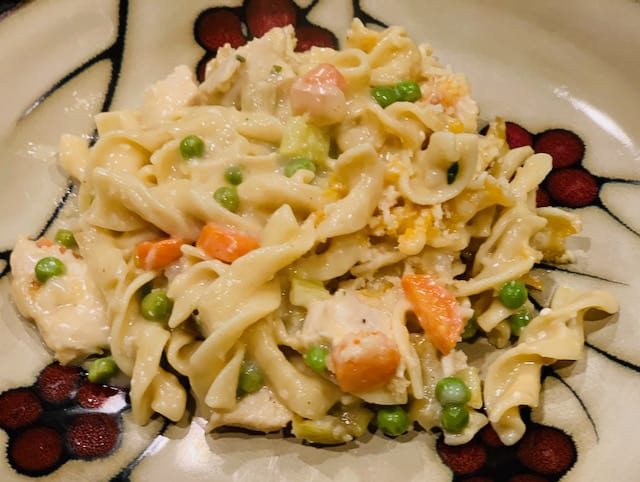 Tender chicken and creamy sauce baked with pasta, chicken noodle casserole is a hearty and satisfying dinner.
Growing up we had casserole or hotdish, as it is often called, at least once a week. Why not? It is easy, filling, and delicious. Plus who doesn't love an easy, one-dish dinner?
Ingredients:
Butter: The start of any creamy, dreamy recipe.
Onion, Celery, Carrots, Peas: The classic casserole vegetables add flavor, nutrition, color, and texture.
Flour: Used to thicken the sauce.
Rosemary & Thyme: My favorite herbs for chicken.
Chicken Broth: The base of the sauce and ramps up the chicken flavor.
Milk & Cream Cheese: The richness and creaminess of the sauce.
Cheddar Cheese: Adds some cheesy to the creamy.
Egg Noodles: The classic casserole noodle. I like the extra wide noodles, but any are fine.
Chicken: Chicken breasts or thighs. I really like using chicken thighs as they don't dry out as easily.
Topping: More cheese along with Panko bread crumbs to add more flavor and texture.
Instructions:
Boil water for the egg noodles. The noodles continue to cook a bit as the casserole is baked so boil the noodles for a minute or so less than package instructions.
Sauté the onions, celery, and carrots in butter until softened. The flour is then added and stirred until incorporated. The chicken broth and milk are then added. The sauce will start to get bubbly and thicken.
Add peas then the cream cheese and cheddar cheese. Stir until the cheese is completely incorporated.
Combine the chicken and noodles with the sauce and stir until completely combined.
Add the casserole mixture to a prepared casserole dish. Combine topping ingredients and sprinkle evenly over the casserole.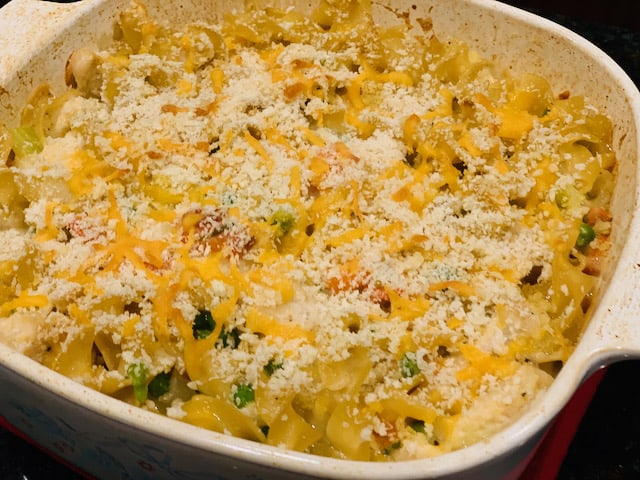 After about 30 minutes the casserole will be hot and bubbly. Allow to set a few minutes and then dig in!
If you are craving a warm and comforting meal, chicken noodle casserole will be your perfect meal.
If you love one-dish dinners like I do, try Chipotle chicken broccoli casserole.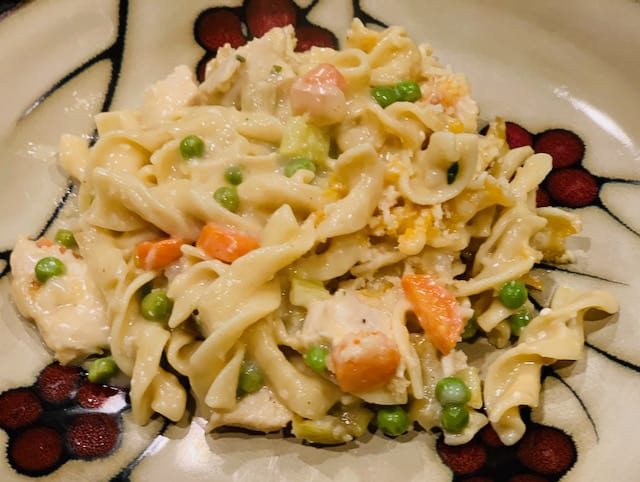 Chicken Noodle Casserole
Ingredients
Casserole
2

Tbsp

butter

½

small

onion

diced

½

cup

celery

diced

½

cup

carrots

sliced thinly

¼

cup

flour

1

tsp

rosemary

1

tsp

thyme

fresh ground pepper and salt to taste

1½

cups

low sodium chicken broth

½

cup

milk

¾

cup

frozen peas

no need to thaw

2

oz

cream cheese

½

cup

cheddar cheese

7

oz

egg noodles

I used extra wide

2

cups

cooked chicken
Topping
¼

cup

shredded cheddar cheese

¼

cup

Panko bread crumbs
Instructions
Melt butter in a large saucepan. Sauté onion, celery and carrot until softened, about 5 minutes.

Stir in flour, thyme, salt and pepper and cook an additional 2 minutes.

Add milk and broth. Cook over medium heat until bubbly and starting to thicken.

Remove from heat and stir in cream cheese & cheddar cheese until melted and smooth.

Cook noodles to al dente, about 1 minute less than directed on the package. Drain.

Combine chicken, noodles, and sauce. Pour into a greased or spray casserole dish. Combine topping ingredients and sprinkle over the entire casserole.

Bake 30-35 minutes or until heated through.