Roasted carrots with herb vinaigrette is an easy, healthy side dish to go with any main dish. The carrots are roasted until tender and delicious. The herb vinaigrette is sweet and tangy and compliments the flavors of the carrots beautifully.
Carrots are a great basic to keep in your vegetable drawer. They can be used to create tender muffins, warming soups, and comforting casseroles. Carrot cake is one of Hubby's favorite desserts. You can also dip them in hummus for one of my go-to snacks. Like most root veggies, carrots are very nutritious and stay fresh for weeks.
Ingredients
Olive Oil: Used to roast the carrots. Olive oil is also used in the vinaigrette to bind together the rest of the ingredients.
Carrots: Roasting brings out the natural sweetness of the carrots.
Red Wine & Balsamic Vinegar: The two kinds of vinegar add a nice depth of flavor. They are both sweet and tangy.
Brown Mustard: A touch of mustard adds a sharp, tangy element to the vinaigrette. Brown or dijon mustard are both good choices.
Thyme & Rosemary: These wonderful herbs go with everything. They are as delicious with vegetables as they are with chicken.
Salt & Pepper: Used to season and enhance the flavor of the carrots.
Instructions
Start by preheating the oven. Line a sheet pan with parchment paper for easy cleanup. Alternatively, you spray the pan with a light coat of cooking spray.
Start by peeling your carrots. Or, if you prefer, just give them a good scrub and leave the peel on. I have always peeled carrots, as I feel like they taste better that way.
Chop the carrots in half, then chop each piece into 2-3 pieces. The goal is similar-sized pieces when you are done, so it will depend on the size of your carrots. Spread the pieces onto the sheet pan. Give them a coating of olive oil and sprinkle with salt and pepper.
While the carrots are roasting, combine all the ingredients of the herb vinaigrette. Whisk together thoroughly and set aside until the carrots are done.
Pour the vinaigrette over the hot carrots. I usually just pour it directly onto the sheet pan with the carrots. You could also transfer the carrots to a serving bowl, then add the vinaigrette.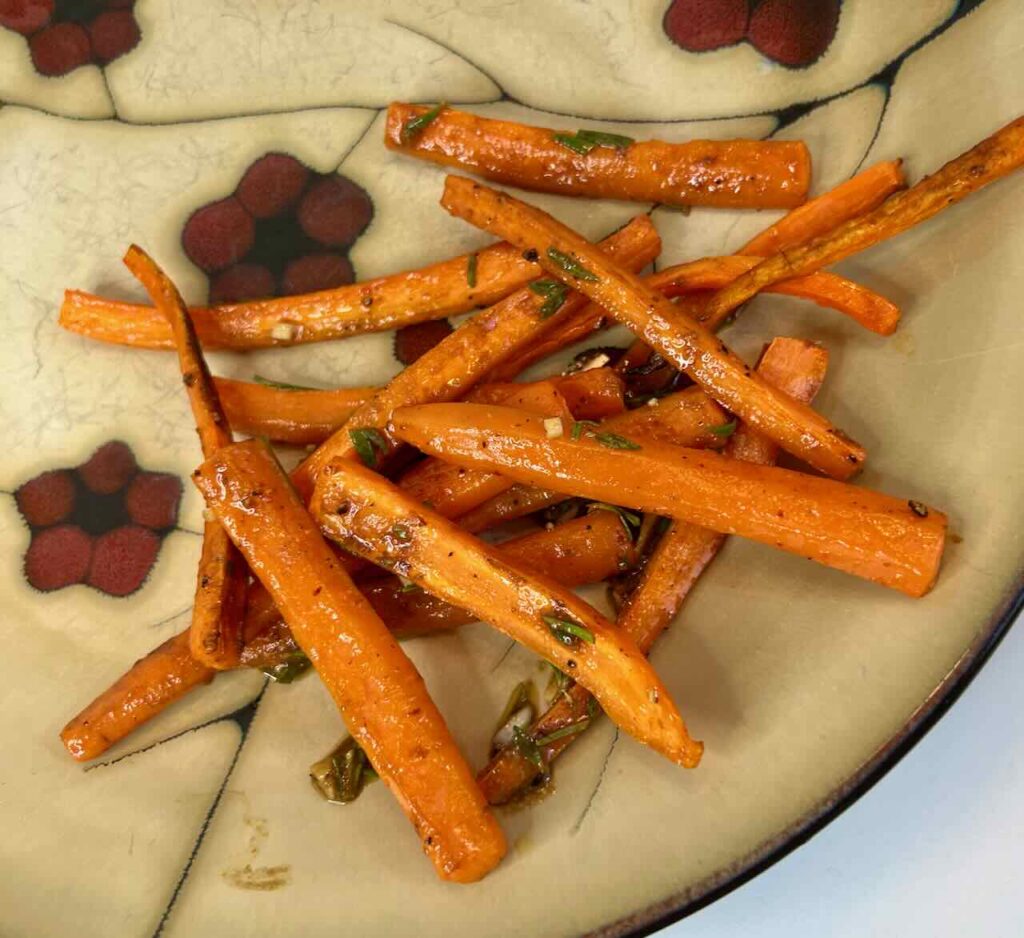 Serve these delicious roasted carrots with herb vinaigrette immediately and enjoy!
Roasted Carrots with Herb Vinaigrette
Ingredients
1

Tbsp

olive oil

divided

4

medium

carrots

trimmed & peeled

1

tsp

olive oil

1

tsp

red wine vinegar

1

tsp

balsamic vinegar

1

tsp

brown mustard

1

tsp

garlic

minced

1

tsp

Fresh thyme

minced

1

tsp

Fresh rosemary minced

Salt And Pepper

to taste
Instructions
Preheat the oven to 425℉

Peel carrots then cut in quarters, then in half. The carrots should be in 2 to 3-inch pieces. Spread them onto a sheet pan lined with parchment paper. Toss with 2 tsp olive oil and season with salt and pepper. Roast for 15 minutes, tossing them once or twice until the carrots are tender and brown along the edges.

Combine 1 tsp olive oil, vinegar, mustard, garlic, herbs, and salt and pepper in a small bowl or jar. Stir until thoroughly combined.

Pour over the vinaigrette over the carrots and serve.