Glazed carrots are quickly becoming a favorite quick, easy side dish at our house. The carrots cook in the pan along with the butter, brown sugar, and orange juice to become tender and delicious.
Carrots are a great staple to have available as they last a long time. I straight up forgot a bag of carrots in the bottom crisper drawer of the refrigerator for at least a month, and they were still crunchy and fresh.
I have tried lots of recipes for glazed carrots and this is not only the best but the easiest. They are made entirely on your cooktop, leaving room in the oven for the rest of the meal.
Ingredients
Carrots: Select carrots that are roughly the same size, so they cook at the same rate.
Butter: A little butter makes everything better. As well as adding incredible flavor, the butter will also allow the glaze to coat the carrots.
Brown Sugar: Adds sweetness and nice color to the carrots.
Water: The water allows the carrots to cook in the pan.
Orange Juice: Adds brightness and great flavor to the carrots.
Salt & Pepper: Enhances the flavor.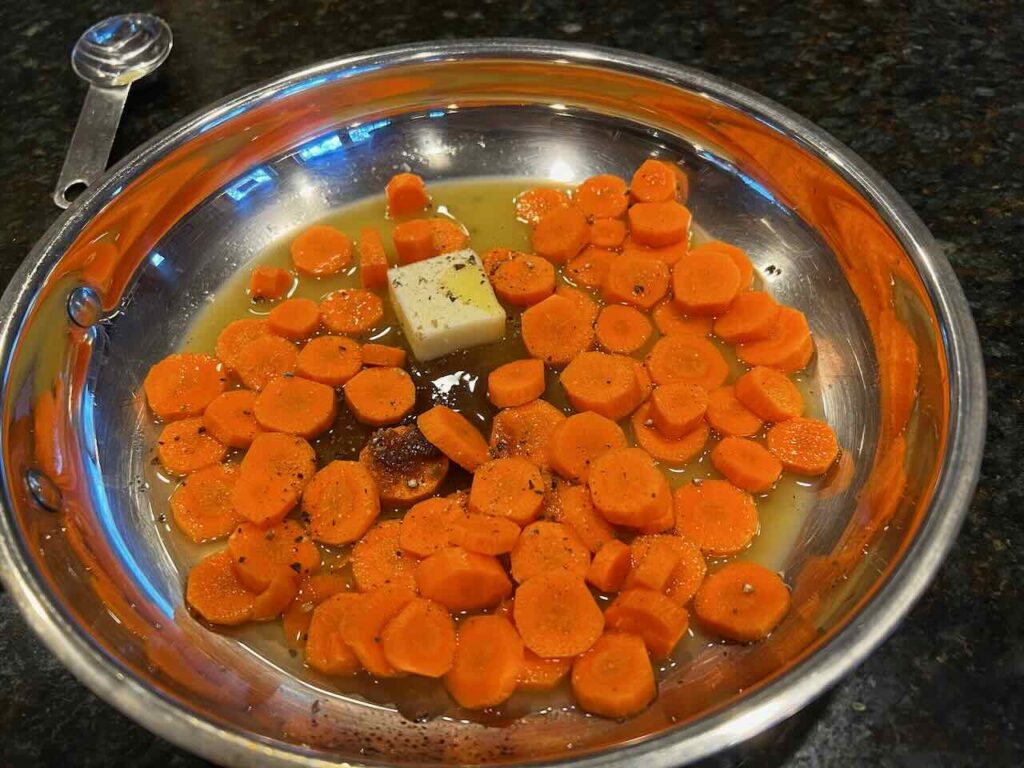 Instructions
Start by peeling and slicing your carrots. Slice them into discs that are fairly uniform in size, so the carrot pieces cook at the same rate.
At this point, you will combine the rest of the ingredients. Save yourself a bowl and don't bother to combine prior to adding to the pan. I literally had my skillet next to me on the counter and measured my butter, brown sugar, water, and orange juice straight in with the carrots.
Place the skillet on your cooktop over medium heat and allow the mixture to come to a boil. Stir a couple of times as the butter melts and the ingredients combine.
Allow the mixture to simmer until a glaze forms. The dish is done when the carrots are fork-tender and glazed with a bit of buttery goodness remaining in the bottom of the skillet.
We recently enjoyed glazed carrots along with roast chicken and green bean casserole for a delicious weekend dinner.
For another delicious side dish using carrots, try these roasted carrots with vinaigrette.
Glazed Carrots
Ingredients
3

medium-sized

carrots

peeled and sliced

1

Tbsp

butter

1

Tbsp

brown sugar

¼

cup

water

2

Tbsp

orange juice

¼

tsp

salt

½

tsp

freshly ground black pepper
Instructions
Add the carrots, butter, brown sugar, water, orange juice, salt, and pepper to a large, heavy skillet and bring to a heavy boil. Reduce the heat to medium and simmer as the liquids reduces and carrots become fork tender, 15-20 minutes. Stir occasionally as the mixture coats and carrots and creates a glaze.