Turkey sausage, mushroom, and potato gratin is a one-dish dinner that is perfect for a cold night.
March is still winter and that means we still have time for warm, comforting, fillings meals like this gratin. It is a wonderful weekend dinner. You could certainly make it any time, but it does take a little time. Fortunately, the preparation is all very easy.
My favorite part of the dish is the baby potatoes. They are crisp on the outside and creamy and tender on the inside. The melted Swiss cheese adds the perfect crowning touch. I don't care for Swiss cheese by itself, but it is marvelous when melted over the potatoes and turkey sausage.
Ingredients
Turkey Sausage: You can use either bulk sausage or raw sausage in the casing. If using the link variety remove the casing. I like hot turkey sausage.
Butter: Used to sauté the veggies.
Onion & Red Pepper: Add color and texture to the dish. I used red onion and red bell pepper, but any variety works.
Mushrooms: I love all mushrooms prepared in any way, but they are rarely better than when sauteed and baked in a flavorful dish like this. I used baby portabella mushrooms.
Baby Potatoes: They become utterly scrumptious when baked along with the sausage and topped with the cheese.
Salt & Pepper: Brings out the flavor.
Chicken Stock: The chicken stock creates a lovely sauce that helps everything bake up tender and luscious.
Swiss Cheese: The flavor of Swiss cheese is perfect with the sausage and potatoes.
Rosemary & Thyme: A few fresh herbs add a great pop of color and a burst of freshness. You could certainly use dried herbs instead.
Instructions
After preheating the oven, start frying the sausage in a large, deep skillet. You will eventually be adding all the ingredients to the skillet so grab a big one.
Once the sausage is browned, pull from the skillet and set aside while you sauté the vegetables. Drain any residual grease prior to melting the butter. I find the turkey sausage to be pretty lean with minimal residual grease.
Saute the onions and peppers, then add the mushrooms, followed by the potatoes. The onions and peppers will be softened, the mushrooms will have released their juices and be tender and the potatoes will be starting the brown a bit.
Add the turkey sausage back to the skillet and stir. Transfer the mixture to a baking dish. I typically use a ceramic casserole dish; glass is also fine. Sprinkle the shredded cheese over the top.
Bake covered for 30 minutes. Covering the gratin assures the potatoes will get tender. Uncover and continue baking for 15 minutes.
Once out of the oven, sprinkle with herbs and allow the gratin to sit for 5-10 minutes before serving.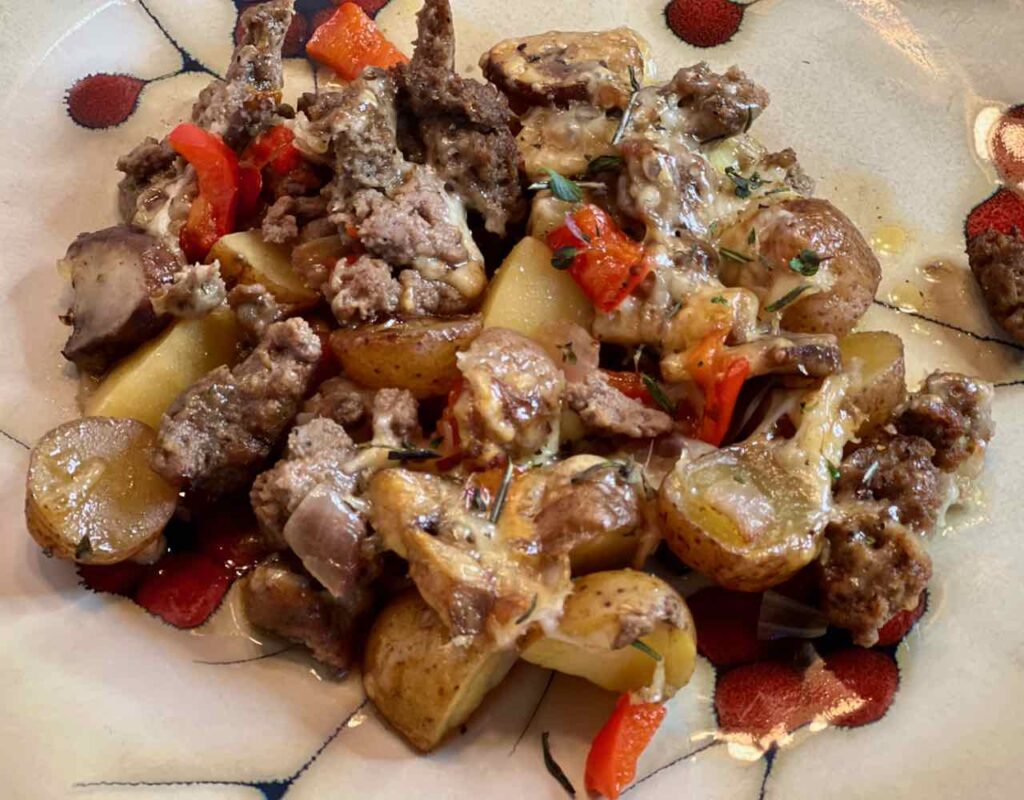 Turkey sausage, mushroom, and potato gratin will serve 2-3 people; although I must say we both go back for seconds when I make it.
For more comforting winter dinners, try chicken noodle casserole or chicken broccoli rice.
Turkey Sausage, Mushroom, and Potato Gratin
Ingredients
½

pound

turkey sausage

casings removed if using links

1

Tbsp

butter

1

cup

onion

chopped

1

cup

red pepper

chopped

2

cups

fresh mushrooms

sliced

1

pound

baby potatoes

coarsely chopped

½

tsp

salt

½

tsp

freshly ground black pepper

½

cup

low-sodium chicken stock

¾

cup

Swiss cheese

shredded

1

tsp

fresh thyme

chopped

1

tsp

fresh rosemary

chopped
Instructions
Heat a large skillet over medium heat. Add turkey sausage to pan, and sauté for 5 minutes or until browned, stirring to crumble. Remove sausage from pan and set aside. Drain any remaining grease from the sausage.

Melt butter in pan. Add onion and peppers; sauté 4 minutes, stirring occasionally.

Add mushrooms; sauté 6 minutes, stirring occasionally.

Add potatoes, salt, and pepper. Sauté 5 minutes or until potatoes are starting to get slightly brown, stirring occasionally.

Stir in cooked turkey sausage and chicken stock. Remove from heat. Spoon casserole mixture into a 1 quart baking dish coated with cooking spray and top mixture with shredded cheese.

Cover and bake for 30 minutes. Uncover and bake an additional 15 minutes or until golden. Sprinkle with thyme.

Allow the dish to sit for 5 minutes prior to serving.