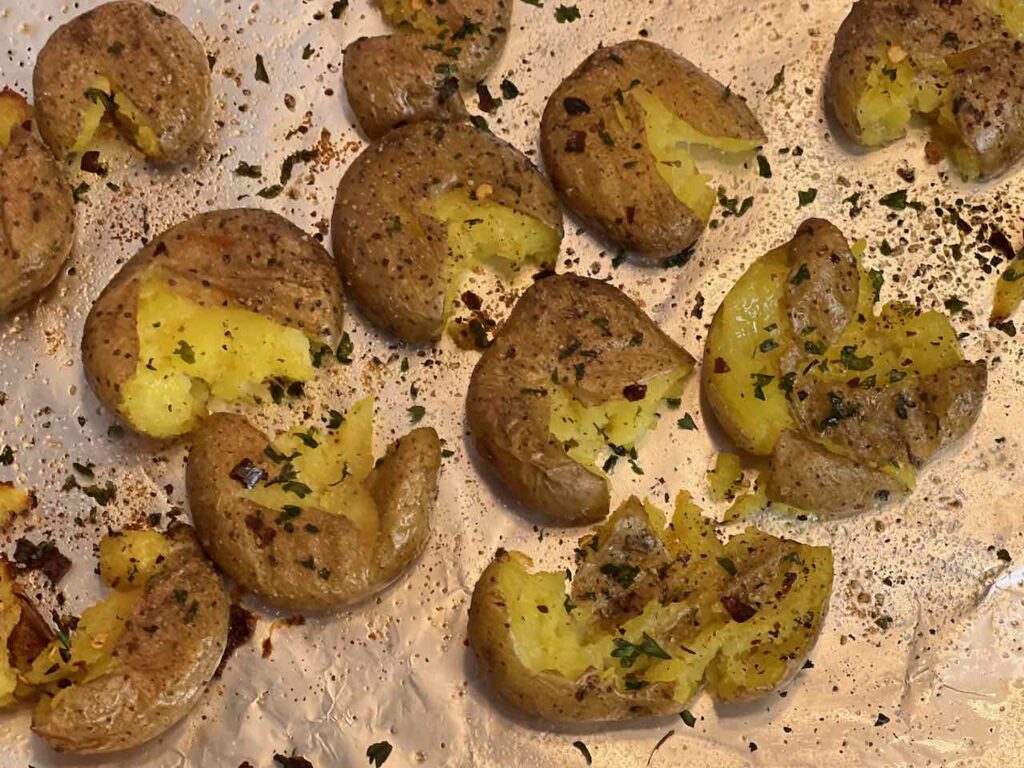 Smashed baby potatoes are a delicious side dish for any meal. The potatoes are crispy on the outside and tender on the inside.
I can never have too many potato recipes. We both love them and grew up eating them every day. While I no longer serve them on a daily basis, they are on my menu at least a couple of times a week.
These potatoes take a bit longer to make as there are a couple of steps, but they are definitely doable for a weeknight dinner.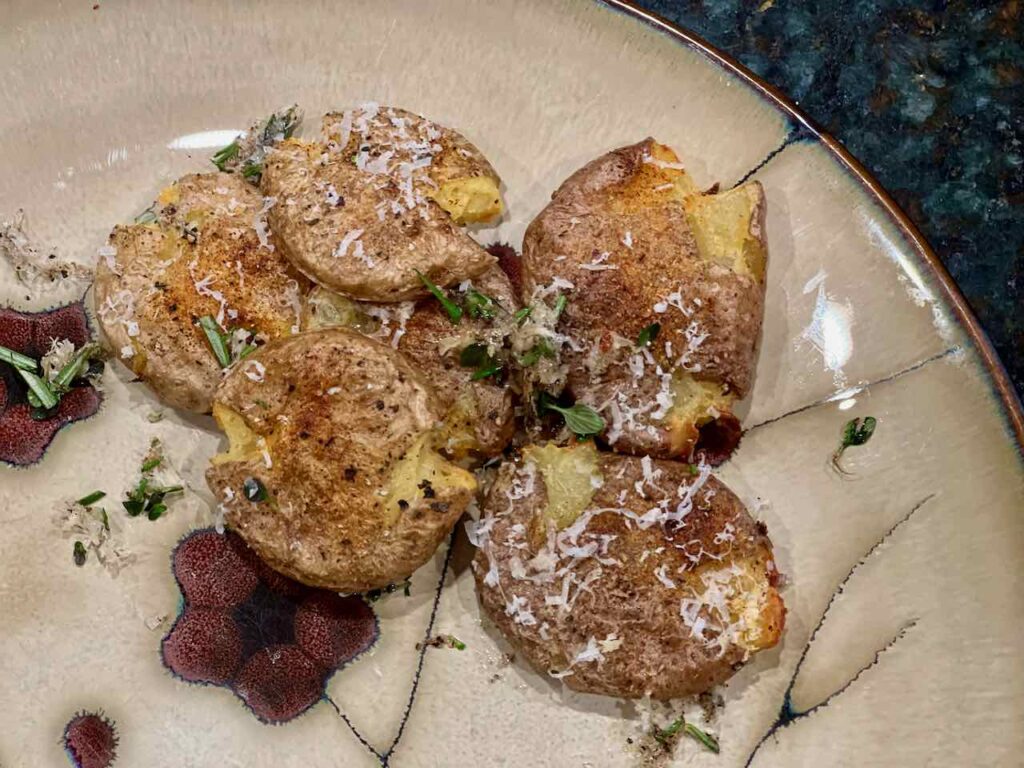 Ingredients
Baby Potatoes: I usually use red or yellow potatoes. We love The Little Potato Company. They are high quality and readily available in all our local grocery stores.
Butter: A little butter makes everything better, and these potatoes are no exception.
Garlic Powder: Garlic and potatoes go very well together. I like using garlic powder in this recipe, as minced garlic could scorch at a high temperature.
Paprika: Adds a bit of color.
Parsley: Adds more color and flavor.
Red Pepper Flakes: Red pepper flakes are an easy way to add a bit of heat. Can be omitted if desired.
Salt & Fresh Ground Black Pepper: Salt and pepper are essential for a potato dish.
Toppings: Parmesan Cheese & Fresh Herbs: I have made these with and without the additional topping, and both were awesome. Parmesan cheese adds great salty flavor and herbs add a pop of freshness.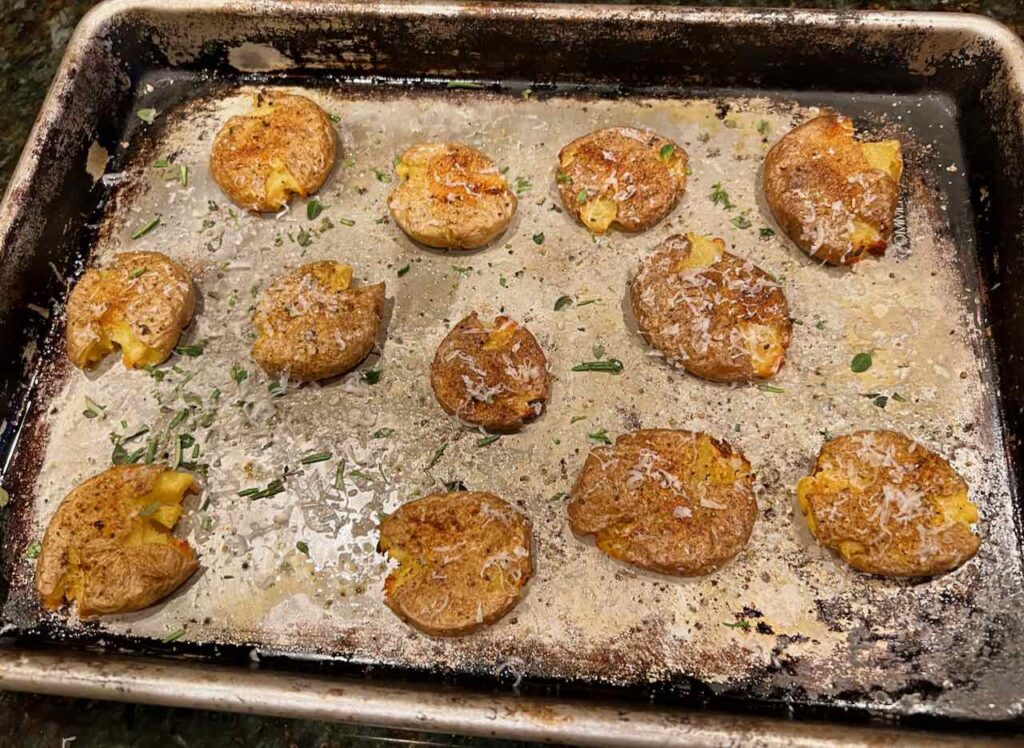 Instructions
First, prep your potatoes. I prepped the potatoes by steaming them on the stovetop for about 15 minutes in water until tender. The second time I made them, I tried microwaving the potatoes on high for 4-5 minutes until tender. Both worked very well, and I couldn't detect a difference in the finished product. An obvious advantage of the microwave is getting dinner ready sooner. This is a big advantage as far as I am concerned! But either method works well.
Once your potatoes are soft, it is time to smash some spuds! Prep a sheet pan with foil or cooking spray. I actually wouldn't use parchment paper for this recipe, as you want the shiny surface of either the foil or directly on the sheet pan for the potatoes to get crispy.
Spread out the potatoes on the sheet pan. Gently smash each potato. Brush each potato with melted butter. Sprinkle with the garlic powder, paprika, parsley, and red pepper flakes, then the salt and pepper.
Bake until crispy.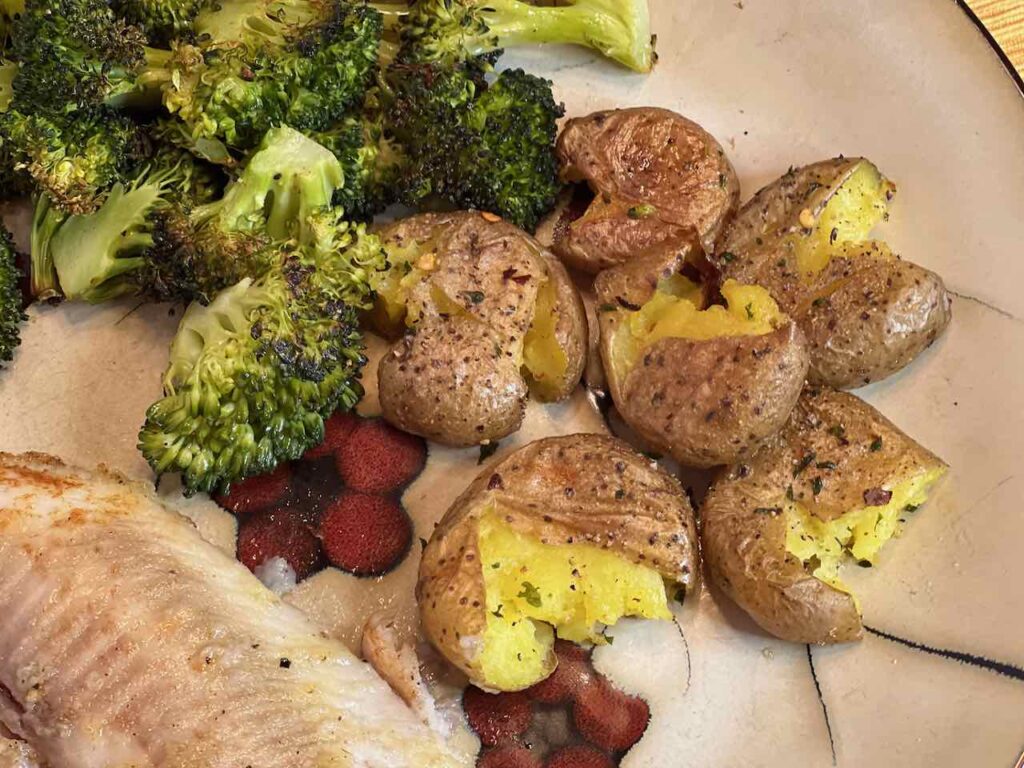 Sprinkle with freshly grated parmesan cheese and/or fresh herbs of your choice.
Serve hot and enjoy!
For another easy recipe using baby potatoes, try this sheet pan meal!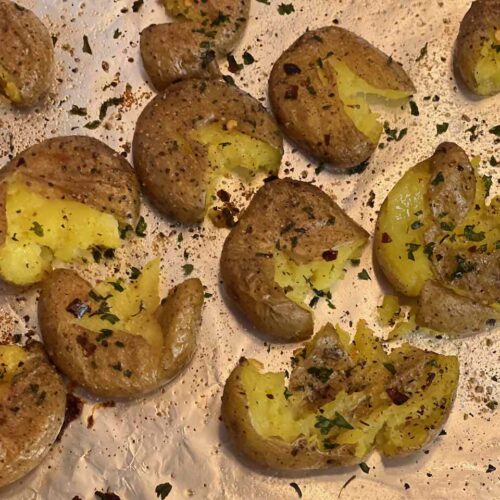 Smashed Baby Potatoes
Ingredients
10-14

baby

potatoes

scrubbed and rinsed

1

Tbsp

melted butter

½

tsp

garlic powder

½

tsp

paprika

1

tsp

dried parsley

½

tsp

red pepper flakes

optional

salt and freshly ground black pepper

to taste

optional: grated parmesan cheese and fresh herbs
Instructions
Prep the potatoes:
You will start by cooking the potatoes under tender. This can by boiling in water in a small saucepan for 10-15 minutes until tender when pierced with a fork. You could also microwave for about 4 minutes after piercing each potato with a knife. I have used both methods, and I was happy with the final results either way

Preheat the oven to 400℉. Prep the baking sheet by covering with foil and a light coating of cooking spray. Alternatively, you could simply spray the sheet pan.
Smash the potatoes:
Transfer the potatoes to the baking sheet. Then use either the bottom of a glass, a fork or a potato masher to gently "smash" each potato down. Brush or drizzle the potatoes evenly with the melted butter. Sprinkle evenly with the garlic powder, paprika, parsley and red pepper flakes. Then sprinkle with salt and pepper to taste.

Bake. Bake for 20-25 minutes, or until the potatoes are crispy and golden around the edges. Remove pan from the oven and serve hot. Sprinkle with grated parmesan cheese and fresh herbs, if desired.