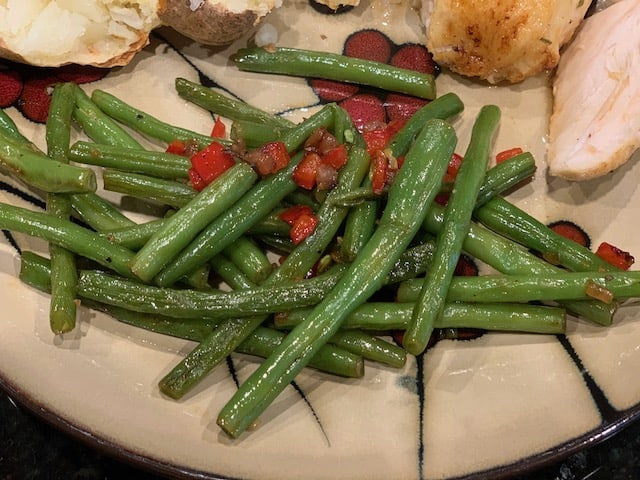 Tender, caramelized green beans flavored with onions and red peppers; a simple, easy and very delicious side dish.
When I plan our weekly menu I strive to serve a green vegetable with nearly every meal. Broccoli is our favorite but green beans are a close second. They are economical and I can find quality fresh green beans year round.
Stir fry and oven roasted are two delicious ways to enjoy green beans; but I am especially fond of this recipe.
Onions and red peppers seem to start an awful lot of my savory recipes; but for good reason! Both add a great base of flavor and texture. Just a teaspoon of butter adds so much richness to this dish. A healthy dish that tastes decadent; we can all love that!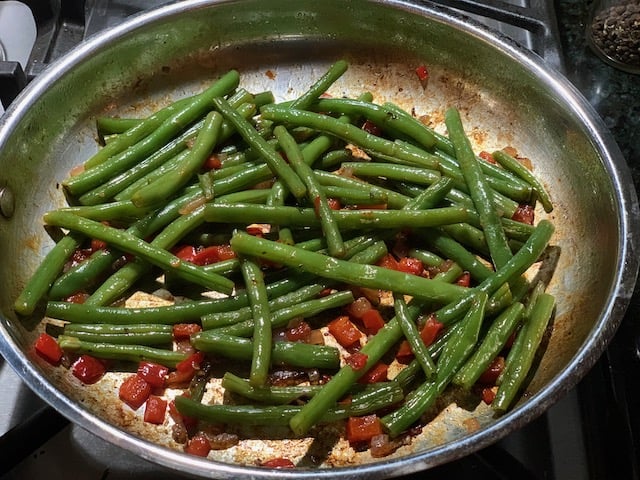 It is important to watch the beans closely as the broth starts to evaporate down. The goal is allowing them to caramelize but not burn.
Once the chicken broth is all or nearly evaporated and the bean are tender the dish is done. Notice the shiny appearance.
Skillet green beans go well with so many main dishes. This particular evening we enjoyed them with roasted chicken breast and a baked potato.
Enjoy this easy, delicious side dish!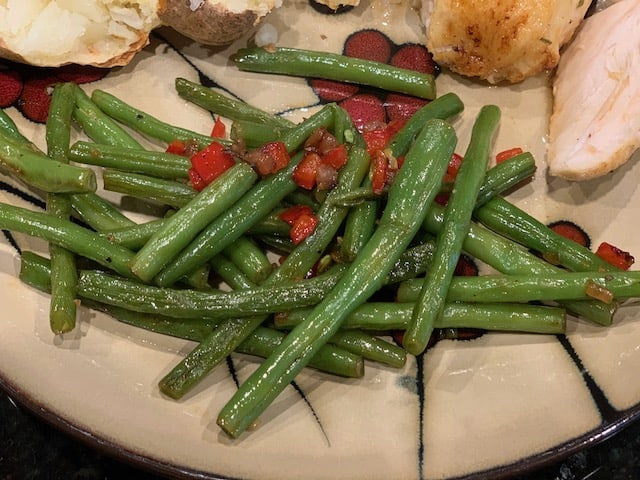 Skillet Green beans
Ingredients
½

pound

green beans

1

tsp

butter

½

tsp

garlic powder

¼

cup

red onion

chopped

¼

cup

red bell pepper

chopped

½

cup

low sodium chicken broth, plus more if needed

Fresh ground black pepper to taste

Course salt to taste
Instructions
Prep the green beans by trimming the ends.

Melt the butter in a skillet over medium-low heat. Add the red pepper and onions and cook for 3-5 minutes until they start to soften.

Add the green beans and cook until the beans turn bright green, about a minute.

Add the chicken broth, garlic powder and pepper to taste. Turn the heat to low and cover the skillet with a lid, leaving the lid cracked to allow steam to escape. Cook until the liquid evaporates and the beans are soft and starting to carmelize; 25 to 30 minutes.

Watch carefully the last 5 minutes; you want the beans to carmelize but not burn.

Season with salt and pepper to taste. Serve immediately.