Chicken & wild rice casserole is rich, creamy, and luscious. Everything that is wonderful about chicken and wild rice soup is baked in a casserole dish.
I don't typically think of casseroles when I plan meals for entertaining, but this dreamy dish is definitely worthy. A few years ago I planned to serve it to friends of ours along with roasted asparagus and artisan bread finishing with carrot cake for dessert. Unfortunately, Minnesota served up one of its famous springtime blizzards. Sadly, we postponed our little dinner party.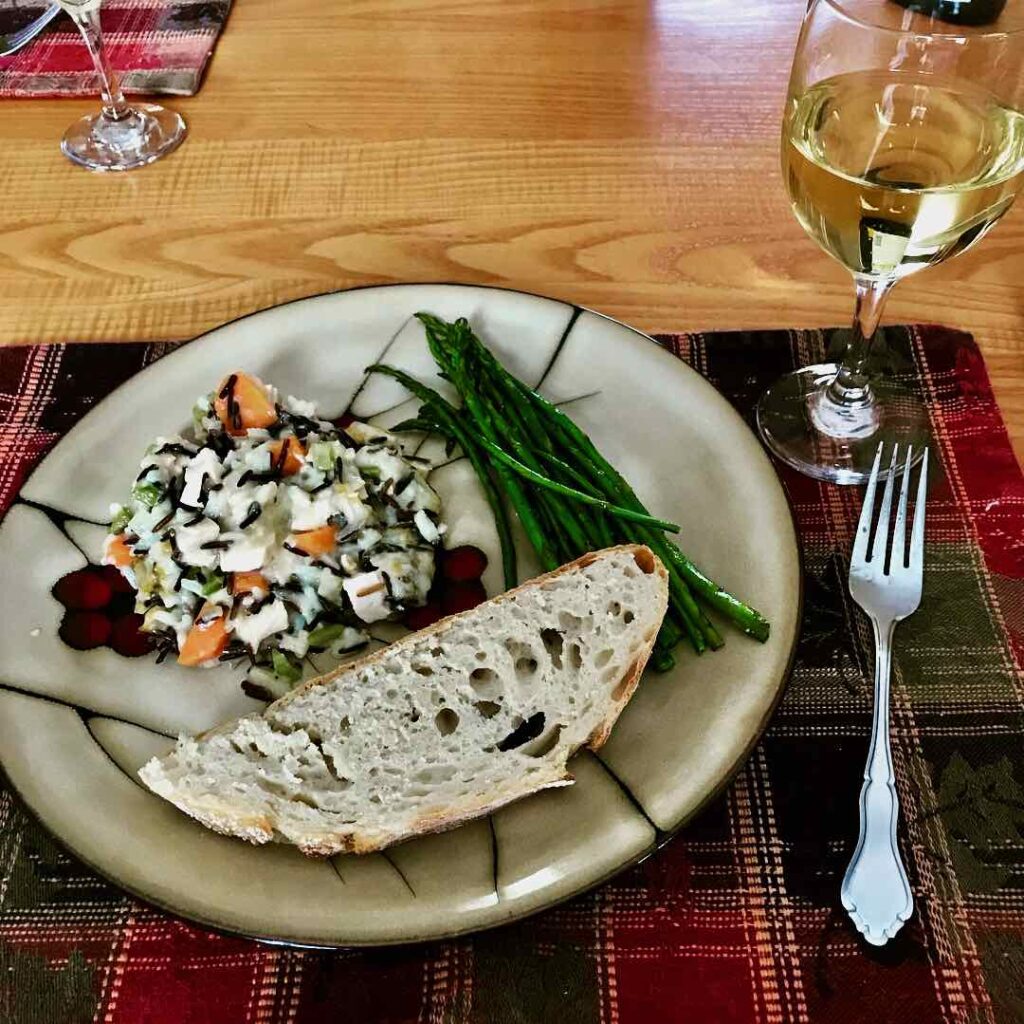 Since I had all the ingredients and had begun to prep some of the food, Husband and I enjoyed our dinner for two. No doubt in my mind this luscious casserole would have been a hit as it is one of our favorites.
Ingredients
Wild Rice & White Rice: I really like the combination of the two kinds of rice together in the casserole. The wild rice, which just happens to be the state grain of Minnesota, has a nutty, slightly crunchy texture. White rice cooks up tender and absorbs all the great flavors of the casserole.
Olive Oil: Used to saute the veggies.
Onion, Celery, and Carrots: This classic combination of vegetables is found in so many casserole recipes, and for good reason.
Garlic: Garlic adds delicious flavor to savory dishes.
Chicken Breast: Use cubed cooked or roasted chicken breast. I recently used leftover roast turkey which was also wonderful.
Salt & Black Pepper: Brings out all the flavors.
Butter: Makes the cheese sauce extra rich and creamy.
Flour: Mixes with the flour to thicken the cheese mixture.
Low Sodium Chicken Stock: Adds flavor to the sauce.
Cheddar Cheese: Super flavorful cheddar cheese is perfect with chicken and rice.
Instructions
Start by preparing your rice. You will see in the instructions how I prep the wild rice and the white rice in one pan. This is purely a matter of preference. Wild can be purchased fully cooked. You can also purchase blends that incorporate multiple types of rice.
While the rice is cooking, start sautéing the onion, celery, and carrot in a large saucepan. After the vegetables soften, add garlic, cooked chicken, all the rice, salt, and pepper. Remember to preheat your oven.
Next, you will make the cheese sauce. Melt the butter then stir in the flour. Stir until the flour is absorbed into the butter. It will resemble a paste. Add salt and pepper and slowly stir in the chicken stock. Stir constantly until all the lumps of butter and flour are gone. Continue to stir occasionally as the mixture starts to thicken.
Add cheese and stir until combined and smooth. Pour the cheese sauce into the rice and chicken mixture and stir to combine.
Transfer to a baking dish and sprinkle with remaining cheddar cheese. Bake for about 30 minutes until the cheese is melted and the dish is heated through.
Chicken & wild rice casserole is a delicious dinner everyone will love.
If you love chicken and rice dishes, be sure to try this chipotle chicken with broccoli version!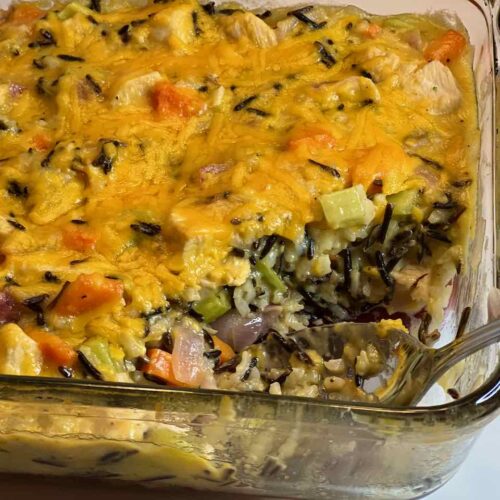 Cheesy Chicken And Wild Rice Casserole
Ingredients
Casserole
½

cup

uncooked white rice

steamed

½

cup

uncooked wild rice

steamed

1

Tbsp

extra virgin olive oil

½

medium

onion

finely diced

2

stalks

celery

finely diced

1

carrot

peeled and diced

2

cloves

garlic

minced

1

cup

shredded

cooked chicken breast

½

tsp

kosher salt

½

tsp

black pepper
Cheese Sauce
2

Tbsp

butter

2

Tbsp

flour

½

tsp

salt

½

tsp

freshly ground black pepper

1

cup

low sodium chicken stock

1

cup

cheddar cheese

shredded
Instructions
Steam rice: I was able to steam the wild rice and white rice together. Add the wild rice to the saucepan with two cups of water over medium heat. Simmer, loosely covered, or 10 minutes to give the wild rice a head start. After the wild rice has been steaming for 10 minutes, add the white rice and cook for another 15-20 minutes. Stir occasionally so it doesn't burn to the bottom and taste test consistency when most of the liquid is evaporated. Add more water and steam longer if rice is too chewy.

Preheat oven to 350℉. Heat oil into a medium pot or deep skillet over medium heat. Sauté onion, celery and carrots until softened, about 10 minutes. Stir in garlic and cook for 1 minute. Stir in chicken, both rices, salt, and pepper.

To prepare cheese sauce: Melt butter into a medium saucepan over medium high heat. Whisk in flour, salt and pepper, then slowly pour in chicken stock, stirring continuously. Stir until thick and nearly boiling, then stir in ¾ cup cheddar cheese until melted. Pour cheese sauce into cooked rice mixture, then transfer to a 8×8 inch baking dish. Top with the rest of the cheese and bake for 25-30 minutes, or until cheese is melted through.

Allow the casserole to sit for 5-10 minutes before serving.