Thai peanut chicken has been on regular dinner rotation for a while. This recipe is not only delicious but also quick and easy. I plan an Asian-inspired meal at least once a week. We especially enjoy sweet and spicy flavors.
On a whim, I bought a jar of peanut butter powder. I had wanted to try it in dishes like oatmeal and it also makes a great peanut sauce. I would never completely replace my beloved jar of creamy peanut butter. But I am enjoying experimenting with peanut butter powder.
Ingredients
Canola Oil: Canola is my go-to for stir-fry recipes. It is a neutral oil with a high smoke point.
Red Onion & Ripe Bell Pepper: I like using colorful red, yellow, or orange bell peppers. Not only do I love the flavor of these veggies, but the bright colors make the dish pretty and inviting.
Chicken Breast: Chicken thighs would also work very well. I used one large chicken breast for two people.
Garlic: Adds sharp, pungent flavor and aroma.
Peanut Butter Powder: Peanut butter gives great flavor to main dish recipes. This sauce is very easy to whip together using peanut butter powder.
Water: Thins out the sauce a bit, so it coats the chicken and veggies.
Brown Sugar: Brown sugar is the sweet in this sweet and spicy sauce.
Soy Sauce: I always use low-sodium soy sauce. Adds salty authentic flavor.
Red Chili Paste or Sriracha Sauce: I am obsessed with both of these ingredients. I love spicy foods, so naturally, sriracha sauce makes its way into lots of recipes. Red chili paste isn't quite as spicy as sriracha. It is a little spicy, a little sweet, and completely delicious.
Steamed Rice: For serving. You could use white or brown rice or even fried rice if desired.
Instructions
I start by steaming the rice in my rice cooker. Since this recipe comes together quickly, you will want to get the rice going to make sure it is ready. I usually serve the meal with a roasted veggie, like broccoli. So I get the broccoli in the oven too.
Heat the oil in a large skillet or wok and add the chicken and veggies. I like the veggies crisp-tender. If you prefer the onions and peppers to be very tender you could give them a head start before adding the chicken.
Stir in the garlic and then the sauce. Stir until the mixture is heated through and the chicken and veggies are coated with sauce.
Serve Thai peanut chicken over rice and enjoy!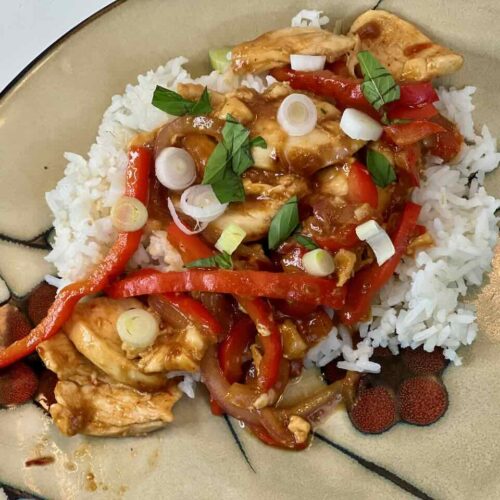 Thai Peanut Chicken
Ingredients
1

Tbsp

canola oil

½

cup

onion

thinly sliced

¾

cup

ripe bell pepper

thinly sliced

1

large

chicken breast cut into bite-sized pieces

2

cloves

garlic

minced

2

Tbsp

peanut butter powder

1

Tbsp

water

1

Tbsp

brown sugar

1

Tbsp

soy sauce

1

tsp

red chili paste or sriracha sauce

2

servings

of steamed rice
Instructions
Remove from heat and serve over rice.

Once the oil heats up, add onions, bell pepper, and chicken to the skillet. Sauté the mixture, stirring occasionally, until the chicken is cooked through.

While the chicken is cooking, combine the peanut butter powder, water, brown sugar, soy sauce, and garlic chili sauce or sriracha sauce. Stir until well blended.

Add the garlic to the skillet and cook for one minute.

Drizzle the sauce over chicken and cook for about 1 minute.

Remove from heat and serve over rice.