Apple oatmeal raisin muffins are hardy, wholesome, and delicious! You can feel good about eating one for a light breakfast, but they can also be enjoyed as a quick snack or dessert.
So many great flavors going on here. Sweet apples and raisins, and warm spices like cinnamon and cardamom, all brought together with chewy, hardy oats to make these lovely muffins.
I bake muffins almost every week. Hubby likes them for a little something sweet after a meal. Muffins freeze very well and are easily defrosted in the microwave.
Ingredients
Flour, Baking Powder, & Baking Soda: The base and leavening agents for the muffins.
Salt: Needed to bring out the flavors and balance out the sweetness.
Cinnamon, Nutmeg, Ginger, & Cloves: The mixture of spices smells amazing and tastes even better. They are the classic pumpkin spices, but they are equally good with oatmeal and apples.
Cardamom: I bought some cardamom a few months ago, and I love adding it anytime I am using warm spices like cinnamon. It adds a spicy warm flavor and smells incredible.
Eggs: Gives the structure and richness of the muffin.
Brown Sugar: Brown sugar adds sweetness and warmth to the muffins. Goes so beautifully with oats and raisins.
Apples: Any crisp apple works here. You can use a traditional baking apple like Haralson or a sweeter apple like Gala. The apples help the muffins stay moist.
Milk: Adds moisture and helps combine the ingredients.
Canola Oil: Keeps the muffins moist and tender. As the muffins contain apples only a quarter cup of oil is needed.
Vanilla Extract: Adds great flavor.
Rolled Oats: Also known as old-fashioned oats. Oats make the muffins chewy and delicious.
Raisins: Adds texture and sweetness. Either traditional or golden raisins are fine. For many years I would only eat golden raisins, but I have since come around to either variety.
Instructions
Start up the oven and use convection if you have it available.
Start by thoroughly combining your dry ingredients. In another bowl, beat the eggs then stir in the sugar, shredded apples, milk, oil, and vanilla. Stir in the dry ingredients until just combined. Fold in the rolled oats and raisins until just combined. Avoid over-mixing to keep the muffins light and tender.
Using a tablespoon or cookie scoop, divide the batter into the muffin cups. They should be nearly full of batter, so they rise and develop a lovely muffin top!
Bake until muffins are puffed up and golden. Allow to cool slightly and enjoy warm. Store in an airtight container.
If you love these delicious, satisfying muffins, try morning glory muffins or this carrot, coconut, and pecan variety.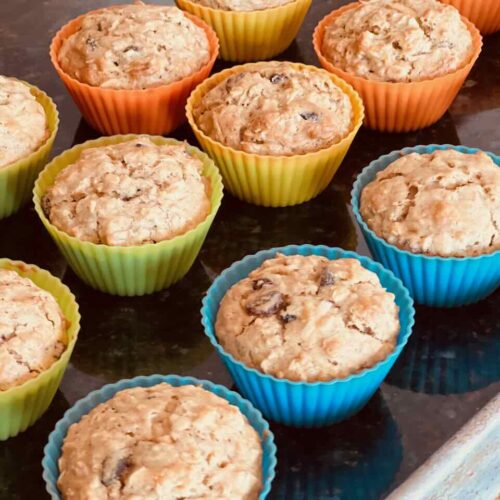 Apple Oatmeal Raisin Muffins
Ingredients
1¼

cup

flour

2

tsp

baking powder

¼

tsp

baking soda

½

tsp

salt

½

tsp

cinnamon

¼

tsp

ground ginger

¼

tsp

nutmeg

¼

tsp

ground cloves

¼

tsp

cardamom

optional

2

eggs

room temperature

½

cup

brown sugar

2

small

crisp apples

shredded – peeled if desired

¼

cup

almond milk or skim milk

¼

cup

canola oil

½

tsp

vanilla extract

1

cup

rolled oats

½

cup

raisins
Instructions
Preheat oven to 375℉. Prep 10 muffin cups

In a medium bowl, combine the flour, baking powder, baking soda, salt, and all the spices. Stir until well combined.

In a large bowl, beat the eggs. Stir in brown sugar, shredded apple, milk, canola oil, and vanilla. Stir until well combined.

At the dry ingredients to the wet ingredients and stir slow until just combined.

Stir in oats and raisins. Divide batter into the muffin cups. Cups will be nearly full of batter.

Bake until muffins are puffed up and a toothpick comes out clean, 15-20 minutes. Cool for 5 minutes before removing from pan to a wire rack. Serve warm.