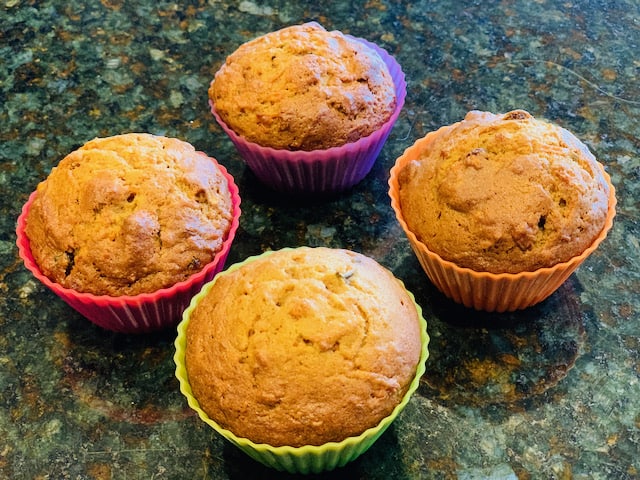 Filled with carrots, raisins, apple, and pecans and flavored with cinnamon and orange, these Morning Glory muffins are hearty and super flavorful.
Morning Glory muffins share their name with the cafe where they originated. I have to think they were intended to enjoy alongside a cup of coffee in the morning. While they are a tasty treat any time of day, you could definitely justify calling them breakfast.
Ingredients:
Raisins: Add sweetness and texture. Use gold raisins if you prefer.
Carrots: Shredded for flavor and wonderful texture. They add a nice hardiness to the muffin.
Brown sugar: I recently read this article about what sugar to use when baking. I love the color and flavor brown sugar brings to muffins. When brown sugar is added to the shredded carrots, the resulting sweetened juice plumps up the raisins and makes the carrots tender.
Flour, Baking Powder, Cinnamon, Ginger, and salt: Cinnamon and ginger are combined with the rest of the dry ingredients to add flavor and warmth to the muffins. Cinnamon and ginger are excellent in any sweet treat with carrots.
Apple: Peeled if you chose, but I rarely peel apples. The peel contains much of an apple's nutritional value and adds color to the muffin. The grated apple also adds moisture and flavor.
Pecans: Add texture and flavor. Walnuts would also work well.
Eggs: Add richness, moisture and given the muffin structure.
Canola oil: My go-to neutral oil for moisture and richness.
Vanilla Extract: Pure vanilla extract is a staple in almost all my baked goods.
Orange Zest: Adds color and a wonderful brightness.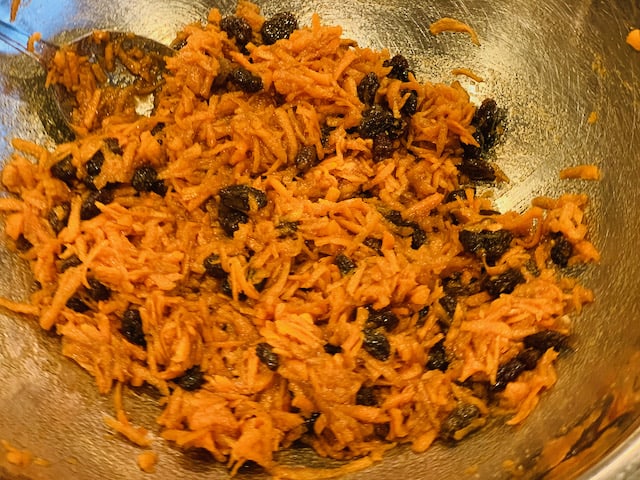 Instructions:
Start by shredding your carrots and adding them along with the raisins to a bowl. Add the brown sugar and set aside as you prep the rest of the ingredients.
Combine your dry ingredients and whisk together thoroughly. Set aside.
Beat your eggs into the carrot and raisin mixture. Grate your carrots and add along with the pecans, canola oil, vanilla extract and orange zest.
Use a cookie scoop to divide the batter into 12 muffin tins or silicone cups. The tins will be pretty full in order to achieve that nice, domed, muffin top.
When browned and spring back when touched, they are done. They can be enjoyed warm or room temperature. They freeze very well. Microwave one for half a minute to thaw.
Morning Glory muffins are great in the morning or any time of the day! If you like a hearty, healthy-ish muffin be sure to try this Oatmeal raisin cookie variety!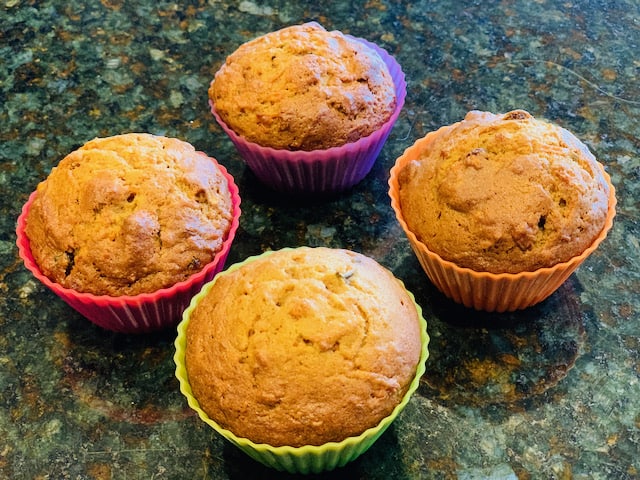 Morning Glory Muffins
Ingredients
½

cup

raisins

2

cups

carrots

shredded

1

cup

brown sugar

2

cup

all purpose flour

2

tsp

baking soda

1

tsp

ground cinnamon

½

tsp

ground ginger

½

tsp

salt

1

large

apple

peeled if desired, cored, and grated

½

cup

chopped pecans

3

large

eggs

room temperature

⅔

cup

canola oil

2

tsp

vanilla extract

zest of one orange
Instructions
Preheat the oven to 375℉. Set out 16 silicon muffins cups or spray muffin tins.

Using a medium grater, shred carrot into a large bowl. Add raisins and brown sugar. Set aside.

In a separate bowl, whisk together the flour, sugar, baking soda, spices, and salt.

Beat the eggs into the shredded carrot mixture. Stir in the apple, pecans, oil, vanilla, and orange zest until combined.

Add the flour mixture and stir slowly until just combined.

Using a cookie scoop separate the batter evenly between the muffin cups.

Bake the muffins for 20-25 minutes until they are domed, slightly browned and spring back when touched.

Allow muffins to cool slightly and enjoy. They are excellent warm or room temperature.

Can be frozen if desired. Microwave for one minute to thaw.