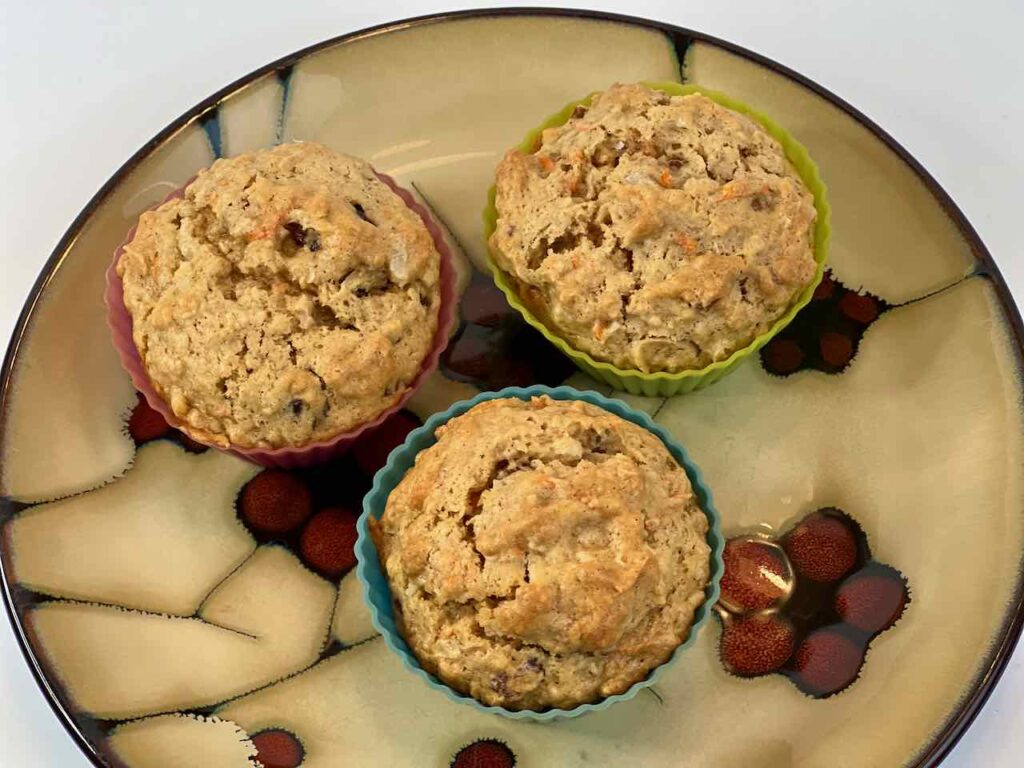 Carrot, coconut, and pecan muffins are a burst of flavor with every bite.
They contain rolled oats, raisins, and carrots which makes them worthy of a quick, easy breakfast. The sweet coconut and pecans make them chewy with just the right amount of crunch. I have a particular fondness for the aroma of these lovely muffins when they come out of the oven. They make the kitchen smell warm and inviting, and, of course, they taste just as good.
These remind me of morning glory muffins. Hardy, wholesome, and full of delicious ingredients.
Ingredients
Flour, Baking Powder, & Baking Soda: Provides the structure and leavening agent for the muffins.
Salt: Enhances the flavor.
Cinnamon, Nutmeg, & Cardamom: Cinnamon and nutmeg go beautifully together and provide warm, wonderful spice and aroma. Cardamom is optional, but it is one of my new favorites in recipes with cinnamon. I love the distinct flavor and aroma noted with its addition to the muffins.
Egg: Gives the muffins richness and structure.
Sugar & Brown Sugar: Sweetens the muffin.
Canola Oil: Helps keep the muffins moist and tender.
Vanilla Extract: Pure vanilla extract is always preferred.
Rolled Oats: Helps give the muffins structure and wholesome flavor.
Carrots: Shredded carrots make the muffins, moist, pretty, and very flavorful.
Shredded, Sweetened Coconut Flakes: Found in the baking aisle of the grocery store, typically alongside the chocolate chips and nuts. They add sweetness, texture, and wonderful flavor.
Buttermilk: If you don't have buttermilk on hand, there are many ways to substitute. I add a dash of white vinegar to the milk.
Pecans: Pecans are my favorite nut for baking.
Raisins: Use regular or golden raisins, both are wonderful.
Instructions
Preheat your oven and collect the ingredients.
Combine the flour, baking powder, and baking soda along with the spices. Stir to thoroughly combine and no streaks of spices remain in the flour.
Grab a large bowl and crack in the egg. Beat the egg, then add the sugars and stir to combine. Add the canola oil and vanilla. By the way, that is not a typo, the recipe only contains one-quarter cup of oil! The muffins will be wonderful thanks to the carrots and buttermilk providing plenty of moisture.
Add the oats, carrots, coconut flakes, and buttermilk and stir. Slowly stir in the dry ingredients until combined. Fold in the raisins and pecans.
Distribute the batter into prepared muffin tins, or as I prefer, silicon muffin cups. I love a cookie scoop for this job. Fill the cups until nearly full for a nice, rounded muffin top.
Bake for about 20 minutes. Once done, they will have risen with a few cracks in the top and be firm to the touch.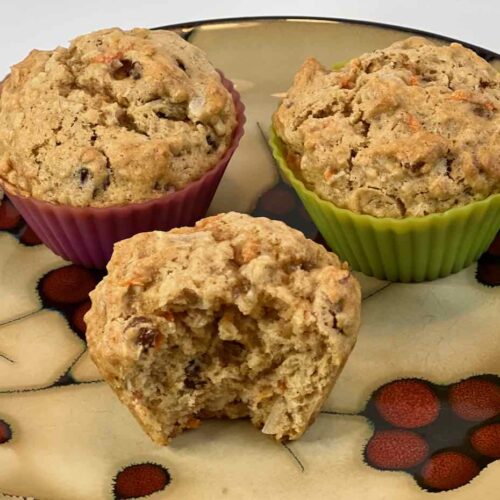 Carrot Coconut Pecan Muffins
Ingredients
2

cups

flour

1

tsp

baking powder

¼

tsp

baking soda

½

tsp

salt

1

tsp

ground cinnamon

¼

tsp

ground nutmeg

¼

tsp

ground cardamom

optional

1

large

egg

room temperature

½

cup

sugar

½

cup

brown sugar

¼

cup

canola oil

1½

tsp

vanilla extract

1

cup

rolls oats

¾

cup

carrots

shredded

¾

cup

shredded

sweetened coconut flakes

¾

cup

buttermilk

⅔

cup

coarsely chopped pecans

⅓

cup

raisins
Instructions
Preheat oven to 375℉

Prep muffin tins by spraying with cooking spray or set out silicon cups on a sheet pan.

In a medium bowl, whisk together flour, baking powder, baking soda, salt, and all the spices.

In a large bowl, beat the egg. Stir in sugars, canola oil, and vanilla. Stir the oats, shredded carrots, coconut flakes, and buttermilk into the sugar mixture.

Gradually stir in the dry ingredients, mixing until the batter comes together and no streaks of flour remain. Stir in pecans and raisins until well distributed. Divide batter evenly into muffin cups using a spoon or a cookie scoop.

Bake for 20 minutes, or until a toothpick inserted into the center of the muffins comes out clean and the top springs back when lightly pressed.