Gingerbread muffins are the perfect snack for the holidays. Hardy enough for breakfast, but sweet enough for an afternoon treat.
I decided to try a muffin with gingerbread flavor thanks to a jar of molasses in my pantry. Molasses was an ingredient in a new chicken sheet pan dinner. The meal was delicious! While I will probably make that recipe again soon, I was excited to bake something sweet with my jar of molasses. This time of year, gingerbread was a perfect choice.
I love the crinkle top of these muffins, they look like a Christmas cookie!
Ingredients
Flour, Baking Powder & Baking Soda: Gives structure and allows the muffins to rise.
Salt: Enhances the flavors.
Cinnamon: One of my favorite spices. Sweet, warm cinnamon makes everything wonderful.
Ginger: An essential part of the gingerbread flavor.
Ground Cloves: Adds pungent, intense flavor.
Butter: Adds richness to the muffin and makes them super moist.
Brown Sugar: Brown sugar is a natural choice with molasses and warm spices in this muffin.
Eggs: Adds richness and structure.
Molasses: I used full flavor, sometimes called dark molasses, in this recipe. Light molasses can also be used. Blackstrap molasses is used in savory dishes and is too strong for sweet recipes.
Milk: I typically use almond milk or skim milk in baking.
Vanilla Extract: Adds wonderful flavor to any sweet muffin.
Sugar: A little sugar sprinkled over the top gives the muffins a slightly crunchy top and looks pretty. Coarse sugar would be lovely.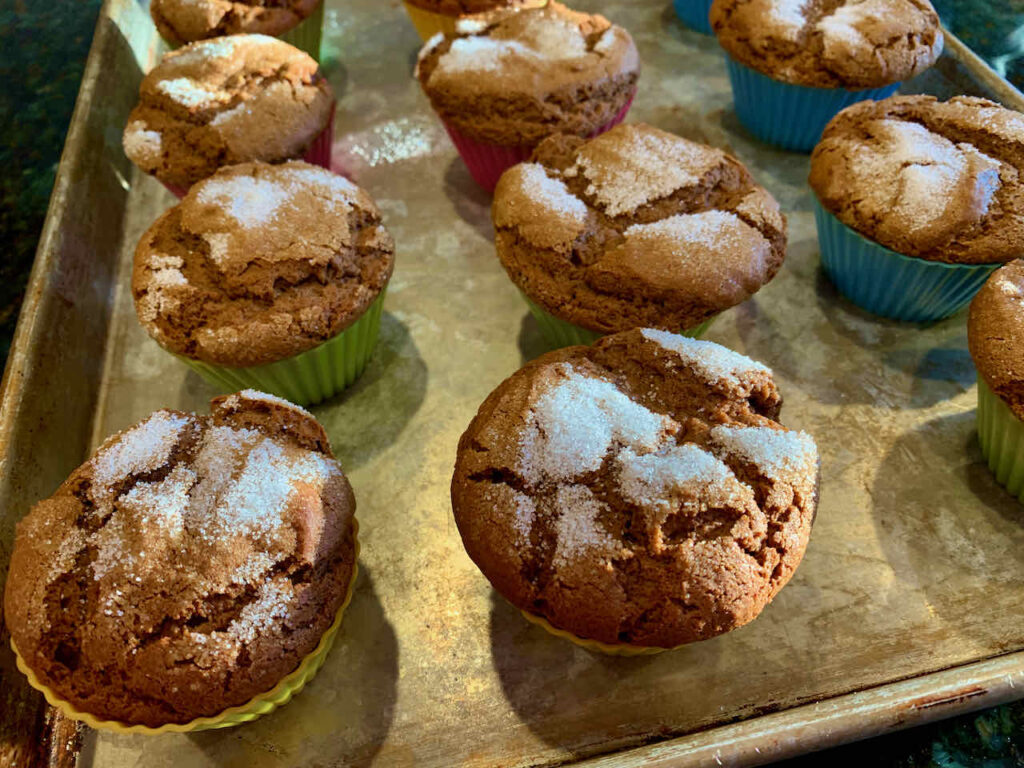 Instructions
Preheat your oven. I have stated before, but convection is definitely your friend when baking if available on your oven. We all want that coveted muffin top, and convection makes your muffins raise high and turn out light and fluffy.
Combine the dry ingredients in a medium bowl. Mix until the spices are well blended into the flour.
Next, mix the wet ingredients. The butter, eggs, and milk at room temperature help assure all ingredients combine smoothly.
Slowly stir the flour mixture into the wet ingredients. Avoid over-mixing to help the muffins stay light and fluffy.
Fill your muffins cups until nearly full of batter. Using a small spoon, sprinkle the tops with sugar.
Bake until the muffins are risen and bounce back when lightly touched. A toothpick inserted will come out mostly clean.
These gingerbread muffins make your house smell like Christmas as they bake in the oven. Sweet and perfectly spiced, they are a great treat for this holiday season.
For more muffin varieties, try morning glory and sour cream & raisin muffins.
Gingerbread Muffins
Ingredients
Dry Ingredients
2½

cups

flour

2

tsp

baking powder

½

tsp

baking soda

¼

tsp

salt

2

tsp

cinnamon

1

tsp

ground ginger

½

tsp

ground cloves
Wet Ingredients
½

cup

butter

melted and cooled

½

cup

brown sugar

2

eggs

room temperature

½

cup

molasses

½

cup

milk

room temperature

2

tsp

vanilla extract

sugar for sprinkling

optional
Instructions
Preheat oven to 400℉, convection if available. Prep your muffin tins with cooking spray or line a sheet pan with silicon muffin cups.

In a medium bowl, combine flour, baking powder, baking soda, salt, cinnamon, ginger, and cloves. Stir until well mixed and no streaks of spices are present.

In a large bowl, cream butter and brown sugar.

Add eggs and beat until well combined.

Stir in molasses, milk and vanilla extract.

Add the dry ingredients and slowly stir until ingredients are just combined. Do not over mix.

Divide batter into 12-14 muffin cups, each cup should be nearly full. Sprinkle with sugar.

Bake for 8 minutes at 400℉. Leave the muffins in the oven and reduce the oven temperature to 350℉. Bake for an additional 10 minutes, or until a toothpick inserted in the center comes out mostly clean.

Remove to a wire rack to cool. Store in an airtight container.