Wholesome, hardy, and totally delicious, these shredded wheat raisin muffins are a wonderful treat anytime.
I mentioned the first time I made these muffins a few months ago. Hubby saved the crumbs from the shredded wheat cereal and I used it to make muffins. Since then, I have tweaked the recipe a bit, and they are too good not to share.
Ingredients
Shredded Mini Wheat: This recipe uses the crumbs of frosted mini wheat cereal. If you don't want to collect the crumbs from multiple bags as we do, use a food processor to pulverize the cereal and create crumbs.
Chia Seeds: Chia seeds are a recent addition, and I really like them in muffins. They add fiber, protein, and texture.
Low-Fat Buttermilk: I use skim milk or almond milk with a splash of vinegar to create low-fat buttermilk.
Canola Oil: Makes the muffins moist and tender.
Egg: Provides great flavor and structure to the muffins.
Brown Sugar: Makes the muffins sweet, moist, and delicious.
Vanilla Extract: Adds great flavor to baked goods.
Flour, Baking Soda, & Baking Powder: The structure and leavening agents.
Salt: Enhances the flavor.
Cinnamon: I love the warm flavor cinnamon gives sweet treats.
Raisins: For someone who didn't use to like raisins, they sure end up in a lot of my muffins! Check out this version with apples.
Pecans: Optional. I did like the crunch that pecans give muffins. Chopped walnuts would also work.
Instructions
After preheating your oven, add the shredded wheat and chia seeds to a bowl. Pour in the buttermilk and let the mixture sit while you combine the dry ingredients. The chia seeds and shredded wheat will absorb the liquid and soften as they sit in the milk.
Stir the egg, oil, brown sugar, and vanilla into the shredded wheat mixture. Stir until combined. Add the dry ingredients and stir until just combined. Finally, fold in the raisins and pecans.
Transfer to your muffin cups. I like a cookie scoop for this. So convenient!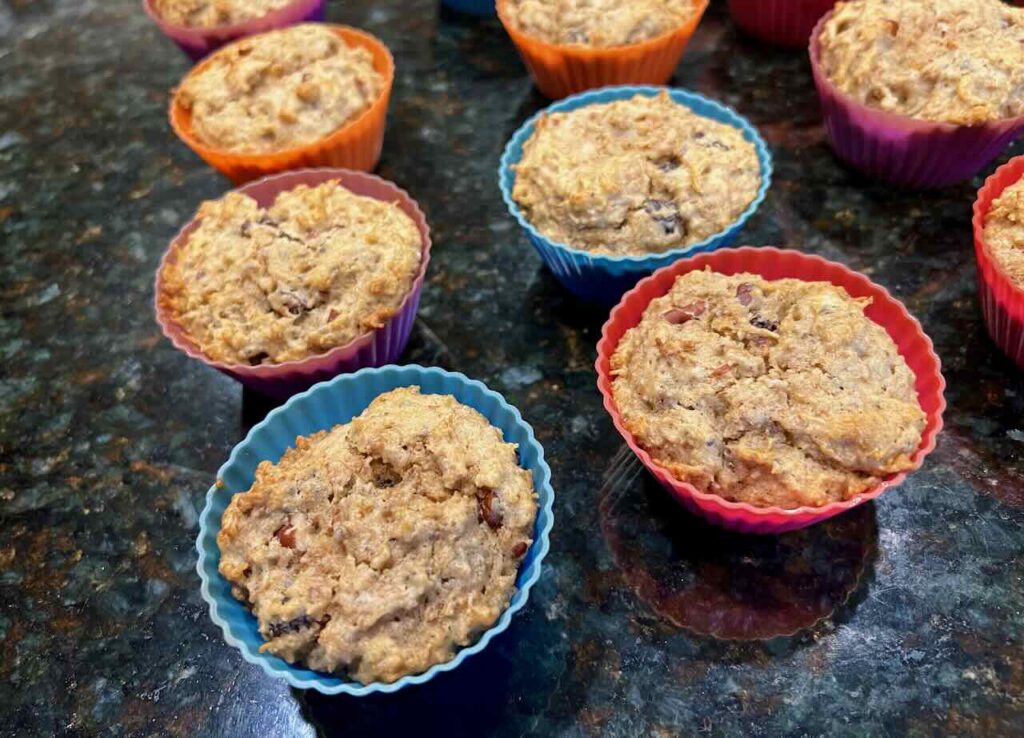 Shredded wheat raisin muffins are a great breakfast or anytime snack.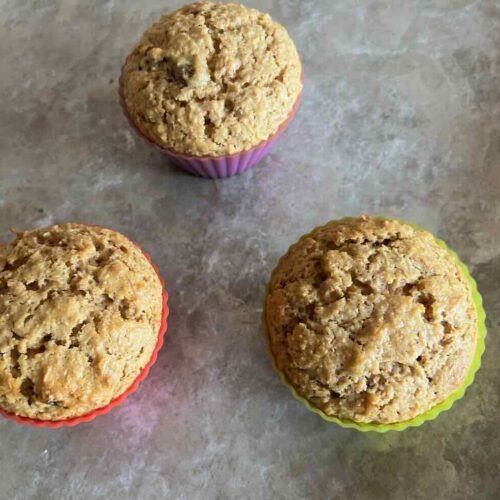 Shredded Wheat Raisin Muffins
Ingredients
1½

cups

shredded mini-wheat

(bottom of the box crumbs)

1

Tbsp

chia seeds

1

cup

low-fat buttermilk

⅔

cup

canola oil

1

egg

⅓

cup

brown sugar

½

tsp

vanilla extract

1¼

cup

all-purpose flour

1

tsp

baking soda

1

tsp

baking powder

½

tsp

salt

½

tsp

ground cinnamon

½

cup

raisins

½

cup

pecans

chopped
Instructions
In a large bowl, combine the shredded wheat, buttermilk and chia seeds.

Combine the flour, baking soda, baking powder, salt, and cinnamon. Stir to throughly combine.

Add the canola oil, egg, brown sugar, and vanilla to the shredded wheat bowl and stir to combine. Add the dry ingredients and stir just until combined. Fold in the raisins and chopped pecans until just combined.

Divide the batter between the 12 muffin cups evenly.

Bake in the preheated oven until a tester inserted in the center comes out clean, 15-20 minutes.
Notes
I used crumbs collected for the bottom of bags of packaged shredded mini-wheat. You could also create crumbs with a food processor.