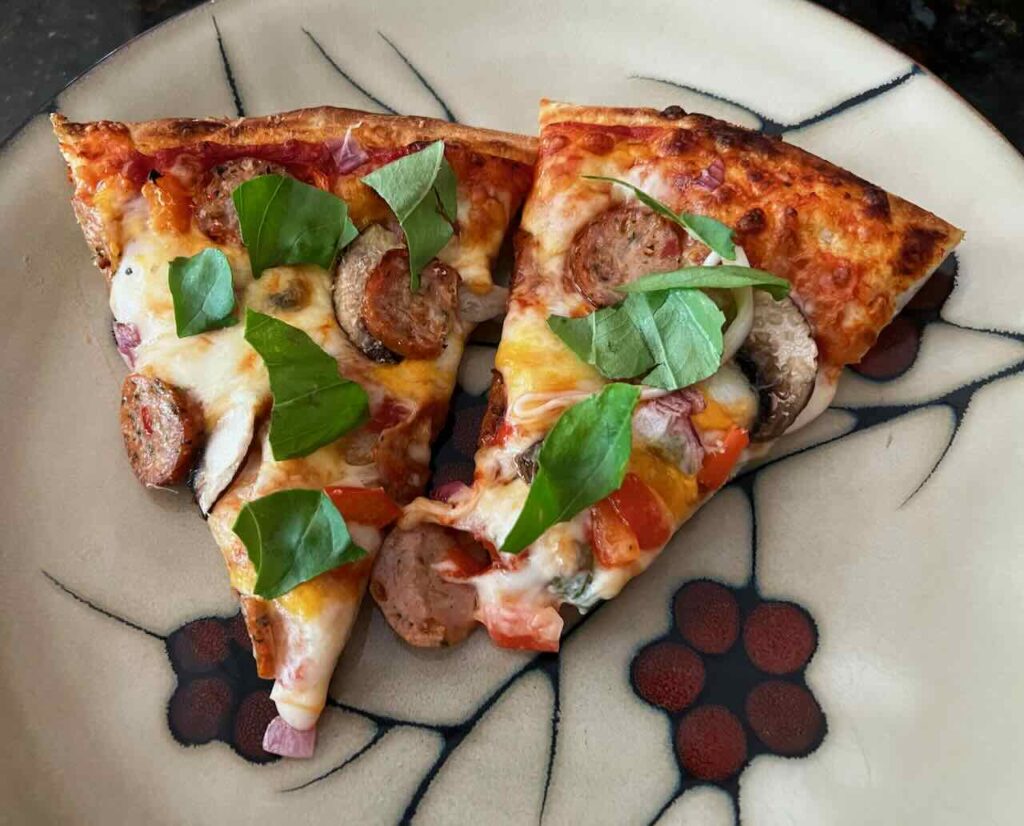 Happy Sunday.
We did indeed make homemade pizza for Hubby's birthday last weekend. The pizza was topped with Italian turkey sausage, red pepper, red onions, and mushrooms. I love to sprinkle it with some torn fresh basil.
I keep hearing about the end of summer, but I'm certainly not at all convinced that early August is the end of summer. With this hot weather, it sure feels like summer out there! Having homemade pizza last weekend does make me excited for football season. The Vikings play their first pre-season game this week. But the game starts at 9 p.m.! I am in bed at 9, and it's a work night, so I will have to watch the recording later. If it were a regular-season game I would be tempted to stay up. Actually, who am I kidding? I would certainly stay up and watch the game.
Road construction season cannot end quickly enough. I have a couple of detours on my short commute to work, one of which is going to get dicey if it is still in place when school starts and the traffic ramps up. The good news is, once the construction is done, my commute will be much improved.
As this post goes live, we will be watching the US women's soccer team continue their quest for another World Cup title against Sweden. They have been underwhelming so far, and I personally hope they aren't reading and watching most of the press and media coverage as it has been brutal. If the US is eliminated, I hope a small country can win its first title.
What caught my eye this week
Summer cooking tips when you don't want to add more heat to your kitchen.
I enjoyed reading about the experience of a dinner at The Lost Kitchen.
A cafe with adorable piglets, I would never leave! I do like that there are parameters in place to keep these little sweeties from being overwhelmed.
The term bed rotting is completely gross. I imagine stinky sheets and half-eaten food sitting on the nightstand. But I can't argue with needing downtime.
How cute is Bailey with her paws against the footboard of the bed? 🙂
Have a great weekend!