Skillet chicken sausage with cheesy orzo is a delicious complete meal. This dinner is ready in under 30 minutes, making it very doable for a work night.
Unlike many rice and pasta dishes, I don't even feel the need to serve a side vegetable with this dish. Thanks to the addition of spinach or kale, you even get the all-important green veggie! Yes, I know, kale is not everyone's favorite. But I have been keeping a bag of frozen kale in my freezer to go on my pizza and I really like the flavor. Spinach is milder and one of my favorite foods. Either will work!
Ingredients
Olive Oil: Used to sauté the veggies.
Onion, Ripe Bell Pepper, & Zucchini: I love this combination of veggies. If you don't care for one or don't have it available, just add a bit more of the other vegetables. You want about three-quarter cup total.
Orzo: This little, rice-like, pasta cooks quickly, making it perfect for a one-skillet dinner.
Thyme: I love thyme with chicken. If you don't have fresh herbs available you can substitute 1/2 teaspoon of dried thyme. My fresh herbs are inside for the winter and, so far, holding on.
Salt & Pepper: Amps up the flavors.
Low Sodium Chicken Stock: The orzo cooks in the chicken stock, creating great flavor.
Half & Half: Makes the dish creamy and wonderful.
Chicken Sausage: I don't eat pork or beef, but lucky for me chicken and turkey sausage is readily available. We will be using precooked packaged sausage in this recipe. Both this brand and this brand are available locally, and I find both delicious.
Spinach or Kale: I have used both fresh spinach and frozen kale in this recipe. Super nutritious and a great pop of bright green color. So good!
Cheddar Cheese: Cheddar makes everything better. It makes the whole dish cheesy and wonderful.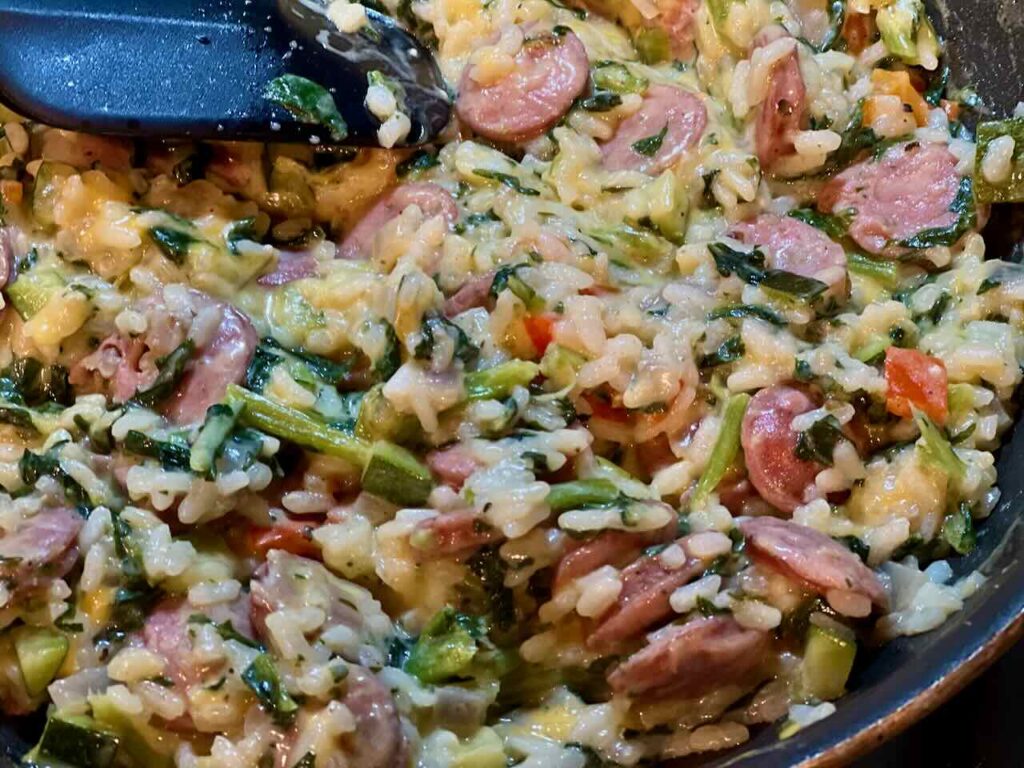 Instructions
Start by chopping the veggies and add to a skillet with a little olive oil. As the veggies sauté, gather and measure the rest of the ingredients. Sprinkle with thyme, salt, and pepper once the veggies are softened.
Add the liquids and bring to a simmer. Toss in the orzo and the heat at a simmer. Stir occasionally as the orzo cooks and absorbs the stock.
When the stock is nearly absorbed, taste the orzo. If too chewy, you can add a bit more stock and simmer for a few more minutes.
Add the spinach or kale along with cheese. The dish is ready when the greens are wilted and the cheese is melted.
Serve immediately.
This skillet chicken sausage with cheesy orzo is as tasty as it is quick and easy. Enjoy!
Skillet Chicken Sausage with Cheesy Orzo
Ingredients
2

tsp

olive oil

¼

cup

onion

chopped

¼

cup

ripe bell pepper

chopped

¼

cup

zucchini

chopped

½

cup

dry orzo pasta

1

tsp

fresh thyme

finely chopped

½

tsp

salt

½

tsp

freshly ground black pepper

1

cup

low sodium chicken stock

⅓

cup

half & half

2

links

chicken sausage

chopped into bite sized pieces

1

cup

kale or spinach

roughly chopped

½

cup

cheddar cheese

grated
Instructions
Sauté the onions, peppers and zucchini until starting to soften and add the orzo: Reduce the heat to medium.

Stir in thyme, pepper and salt. Add the chicken broth, raise the heat and allow the liquid to come to a simmer, about 3 minutes.

Stir in the half-and-half and bring it to a simmer, about 2 minutes. Cover the pan, lower the heat and simmer gently for about 8-10 minutes, stirring occasionally, until the orzo is tender. Most of the liquid will be absorbed at this point.

Add the chicken sausage and spinach and stir until spinach wilts. Sprinkle in the cheeses in batches, stirring after each addition until the cheese is all melted.