Carrot pumpkin coconut muffins are everything that is wonderful about the fall season. They make your kitchen smell irresistible while they bake and taste even better.
Pumpkin is, of course, a classic fall flavor. People either love the pumpkin craze of autumn or they don't. I love it. Warm, cozy scents and flavors make the end of summer a little less bittersweet. Pumpkins, apples and football make this time of year special for me.
Personally, I have never restricted my pumpkin consumption to a season. I make pumpkin recipes of one sort or another year-round. The carrot and coconut compliment the pumpkin flavors beautifully.
All muffins are best warm and fresh out of the oven. These were extra delicious warm thanks to the spices, highlighted by a healthy amount of cinnamon.
Ingredients
Carrots: Add moisture, flavor, and beautiful color to the muffins.
Pumpkin Puree: I love pumpkin in anything, be it pie, bars, muffins, pancakes, or a morning latte. You can use canned pumpkin puree and puree from a roasted sugar pumpkin. Sugar pumpkins are smaller and sweeter than Jack-O-Lantern pumpkins.
Sweetened Shredded Coconut: Shredded coconut is found in the baking aisle, both sweetened and unsweetened. Treat yourself to coconut cake with the leftovers!
Raisins: Over the years, I have really come to appreciate raisins. For years, I would only eat golden raisins, but I have since come around to enjoying them all. They plump up in baked goods to become even more tender and tasty.
Sugar: Makes the muffins nice and sweet.
Canola Oil: Makes the muffins rich and moist.
Eggs: Gives the muffins richness and structure.
Vanilla Extract: Adds that unmistakable burst of flavor.
Flour, Baking Powder & Baking Soda: Gives the structure of the muffin and makes them rise.
Cinnamon, Nutmeg, Cloves, and Cardamom: You can't make a pumpkin treat without cinnamon, and it goes equally well with carrots and coconut. Nutmeg and cloves are also classic spices to enhance the warm, inviting flavors. Cardamom adds a nice spicy element and smells heavenly.
Salt: Enhances the flavors and activates the baking powder and baking soda.
Instructions
Preheat the oven and prep your muffin tin or sheet pan.
Start by shredding the carrot. A cup of shredded carrots is about 2 medium-sized carrots. I also prefer to peel the carrots. Add the rest of the wet ingredients and stir until well combined.
Combine the dry ingredients and fold the mixture into the wet ingredients. Stir just until you don't see flour streaks.
Divide the mixture into the muffin cups. The batter will nearly fill the cups.
The muffins are then baked at a higher temperature to get them to rise. The temp is then turned down as they bake up tender and delicious.
Enjoy these carrot pumpkin coconut muffins anytime! Maybe whip up a homemade PSL for the ultimate fall treat.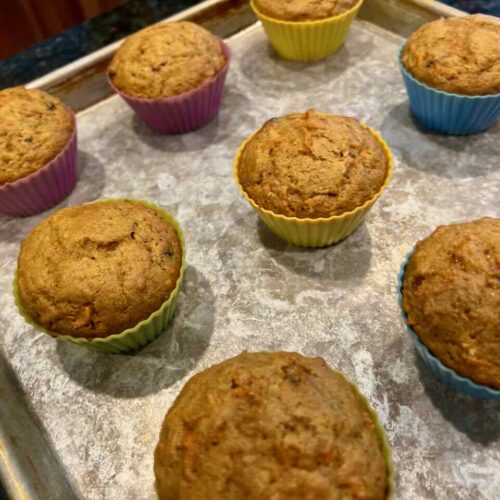 Carrot Pumpkin Coconut Muffins
Ingredients
1

cup

freshly shredded carrots

½

cup

pumpkin puree

½

cup

sweetened shredded coconut

¼

cup

raisins

¾

cup

sugar

⅓

cup

canola oil

2

eggs

room temperature

1

tsp

vanilla extract

1

cup

all purpose flour

1

tsp

baking powder

1

tsp

baking soda

2

tsp

ground cinnamon

¼

tsp

ground nutmeg

¼

tsp

ground cloves

¼

tsp

cardamom

optional

½

tsp

salt
Instructions
Preheat the oven to 400℉ and line a 12-cup muffin tin with liners or set 12 silicon muffin cups on a sheet pan. Set aside.

In a large bowl, shred the carrots. Stir in pumpkin puree, coconut, raisins, sugar, oil, eggs, and vanilla extract.

In a separate bowl, combine flour, baking powder, baking soda, cinnamon, nutmeg, cloves, and salt.

Add the dry ingredients into carrot and pumpkin mixture, stirring until just combined.

Use a spoon or a cookie scoop to divide the batter evenly between the 12 muffin tins.

Bake for 5 minutes at 400℉. Reduce the heat to 375℉ and bake for an additional 15 minutes or until the muffin bounces back when lightly touched.

Allow to cool and enjoy warm or room temperature.