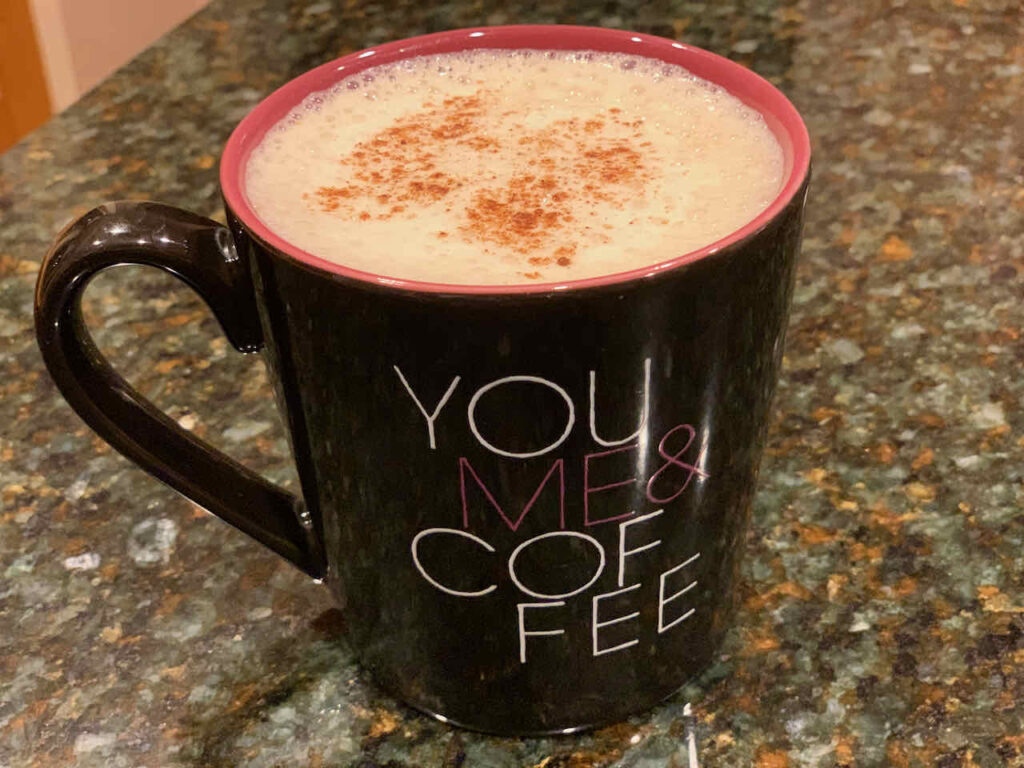 Is it even fall without a pumpkin spice latte?
This legendary coffee creation popping up in coffee shops and drive through windows seems to happen earlier and earlier every year. I am happy to wait for late September, but then I am all about pumpkin-spiced everything!
Unlike most of what you will find in coffee shops, this homemade version features actual pumpkin puree. Not only does it amp up the flavor, but the puree makes the latte thick and rich.
Ingredients
Coffee: I add a bit more coffee grounds for a stronger cup of coffee than I would normally drink. A latte is, after all, a coffee drink, and I like to intensify the coffee flavor.
Coffee Creamer: If you are lucky enough to get your hands on this limited batch, it is so freaking good. (I bought the one and only bottle I saw all season.) Vanilla is also fine.
Pumpkin Puree: Actual pumpkin puree make the latte extra thick and wonderful. Lots of pumpkin recipes call for less than one can of pumpkin puree, so this is one way to make use of the leftovers!
Coffee Syrup: I typically use a vanilla sugar-free variety. Depending upon how sweet you like your latte, this could be omitted.
Pumpkin Pie Spice: Pumpkin pie spice is a mixture of cinnamon, nutmeg, ginger, and cloves; all the classic pumpkin spices. I typically use each individual spice when I bake, as I like to use a little extra cinnamon and a little less nutmeg. Just my personal preference. But I do like this blend when I am using a very small amount in a recipe like this.
Stevia: I use one packet of Stevia sweetener. Any preferred type of sweetener is fine.
Almond Milk: Almond milk or milk of your choice.
Instructions
Start your coffee maker and brew your cup of coffee for the base of the latte.
While the coffee brews, combine the rest of the ingredients in a two-cup measuring cup. Stir the ingredients to combine. Microwave until completely heated through. Watch carefully as the mixture will start to rise, and who needs a mess in the microwave? 😉
Use a frother on the mixture until very foamy. If you don't have a frother use a small whisk to whip the mixture until frothy.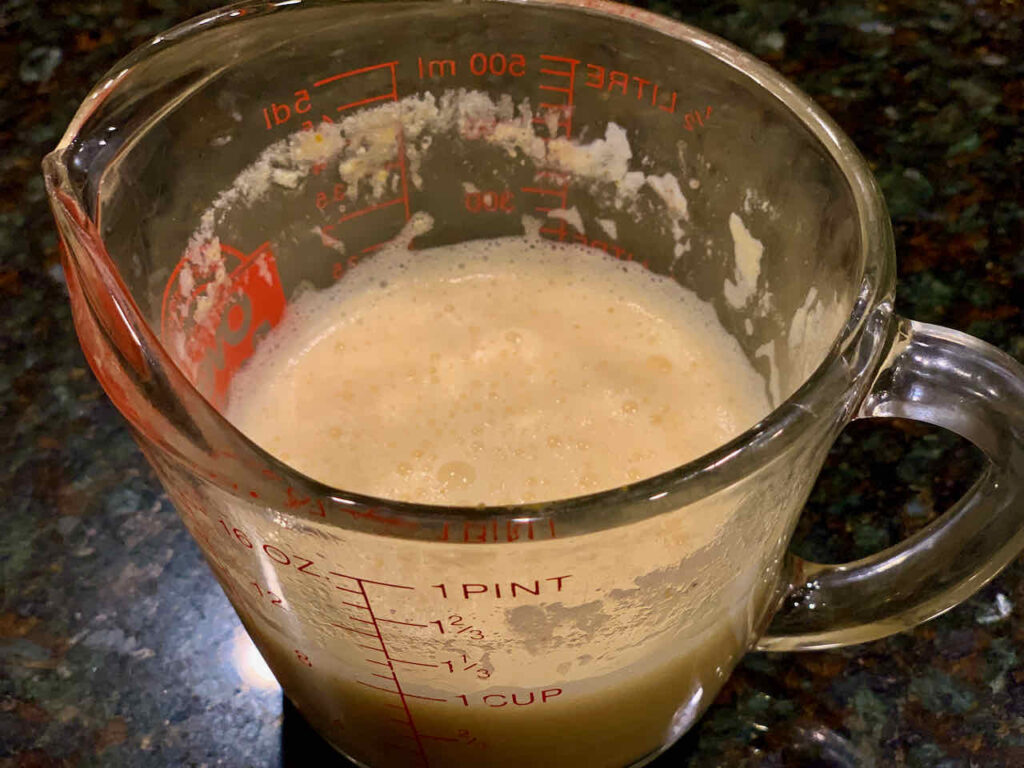 Pour the coffee in a large cup, followed by the frothy latte mixture. Sprinkle with additional pumpkin pie spice.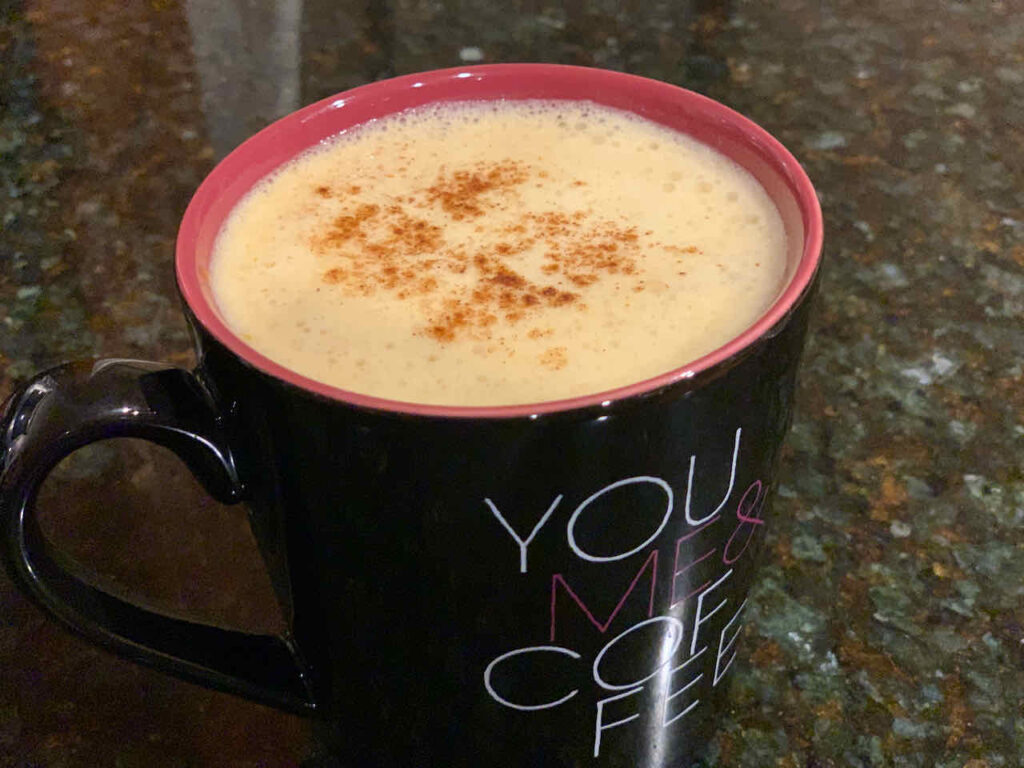 Celebrate the fall season and enjoy every sip of your homemade pumpkin spice latte.
Here are more ideas for homemade latte varieties. It will be peppermint mocha season soon!
Pumpkin Spice Latte
Ingredients
8

ounces

strong, black coffee

freshly brewed

1

Tbsp

coffee cream

pumpkin spice or vanilla flavor

1

Tbsp

flavored coffee syrup

pumpkin spice or vanilla flavor

1-2

Tbsp

pumpkin puree

½

tsp

pumpkin pie spice

plus extra for sprinkling on top

1

packet

Stevia

or sweetener of your choice

almond milk

or milk of your choice
Instructions
In a 2 cup glass measuring cup, mix together coffee creamer, coffee syrup, pumpkin puree, pumpkin pie spice, and stevia. Add enough almond milk to make a total of 6 ounces.

Microwave on high power 1 1/2 – 2 minutes until the mixture is hot and starting to bubble up in the measuring cup. Watch carefully to assure the mixture doesn't overflow the cup.

Remove from the microwave and use frother to foam the milk. You can also use a blender — just process for 30 seconds or until foamy.

Pour coffee into a large mug; add milk mixture on top. Sprinkle with cinnamon. Enjoy!