Spicy queso dip for two and a bowl of tortilla chips is the best appetizer.
The Super Bowl is this weekend! You know, that big football game, lots of hype, some commercials, and a halftime show. It's kind of a big deal! Whether you are all about the football game like me or more about the rest of the festivities, you have to have some good food to eat.
While I love spicy and certainly like my queso dip to have some heat; you could definitely make it mild. Eliminate or cut down on the jalapeno pepper and chipotle pepper, and also substitute another cheese for the pepper jack. Either way, you have a wonderful cheesy dip to share with your favorite person.
Ingredients
Butter: Used to saute the onions and peppers. Then the butter combines with the flour to thicken a saucy base.
Red Onion: Adds texture and some pretty, red color.
Jalapeño pepper: The first of the sources of heat. I have used either jalapeño or poblano peppers and both worked great. Poblano peppers are typically a little less spicy.
Garlic: Adds more flavor.
Chipotle Pepper in Adobo Sauce: Smoked and dried jalapeño peppers canned in a smoky tomato sauce. They add great flavor and heat.
Hot Chili Powder: Adds great flavor.
Salt & Pepper: Bring out all the flavor.
Flour: Flour is combined with the butter to thicken the sauce to be perfectly dip-able.
Milk: Makes the sauce creamy.
Cream Cheese: Adds great creamy texture and mutes the heat a bit to create the perfect amount of spice.
Pepper Jack Cheese: Spicy cheesiness! You could use a Monterey jack cheese or another meltable cheese if you want to eliminate a little of the heat.
Cilantro: Adds fresh flavor and a nice pop of color. Omit if you are cilantro adverse.
Corn Tortilla Chips: Perfect for dipping.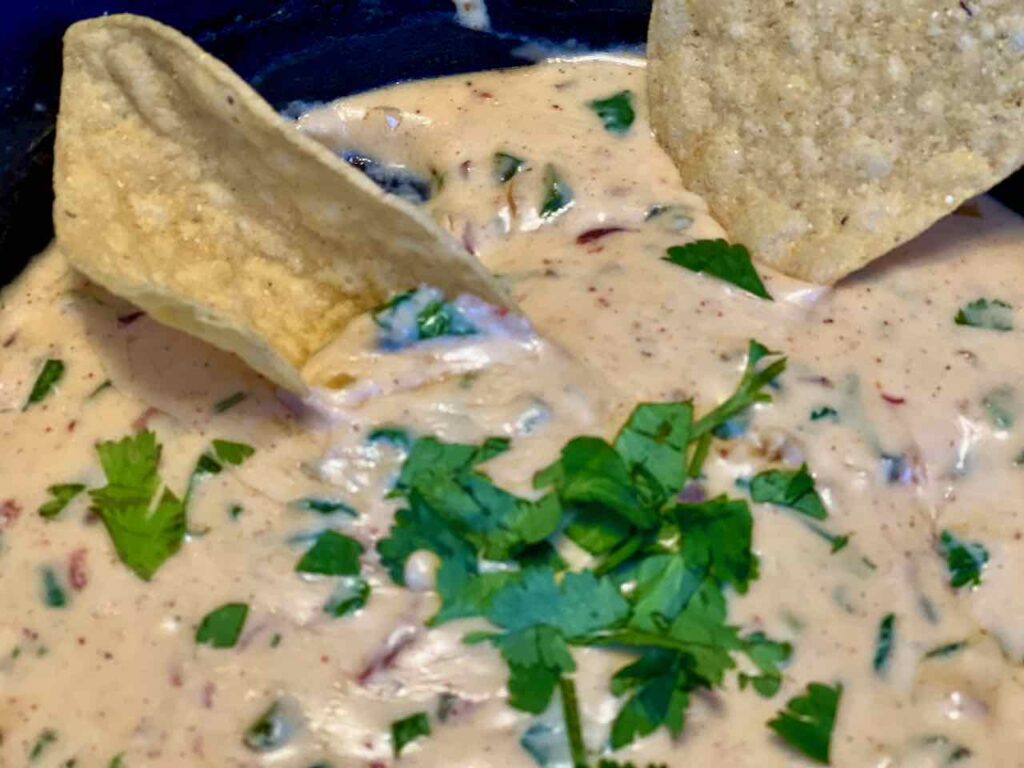 Instructions
Any small skillet is going to work for this recipe. I have a cute little cast iron skillet that I love for all sorts of small-batch recipes!
As I have discovered whenever I make this recipe, it comes together quickly. Collecting and prepping your ingredients ahead of time will save you from scrambling like I was when I made this for a happy hour at home recently.
Sauté the finely diced onion and pepper in butter for a few minutes. They should still be a little crisp. Then add garlic and stir for one minute. The chipotle pepper, chili powder, salt, and pepper are then added. Give everything a good stir.
Add the flour and stir until it incorporates with the butter and veggies. Pour in half of the milk and add the cream cheese. Stir constantly as the cream cheese melts and the milk combines with the flour to create a sauce.
Add the rest of the milk and the pepper jack cheese. Stir constantly as the cheese melts.
Stir in cilantro. Sprinkling a little cilantro over the top is a nice touch.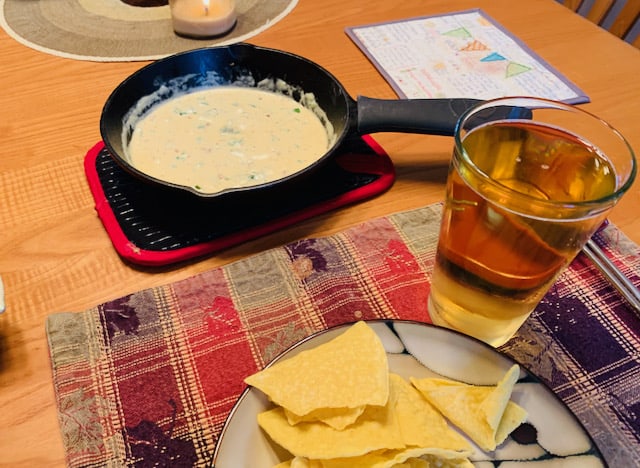 Whether you enjoy it while you watch football, or enjoy it at your next party or happy hour at home, spicy queso dip for two is a treat!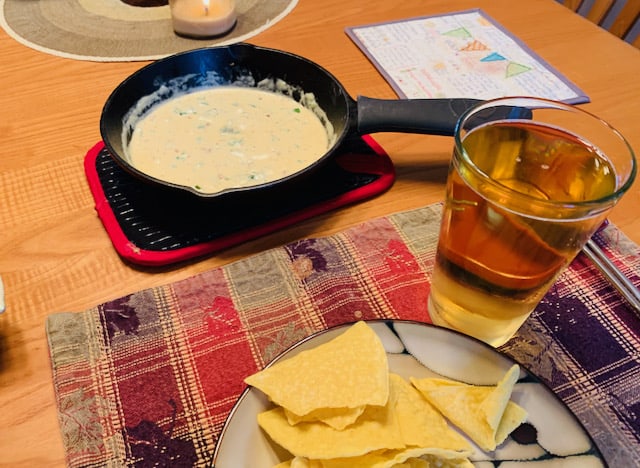 Spicy Queso Dip for Two
Ingredients
2

tsp

butter

2

Tbsp

red onion

finely chopped

1

Tbsp

jalapeño pepper

finely chopped

1

clove

garlic

minced

2

tsp

chipotle pepper in adobo sauce

minced

½

tsp

hot chili powder

¼

tsp

salt

⅛

tsp

pepper

1

tsp

all-purpose flour

½

cup

milk

divided

1

ounce

cream cheese

cut into small pieces

3

ounces

block pepper jack cheese

grated

2

Tbsp

cilantro

chopped

chips to serve
Instructions
Heat a small skillet over medium-low heat and melt the butter. Add the red onion and jalapeño and saute for a few minutes. Add garlic and saute for one minute. Add chipotle pepper, chili powder, salt, and pepper.

Add the flour and stir constantly for 1 minute.

Pour in ¼ cup of the milk, then the cream cheese. Stir constantly and cook until thickened and smooth, about 2 minutes.

Slowly stir in the remaining ¼ cup of milk and cook until combined and starting to steam. Add the shredded cheese. Stir constantly until the cheese is melted.

Stir in cilantro and serve immediately with tortilla chips