One big, ooey, gooey, warm, soft cookie baked in a skillet. The perfect dessert for two!
The very best cookie is a fresh, warm cookie straight out of the oven. The melty chocolate chips and that incredible aroma that envelops your kitchen. Pretty hard to resist.
I love a small batch dessert for date night or after a light dinner.
Ingredients
Butter: You can't make a rich, moist, wonder cookie without butter.
Brown Sugar: Creates a sweet, soft, and chewy cookie. The brown sugar also adds nice color.
Egg Yolk: Creates a rich, chewy cookie. You can save the egg white in the refrigerator for a few days for another use.
Vanilla Extract: A baking necessity.
Baking Powder: The leavening agent that causes the cookie to puff and rise.
Salt: Intensifies the flavor.
Flour: Creates the structure of the cookie.
Chocolate Chips: This cookie is loaded with chips! I used dark chocolate. You could also substitute nuts in place of part of the chocolate chips.
Instructions
Start by preheating your oven. If your oven offers the option of convection baking, use it! Convection really helps the cookie rise.
For this recipe, I use a small 8-inch skillet. You could also use a small cake pan. Prep your chosen skillet or pan with non-stick spray.
Combine ingredients as instructed. Stir until thoroughly mixed, then fold in the chocolate chips. You will find this is a lot of chips for the size of the cookie. But if I am going to make one big cookie, I want an aggressive amount of chocolate!
Once the dough is mixed, press gently into the base of the skillet. I found slightly wetting my hands helped me manipulate the dough into place.
Bake until the edges look crisp, but the center is still a little gooey.
Allow to cool slightly, but, by all means, enjoy this skillet cookie while still warm. You can either eat straight from the skillet with a spoon, or use the spoon to scoop pieces of the cookie onto a plate. Since the cookie will hopefully still be warm, it probably wouldn't come out intact.
Extra nice with a little ice cream!
For another scrumptious dessert for two, try chocolate banana bread cake.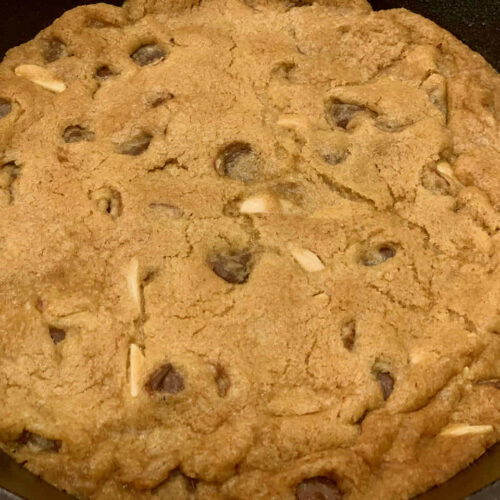 Skillet Cookie for Two
Ingredients
2

Tbsp

unsalted butter

softened

½

cup

brown sugar

1

egg yolk

½

tsp

vanilla extract

¼

tsp

baking powder

⅛

tsp

salt

⅓

cup

all purpose flour

½

cup

chocolate chips
Instructions
Preheat oven to 350℉. Use convection if available. Spray a small cast iron skillet (I use an 8 inch skillet) or a small cake pan with nonstick cooking spray.

Thoroughly combine butter and brown sugar then mix in the egg yolk, vanilla, baking powder, and salt. Stir in flour. Finally, fold in chocolate chips.

Bake for about 20 minutes or until the outer edges and center are golden brown, but the center is still quite soft. The cookie will continue to bake when pulled from the oven and is best when still soft and gooey.

Allow to cool slightly. Best enjoyed while warm. Nice with ice cream!