Creamy, tangy, and a little spicy, this is the perfect sweet potato fry dipping sauce.
I became acquainted with sweet potato fries at a wonderful local restaurant years ago. Prior to this, my exposure to sweet potatoes was limited to the casserole served with marshmallows on top at holidays. Tasted fine, but nothing I craved.
This restaurant served incredible sweet potato fries accompanied by the most amazing sauce. It was creamy, spicy, and absolute perfection.
Now I eat sweet potatoes fries, and sweet potatoes in general, all the time. Turkey burgers and fries are among my favorite easy weeknight meals.
Husband prefers white potatoes, but as you can see, we can both get what we want. Both are actually excellent, nutritious choices.
For me, ketchup is perfect with regular fries. But for sweet potato fries, I really like to have a creamy sauce with a little spice.
This sauce is about the closest I have come to recreating that delectable sauce that first introduced me to sweet potato fries. I am sure this dipping sauce would be equally yummy with regular fries.
Ingredients
Light Mayonnaise: Mayo provides the base of the sauce and that wonderful tangy flavor.
Sweet Chili Sauce: Sticky, sweet, and a little spicy. I love sweet chili sauce.
Sriracha sauce: Adds great spicy flavor.
Garlic Powder: Garlic flavor makes anything savory even better.
Worcestershire sauce: Adds tangy, salty flavor.
Black Pepper: I add pepper to pretty much any savory dish.
Instructions
Simply combine the ingredients in a small bowl.
Next time you treat yourself to the joy that is a sweet potato fry, try some dipping sauce!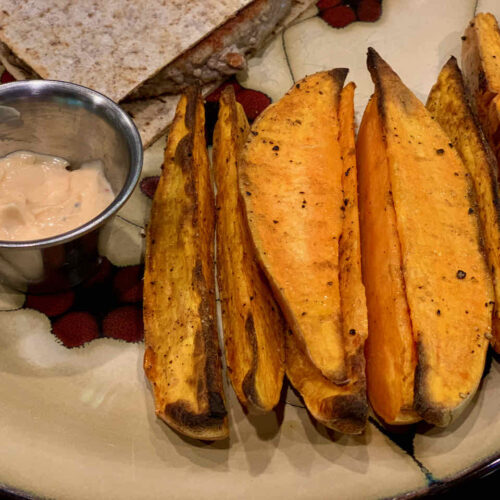 Sweet Potato Fry Sauce
Ingredients
2

Tbsp

light mayonnaise

1

tsp

sweet chili sauce

½

tsp

Sriracha sauce

⅛

tsp

garlic powder

1

drop

Worchestershire sauce

¼

tsp

ground black pepper
Instructions
Combine light mayonnaise, sweet chili sauce, Sriracha sauce, garlic powder, Worcestershire sauce and black pepper together in a small bowl until well combined.

Store in an airtight container in the refrigerator. I like to prepare 4-8 hours before serving to allow flavors to meld.