Five-spice baked sweet potato fries are my new favorite side dish.
It took me far too long in life to give sweet potatoes an honest try. The canned sweet potatoes, sometimes covered with marshmallows, that come out for holidays were okay. Not great, just okay.
Sweet potato fries were a standard side dish at one of our all-time favorite restaurants, so I felt it was mandatory to try them. I was blown away, crispy on the outside and tender on the inside. So freaking good!
They came with an incredible dipping sauce, and together they were pure and utter perfection. Unfortunately, that restaurant is no longer around, and I have never come across an equal match for either the fries or the sauce.
Husband isn't a fan of sweet potatoes. Although he will remind me he doesn't dislike them enough to not be willing to try them in recipes. But I simply make them for myself and order sweet potato fries pretty much every time I see them on a restaurant menu.
Ingredients
Sweet Potato: One medium-sized sweet potato is a nice serving for one. Sweet potatoes tend to have less of a uniform shape than your standard white potato. Any and all shapes are yummy, but if I am making fries, I look for one in the shape of a little football. It will be easier to chop into fries.
Chinese Five Spice Powder: A wonderfully sweet and savory mix of spices. I originally bought a jar to try this delicious recipe.
Olive Oil: Allows the spices to coat the fries and helps them bake up golden and crispy.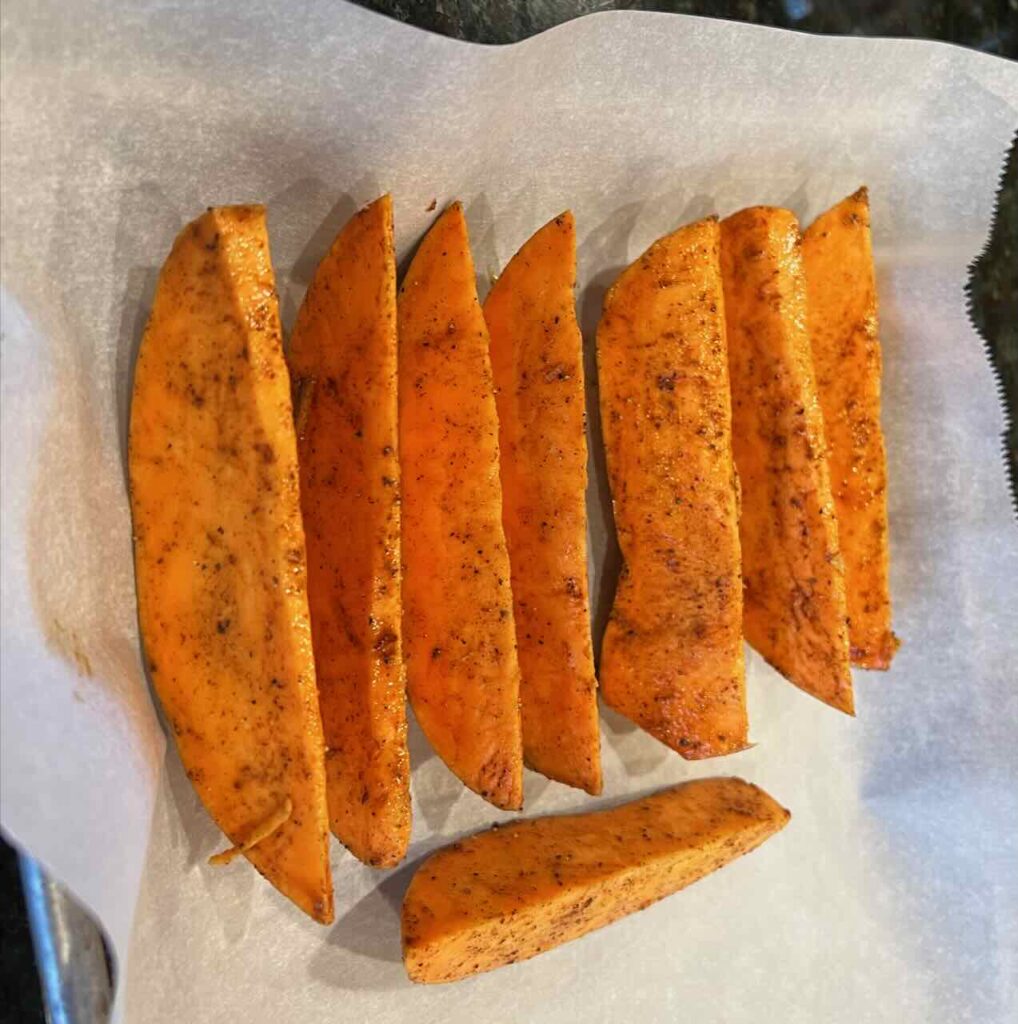 Instructions
Start by preheating your oven, with convection if you have it. While it is often okay to stick food in an oven while preheating, you want full heat from the beginning with something like fries. This helps them get crispy.
I like to place my fries on parchment paper for easy cleanup. But I will say I think fries get crispier when baked directly on a sheet pan.
Clean and scrub your sweet potato thoroughly. You can also peel it if desired. I rarely peel potatoes as I like the flavor, it adds texture and helps preserve nutritional value.
Chop your sweet potatoes into even-sized wedges. Sweet potatoes are denser and a little harder to cut than other varieties, be sure to use a sharp knife.
Place your potato wedges in a bowl, sprinkle with the five spice powder, and drizzle with olive oil. Stir until all the wedges are evenly coated.
Arrange the wedges in a single layer on your sheet pan
Hubby prefers the classic Russet potato oven fries. His and hers oven fries. 🙂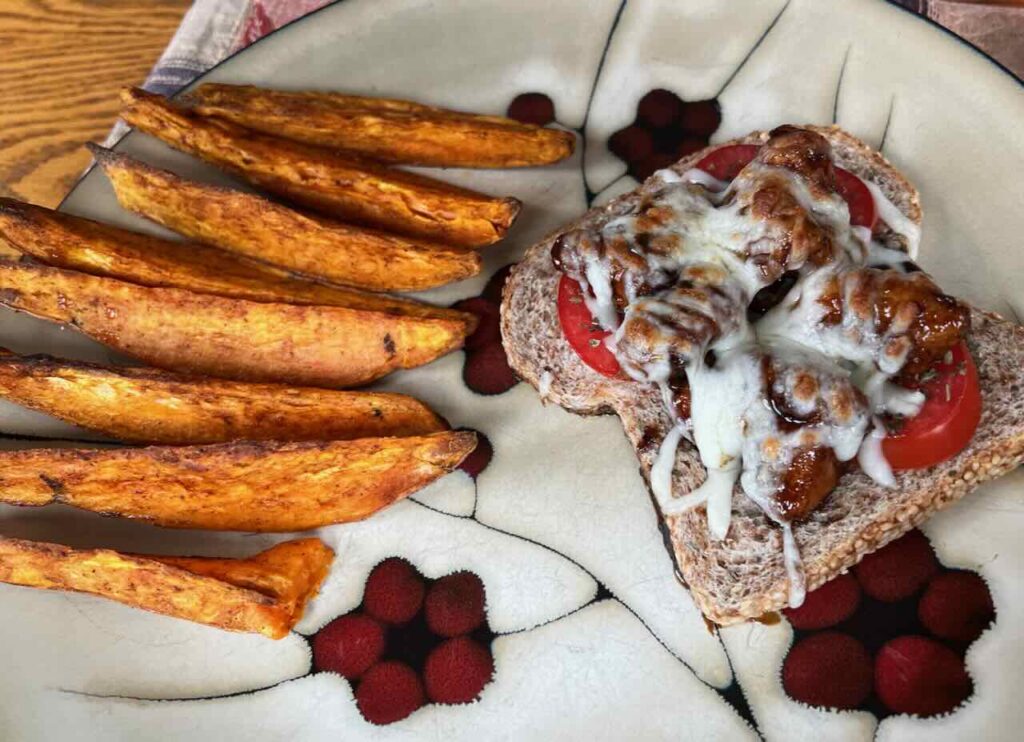 Bake until golden, tender, and crispy on the edges. Serve immediately and enjoy!
Five Spice Baked Sweet Potato Fries
Ingredients
1

large

sweet potato

sliced into wedges

1-2

tsp

Chinese five spice powder

2

tsp

olive oil
Instructions
Preheat oven to 450° F. Line a sheet with parchment paper if desired for easy cleanup.

Thoroughly wash and scrub the sweet potato. Peel the potato, if desired.

Using a sharp knife slice the sweet potato into wedges and add to a bowl.

Sprinkle the sweet potatoes with five spice powder and olive oil. Using your hands or spoon stir the potatoes until evenly covered with spice powder and oil.

Place the wedges on a sheet pan. Bake for 35-40 minutes until golden and tender.