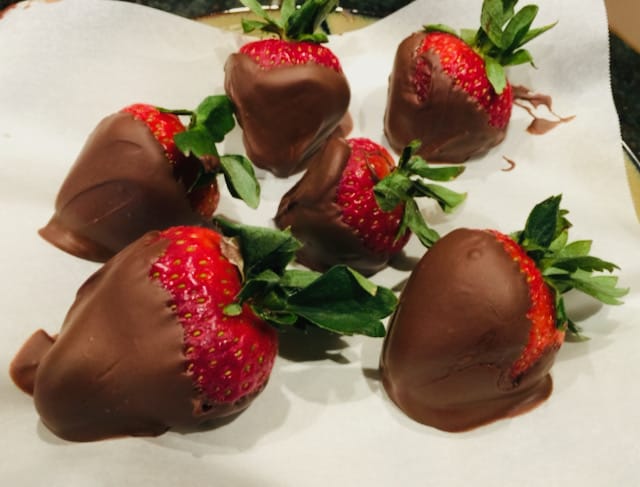 Chocolate-covered strawberries are so very simple, yet so scrumptious. They look fancy, but take literally five minutes to put together. Two wonderful ingredients that are absolutely perfect together.
I love a small batch dessert. I can make an indulgent little treat for the two of us without a whole pan of temptation sitting around for days and days. Brownies are a more recent favorite, and we have loved these lemon cakes for years.
This is a classic treat to have on Valentine's Day, but I consider them anytime I have some ripe, red, pretty strawberries in the house.
Ingredients
Strawberries: Select large, ripe, well-shaped strawberries. A nice green stem makes for a pretty presentation. Plus you need to hold the stem to swirl the strawberry in the chocolate.
Chocolate: I always have chocolate chips in the house, and that is what I use. Any nice, melting chocolate will be great. I love dark chocolate, but semi-sweet chocolate chips work great too. I wouldn't turn down a strawberry dipped in milk or white chocolate either, whatever you have!
Instructions
Start by prepping your strawberries. Wash them individually and gently dry them, taking care not to bruise and damage the fruit. Set your strawberries on a paper towel and allow them to dry thoroughly. If the strawberries aren't completed dry the melted chocolate wouldn't adhere.
Next, you will melt your chocolate. I find the microwave to be an easy, effective way to melt my chocolate chips. Some people stand by a double boiler method to melt chocolate. Whatever you choose, make sure the chocolate is completely smooth and melted.
Take each strawberry by the stem and swirl in the chocolate until coated. Carefully set each strawberry on parchment paper in a container with a lid.
Refrigerate for at least an hour prior to serving. They can be eaten straight out of the refrigerator or allowed to sit at room temperature for a few minutes. I tend to like the crunchy chocolate shell on the strawberry right out of the refrigerator. They are wonderful either way!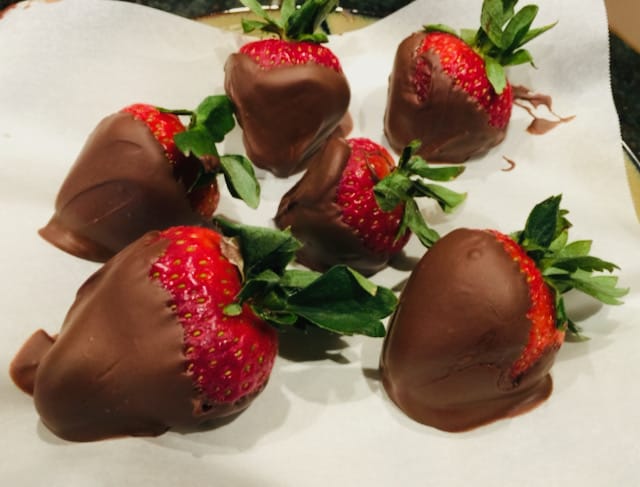 Chocolate Covered Strawberries
Ingredients
6

large, ripe strawberries

stems intact

¼

cup

chocolate chips

semi-sweet or dark
Instructions
Gently wash and thoroughly dry the strawberries. Set on a paper towel while you prep the chocolate.

Add chocolate chips to a small, microwavable bowl. Microwave in 30-second increments, stirring, until the chocolate is smooth without any lumps.

Holding the stem, swirl the strawberries, one at a time, in the chocolate. Set the strawberries on parchment paper in a container with a lid.

Refrigerate for at least one hour and keep refrigerated until ready to serve.