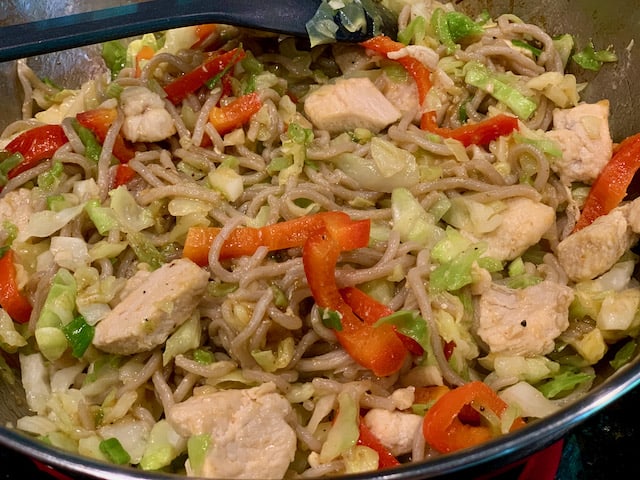 Chicken chow mein is the perfect weeknight dinner. Ready in under a half-hour and a complete meal in one skillet. The crunch from the cabbage and peppers is perfect with tender noodles, bites of chicken, and a flavorful sauce.
This recipe came about as a way to use leftover cabbage. Coleslaw is one of my favorite sides to serve, but a small batch for the two of us certainly isn't going to use up a whole head of cabbage or bag a shredded cabbage.
Throwing perfectly good ingredients isn't in my repertoire, so I had to find some recipes to make use of my leftover cabbage. I have made this recipe dozens of times with lots of tweaks to make it my own.
I wasn't sure about the sauce at first. It didn't seem like it would be enough to give the dish enough flavor, but it is really delicious.
Ingredients
Low Sodium Soy Sauce: The base of the sauce.
Fish Sauce: This pungent sauce adds great authentic Asian flavor.
Honey: While this isn't a sweet sauce, this honey is nice to balance out the salty, savory flavors.
Sesame Oil: Emulsifies the sauce and adds flavor.
Rice Vinegar: Adds acid to the sauce.
Black Pepper: I love black pepper in stir-fries.
Sriracha: Add a little or a lot for a delicious spicy flavor.
Corn Starch: This allows the sauce to thicken and coat the chicken, veggies, and noodles.
Canola Oil: A nice, neutral oil with a high smoke point, making it a good choice for a stir-fry.
Boneless Skinless Chicken Breast: Thighs would also work very well.
Red Bell Pepper: Nice color contrast with all the green and white ingredients.
Garlic: More savory flavor.
Ginger: Adds brightness.
Shredded Cabbage: Becomes slightly tender but still a little crispy.
Soba Noodles: I absolutely love these ready-to-use soba noodles.
Green Onions: Adds nice crunch.
Sesame Seeds: Optional. I add if I remember them. 😉
Instructions
I like to start by mixing up my sauce and chopping my chicken and vegetables. If you are using noodles that need to be cooked, you will also want to start that process.
Once the oil is heated, you will add your chicken and red peppers, as they take the longest to sauté. The shredded cabbage, garlic, and ginger are then added and cooked for only a few minutes.
Add the noodles. I like to heat and break up my pre-packaged noodles, as they aren't in the skillet for long.
Add the sauce to the pan and stir to coat all the ingredients with sauce.
Garnish with green onions and sesame seeds. Serve immediately.
Chicken chow mein is a complete meal as is, but I like to serve with roasted broccoli. Enjoy!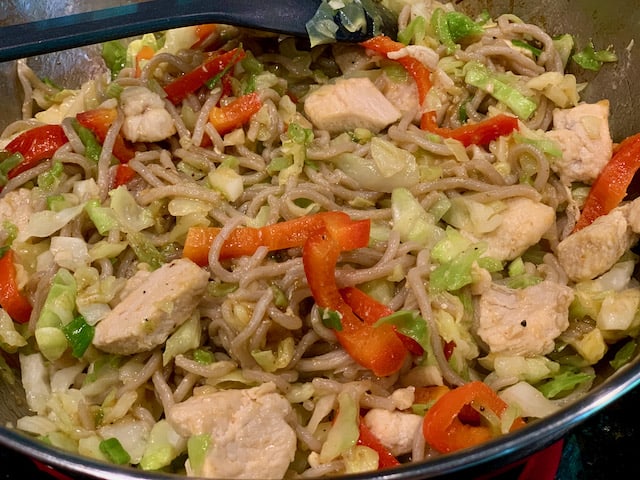 Chicken Chow Mein
Ingredients
Sauce
2

tsp

fish sauce

2

Tbsp

low sodium soy sauce

1

tsp

honey

2

tsp

sesame oil

1

tsp

rice vinegar

black pepper to taste

2

tsp

Sriracha

1

Tbsp

corn starch
Chow Mein
1

Tbsp

canola oil

1

boneless

skinless chicken breast

chopped into bite-sized pieces

1

cup

red bell pepper

sliced

2

garlic

cloves

minced

1

tsp

minced fresh ginger

1-2

cups

shredded cabbage or slaw mix

2

servings

soba noodles or noodles of your preference

2

green

onions

sliced

Sesame seeds

for garnish, optional
Instructions
In a medium bowl, whisk together all the ingredients for the sauce. Meanwhile, if needed, prepare noodles according to package instructions and set aside. No need if you are using packaged, ready-to-use noodles.

Heat canola oil in a large, deep skillet or wok over medium to high heat. Add chicken and red pepper and stir-fry for 4-5 minutes, or until lightly brown. Add garlic and ginger and sauté for about 1 minute. Add cabbage and cook for 1-2 minutes, or until wilted but still slightly crispy.

Add the noodles into the pan and stir to thoroughly combine the noodles with the other ingredients. Give the reserved sauce a quick stir, then pour over the entire contents of the skillet. Toss the noodles to coat with sauce.

Stir in green onions, stirring for 30 seconds to combine. Serve immediately topped with sesame seeds.