Roasted cabbage is an easy, tasty, and healthy dish to make use of this versatile, delicious vegetable.
I am assuming you are like me and have a big head of cabbage sitting in your produce drawer. Every store in the area had heads of cabbage on sale these past weeks, courtesy of St. Patrick's Day. Luckily, cabbage lasts a while compared to a lot of produce. Corned beef and cabbage get all the attention around this time of year, but cabbage is wonderful all on its own with this wonderful side.
Ingredients
Olive Oil: This flavorful oil acts as a base for the other ingredients to disperse across the cabbage.
Lemon Juice: Citrus is a welcome addition to so many recipes. I love the brightness and fresh flavor a bit of lemon juice brings to a dish.
Worcestershire sauce: Adds a nice savory element to the cabbage.
Salt: Enhances the flavors.
Freshly Ground Black Pepper: Adds spicy, pungent flavor.
Cabbage: We are using basic green cabbage here. I am a fan of any and all types of cabbage.
Instructions
The hardest part of roasted cabbage (and don't worry, it isn't hard) is chopping the cabbage into quarters. You need a sharp knife, a little muscle, and perseverance. That's it! 🙂
Gather your cabbage, your knife, and your arm muscles, and place the cabbage on a sturdy cutting board. Chop in half and in half again to create quarters of cabbage. Remove the hard core. Place each quarter of cabbage on a sheet of aluminum foil. If you are using all four quarters of the cabbage, you will want to double the sauce recipe.
Combine the olive oil, lemon juice, Worcestershire sauce, salt, and pepper in a small bowl. Give a whisk to combine and slowly pour the mixture over the cabbage. Try to get the sauce into the nooks and crannies and down the sides of the cabbage.
Bake for at least 50 minutes depending on how soft you would like the cabbage. Hubby and I like our roasted cabbage quite soft.
Carefully unwrap the cabbage and plate. Serve immediately while hot and enjoy!
For other delicious cabbage recipes, try this classic coleslaw or a quick easy dinner of chicken chow mein.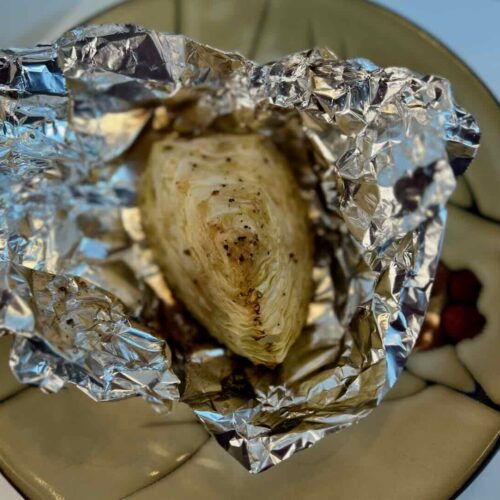 Roasted Cabbage
Ingredients
1

tsp

olive oil

1

Tbsp

lemon juice

1½

tsp

Worcestershire sauce

¼

tsp

salt

¼

tsp

freshly ground black pepper

1

half

medium-sized cabbage
Instructions
To make the marinade: In a small bowl, add the olive oil, lemon juice, Worcestershire sauce, salt, and pepper. Stir to combine.

To prepare the cabbage: Remove any discovered leaves from the outside of the cabbage. Using a sharp knife, cut the head in half on the core. Then cut again to create the quarter head of cabbage. Remove the core.

Lay each wedge on a sheet of aluminum foil large enough to wrap it up in. Give the marinade another stir and spoon about 2 Tbsp of the marinade onto each quarter of cabbage. Let the mixture drip down the sides of the cabbage and try to cover all the surfaces.

Wrap each wedge in foil and place on a baking sheet. Bake for 50-60 minutes or until desire tenderness.