We enjoyed a much-anticipated vacation this week. Monday and Tuesday were spent enjoying the Canal Park area in Duluth, Minnesota; one of our favorite vacation spots over the years. Then on Wednesday, we headed to downtown Minneapolis for two days.
Duluth
On our way to Duluth, we needed a spot to break and stretch our legs. Munsinger Clemens Gardens in St. Cloud was a perfect mid-morning break in the drive.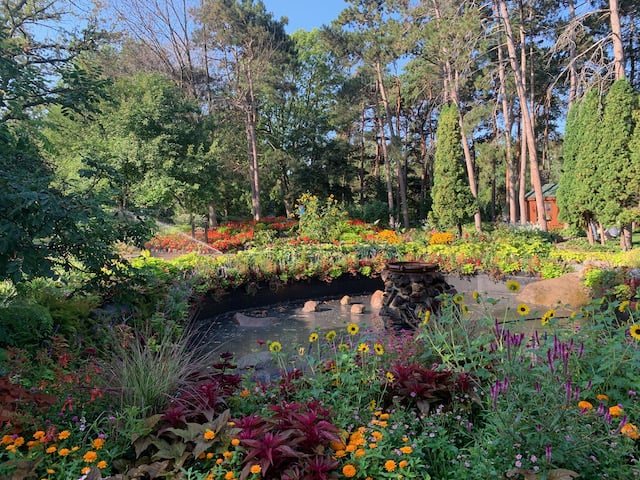 The gardens are absolutely beautiful! The Munsinger garden is more free-flowing, with winding paths and brilliant color displays.
The Clemens Garden has lots of roses and is more formal and structured. They are both exquisite.
It was very warm and sunny when we arrived in Duluth. The wind was brisk, which was bringing in the smell of smoke from the Boundary Waters wildfires.
We enjoyed walking around for a while after we arrived. Our hotel was Canal Park Lodge, which is located in Canal Park on Lake Superior. It's our favorite hotel in Duluth, and we have stayed there many times.
Happy hour for sushi rolls and beer at Hanabi. So yummy!
Rain the next morning. Luckily, the weather did clear, and we were able to do the lake walk.
The rose garden looks very nice this year. You can see the famous lift bridge in the background of the photo.
Overall, the weather cooperated pretty well. We were concerned Tuesday was going to be a wash-out due to rain, but fortunately, the skies cleared by mid-morning.
Husband has been craving a malt from the Portland Malt Shoppe. This blueberry malt was amazing. He did share a couple of scoops. 😉
That evening, we had deep dish pizza at Green Mill and watched the Minnesota Lynx basketball game. They won, and the pizza was outstanding.
Minneapolis
After one last walk along Lake Superior the next morning, we continued our vacation week in the Twin Cities. The trip included a tasty lunch at Ingredients Cafe. The place is adorable! We stumbled across the place on our way to Duluth several years ago and decided to make it our stop for lunch on this trip.
We arrived in downtown Minneapolis too early to check into our hotel. I had to make a visit to the home of the Vikings. 🙂 When we checked in at Hyatt Place in downtown Minneapolis, we were thrilled to find out we were upgraded to a suite!
Happy hour that night at Rock Bottom Brewery for Margherita flatbread, then on to Barrio for tacos and a margarita.
Minneapolis has a fantastic walking path, including crossing the Stone Arch Bridge. A couple of years ago we were in town for a Vikings preseason game and just sort of stumbled into this great area while out for a walk.
Hell's Kitchen for lunch; awesome place! I had the original power bowl with grilled chicken.
The rain started again shortly after lunch. It has been so dry this year, but we ran into our share of rain this week.
Dinner at Crave was pomegranate molasses salmon with purple fingerling potatoes and Brussels sprouts. It was incredible. The unfun part was getting soaked with rain on the way to dinner. Husband will be happy to remind me, while we got wet on the way to dinner, we got soaked on the walk back to the hotel!
Walking, great meals, and relaxing. It was my idea of a vacation.
Weeekend & 5K
Home on Friday to the house and kitties. The cats have definitely forgiven us for daring to leave them. Love vacation week, but there is always something about getting home to the house, the cats and our own bed.
I have my 5k run today and I am very excited to actually run with other people. I have done the 3.1-mile run on several occasions, including last weekend, but it is still going to be a new experience doing actual competitive rice. Not that I am at all concerned about the competition factor as that certainly isn't my goal.
I'm nervous but excited. I think it will be a lot of fun.