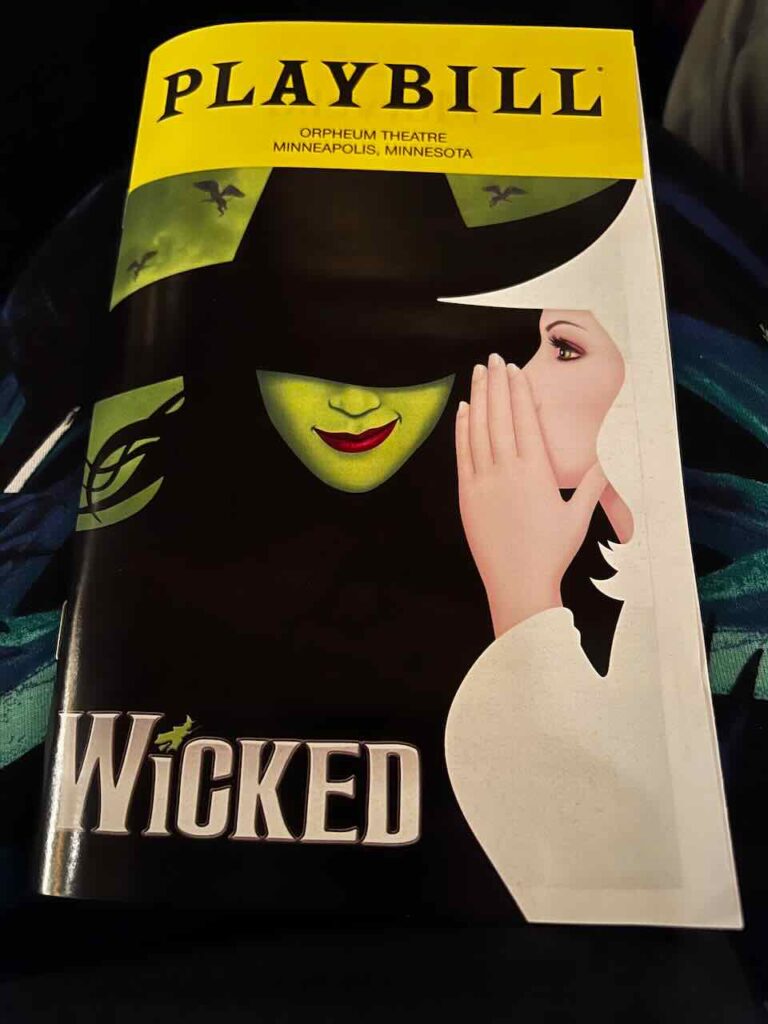 Happy Sunday.
A few months ago, when I saw the Broadway show Wicked was going to be in Minneapolis for a month-long engagement, I knew what I wanted to do to celebrate my birthday. Wicked was on my short list, along with Hamilton, to see when we were supposed to go to New York City a couple of years ago. COVID spoiled all of that.
We have since watched Hamilton on Disney+. It doesn't replace the live theater experience, but I sort of feel like I have seen the show.
The Orpheum Theater in Minneapolis is so beautiful. We enjoyed Phantom of the Opera and The Lion King in the past. The place has this old-school elegance that I love.
I loved Wicked. Although I have been hearing raves for years about the show, I didn't know much about the story other than it is based on the witches from The Wizard of Oz.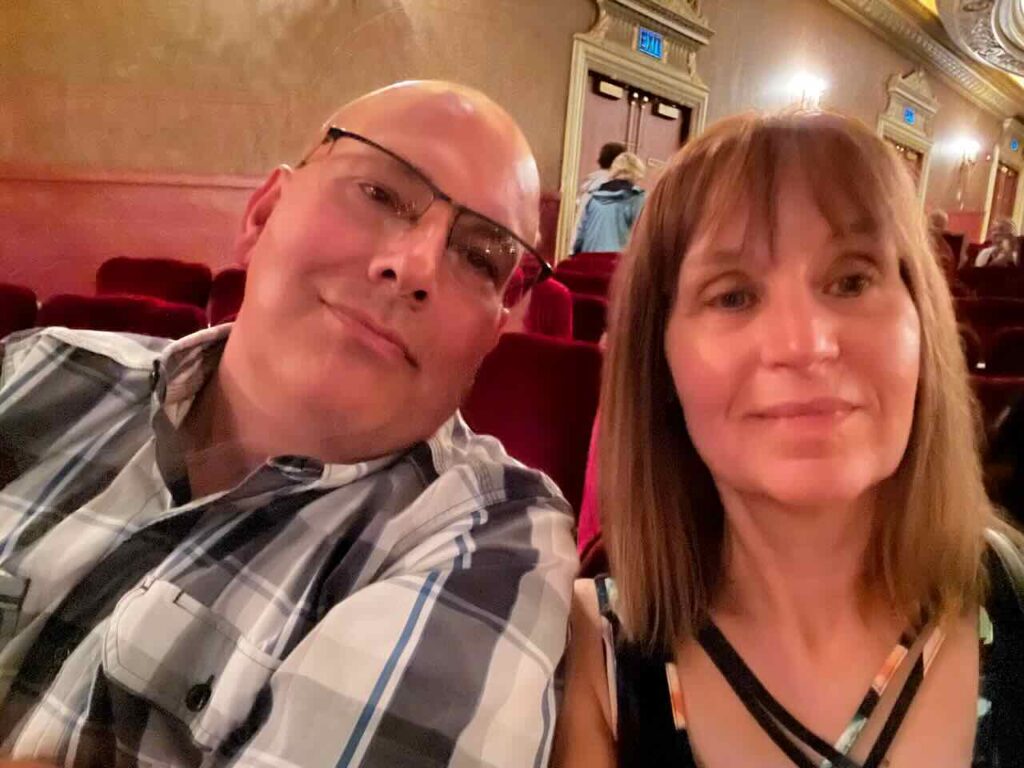 Blurry selfie before the show. 🙂 I didn't want to be those people taking a million pics.
We actually saw the show the day before my birthday. I worked a half day and felt quite spoiled by the wonderful people I am lucky enough to work with. Hubby and I drove to Minneapolis in the afternoon. We checked into our hotel, then had dinner and drinks at Crave and Rock Bottom Brewery.
The next morning, my birthday started at Hen House Eatery. I adore this place. Once we started planning this getaway, I immediately knew where I wanted to go for breakfast. I had a veggie omelet with quinoa, spinach, goat cheese, and tomatoes. The jam on the multigrain toast is house-made. We also split a caramel roll. Their menu mention getting a roll while they last. I have absolutely no doubt they sell out routinely. Everything was so good!
While we were sitting at breakfast, we saw Sylvia Fowles from the Minnesota Lynx walk in! She recently retired after playing a stellar career including two WNBA championships with the Lynx. She was sitting in the entryway of the restaurant when we were leaving, evidently meeting someone for breakfast. I wanted to stop, say hi, and probably fan-girl all over her. But I didn't. Bothering people isn't my style. But it was fun to see her.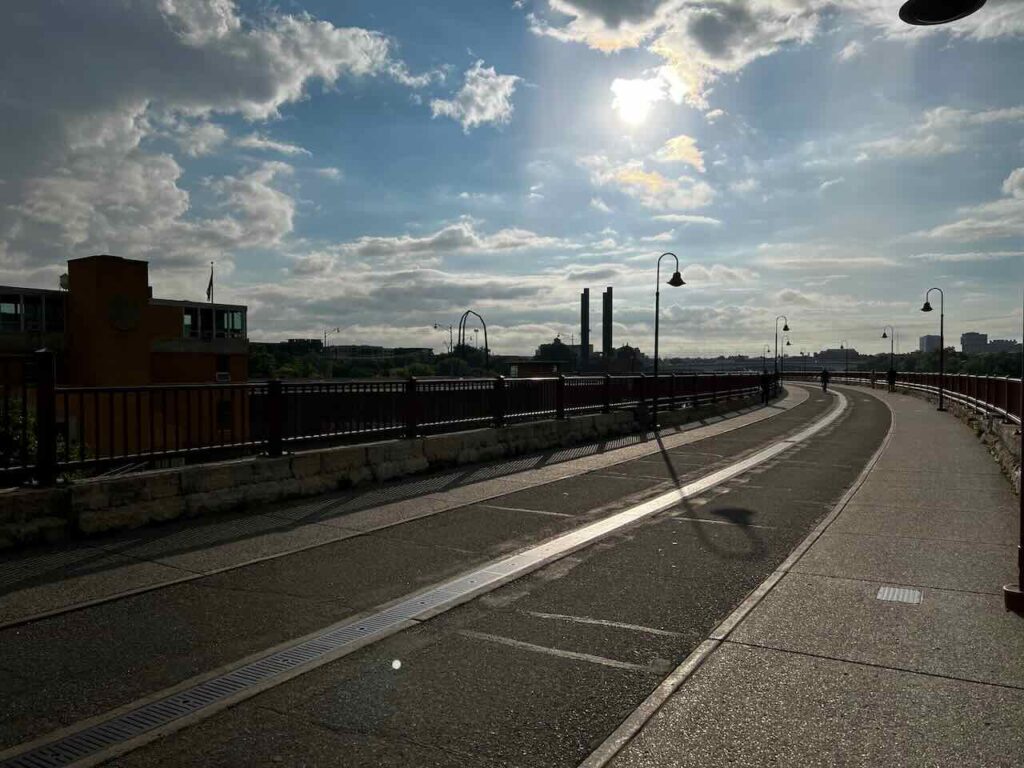 We took a walk on the Stone Arch bridge after breakfast. What started as a beautiful morning turned into rain. We were quite soaked by the time we go back to the hotel. My original plan for the day included the Minnesota zoo. Since I no longer trusted weather forecasts or radars, I bailed on the idea of the zoo. Getting soaking wet from rain once a day is my limit. 😉
We drove to Mall of America and had lunch at Cantina Laredo, a new-to-us restaurant. I had fish tacos and Husband had chipotle chicken. Our meals and the chips and salsa served ahead of lunch were outstanding!
That night we had dinner back close to home. I had creamy, dreamy chicken pasta with red wine. We split this awesome tiramisu for dessert.
It was an excellent birthday!
What caught my eye this week
Make My Drive Fun. Type your starting point and destination into the search bar and get ideas for fun stops along your route.
End of Summer Activities. Bonfires are firmly in the fall fun category, as far as I am concerned. But otherwise, I totally agree. Wear your favorite summer clothes, eat the summer produce and herbs, and enjoy the weather before winter rolls around.
The benefits of "bad" workouts. For me, unless I injure myself, every workout is good.
Interesting article about the amount of garlic in recipes.
So much bad news all the time, I love to see something positive.
While the people are away, the cats sleep the day away!
Have a lovely weekend.