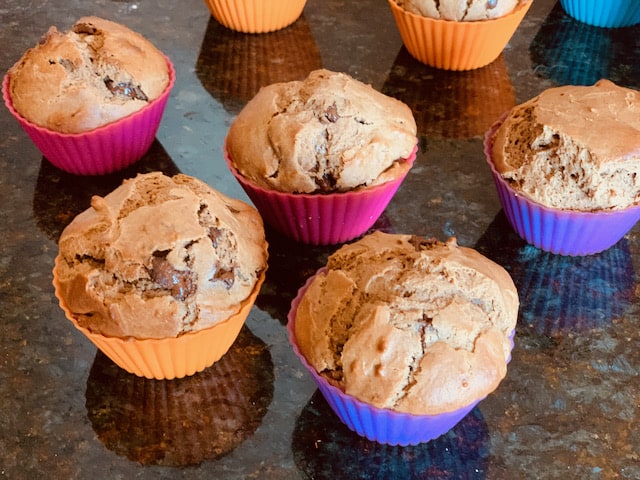 Two tantalizing flavors come together to form double chocolate peanut butter muffins. Both cocoa powder and chocolate chips provide rich chocolate flavor, and then we add lots of creamy peanut butter. What we have is one rich, delicious muffin.
Peanut butter and chocolate is an amazing combination. I think it's the sweet and salty elements that make it so good.
Ingredients:
Flour, baking powder, salt and cocoa powder: Cocoa powder combines with the rest of dry ingredients to incorporate chocolate flavor throughout the muffin.
Peanut butter: I like natural peanut butter, but any variety of peanut butter should be fine. I have never tried crunchy peanut butter, but I bet it would be good!
Butter: For a little extra richness.
Brown sugar: I love brown sugar in baking.
Eggs: Eggs give structure and add richness and flavor.
Milk and Half & half: For moisture and flavor.
Chocolate chips: I love dark chocolate, but any variety of chocolate chips are fine.
Instructions:
We start by combining the dry ingredients in a medium-sized bowl. The cocoa powder goes right in with the flour to get incorporated evenly through the muffins.
In a large-sized bowl cream together the melted butter and peanut butter until well combined. Stir in the brown sugar. Add eggs and beat thoroughly until mixture is well combined. Add the milk and half & half and stir again until all the wet ingredients are combined.
Stir in the flour mixture slowly until just combined. Fold in chocolate chips slowly just until chips are incorporated into the batter.
Scoop batter into muffin tins or silicone cups. A cookie scoop works well. To get a nice dome on the muffins be sure to load up the cups until nearly full of batter.
The muffins are baked at 425℉ for 5 minutes to get a good rise started. After five minutes turn down the oven to 375℉ for an additional 15-20 minutes until done. If you have the convection option on your oven be sure to use it! It really helps to obtain a nice, round muffin top.
These double chocolate peanut butter muffins will be a crowd pleaser. They make a wonderful snack or dessert.
If you are a fan of sweet, decadent muffins, might I suggest these pumpkin coffee cake muffins? If chocolate and peanut butter is your jam these cookies are a good choice!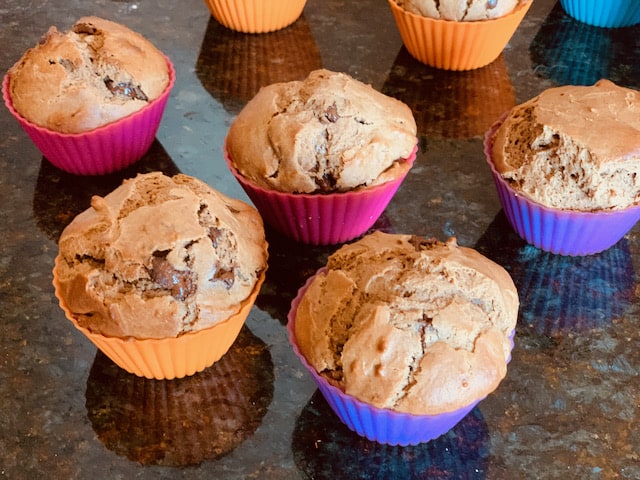 Double Chocolate Peanut Butter Muffins
Ingredients
Dry Ingredients
2

cups

flour

2

tsp

baking powder

½

tsp.

salt

2

Tbsp

cocoa powder
Wet Ingredients
⅔

cup

peanut butter

I use creamy natural peanut butter

2

Tbsp

butter

melted

⅔

cup

brown sugar

2

eggs

room temperature

¾

cup

milk

¼

cup

half & half

¾

cup

dark or semi-sweet chocolate chips
Instructions
In a bowl stir the dry ingredients until well mixed. Set aside.

In another large mixing bowl cream melted butter and peanut butter until well mixed.

Add in the brown sugar and the eggs one at a time and mix until combined.

Add the milk and half & half and mix until combined.

Add the dry ingredients and stir until just combined; then fold in the chocolate chips.

Spoon or scope the muffin batter into the prepared muffin tins or silicon cups. Fill the muffin tins until nearly full.

Bake for 5 minutes at 425℉ then turn the oven down 375℉ and continue baking for 12-15 minutes, until the center of the muffins are baked. The muffin will be puffed up and a toothpick inserted in the center comes out clean.

Let cool for 5 minutes then remove from the muffin tin to a wire rack.