Tomato soup & grilled cheese sandwich; such a comfort meal. One of my favorite meals of childhood. Melty cheese in a buttery grilled sandwich along with the tangy soup. I couldn't help dunking my sandwich into the soup.
It is hard to believe now; but I have only been eating fresh tomatoes for about 15 years. While I always ate tomato soup, pasta sauce, ketchup, etc…I wouldn't touch fresh. Maybe a texture thing? But I pulled countless fresh tomatoes out of salads and off sandwiches my entire childhood into adulthood.
Once we bought a house we soon started a garden and growing our own tomatoes. Finally I tried, and liked, a cherry tomato. Before long I was I devouring fresh tomatoes in all shapes and in everything.
While I now eat fresh tomatoes year round; the vine ripened tomatoes every summer cannot be beat.
Husband and I both grew up with canned tomato soup. I loved it, him not so much. I decided if I loved the canned version a homemade version with fresh tomatoes should be out of this world. I was not wrong. He has come around too; and looks forward to this fresh tomato soup every year.
Garden fresh tomatoes are chopped and cooked down until they release their juices and get saucy. You may prefer to remove the skins and seeds but I never do.
Onions, celery and red pepper add depth of flavor. If you don't like or don't have available these particular veggies you could substitute or leave out. They do add a nice texture and different flavors to the soup.
Half & half makes the soup slightly creamy and gives it some richness.
Fresh Basil. Tomato and basil. Enough said!
Now if you prefer the idea of a smooth tomato soup you could certainly blend until smooth. I love the texture of a chunky soup.
Grilled cheese sandwich is the classic accompaniment to tomato soup; and for good reason. Tomato soup and tuna melt was a delicious combination.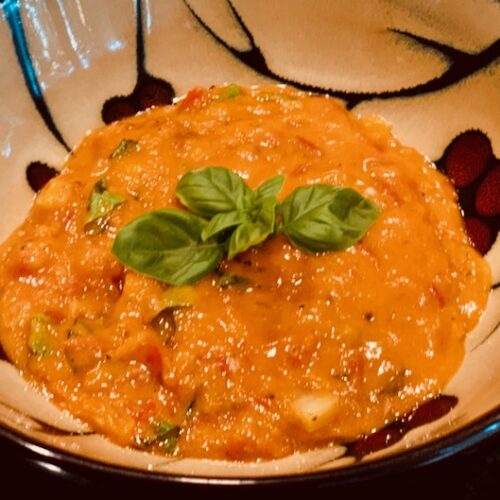 Chunky Tomato Soup
Ingredients
1

Tbsp

butter

1

small

onion

diced

1

rib

celery

minced

¼

cup

red pepper

diced

1

clove

garlic

minced

1

Tbsp

flour

4-5

medium

fresh tomatoes

chopped

1

tsp

kosher salt

½

tsp

fresh ground black pepper

½

cup

chicken or vegetable stock

1

splash

half and half

1

tsp

sugar

1

Tbsp

chopped fresh basil leaves
Instructions
In heavy saucepan, heat butter and cook onions, celery and red pepper until tender.

Add flour, salt and pepper and stir until blended.

Add tomatoes and stock, and simmer for 30 minutes, stirring occasionally

Remove from heat and use an immersion blender until desired consistency. Strain if desired. I left it a little chunky and we loved it.

Add fresh basil, sugar and half and half. Heat through and serve warm.
Notes
This is absolutely wonderful using fresh garden tomatoes. Perfect with a grilled cheese sandwich.