This tuna melt is spicy, gooey, cheesy and satisfying. Totally my idea of a perfect lunch when the weather gets cold and I want something warm, melty and comforting.
My tuna melt recipe, like many, has evolved over the years. Most recently I was inspired by a recipe in Chrissy Teigen's first cookbook, Cravings. I love that cookbook. Not only does every recipe look amazing the book is so entertaining to read.
Original recipe can be found here.
Ingredients:
Canned tuna: It sounds like a lot of tuna for two sandwiches but, honestly, I wouldn't use less. The tuna is the star of the show and you want a good quantity.
Red onion: Adds some nice crunch.
Dill pickle: I generally use finely diced dill pickle in place of relish simply because of what I keep on hand.
Mustard: I'm not a big mustard fan but I do like the bite of a little spicy brown mustard.
Sriracha and red pepper flakes: To bring the heat. I wouldn't have it any other way.
Mayo: To make the mixture rich and creamy.
Sliced bread: I like whole grain bread; Husband prefers white bread. Whatever you like.
Tomato: Vine ripened and garden fresh tomatoes if at all possible. As I live in Minnesota in December the answer would be not possible. But a fresh tomato is an essential part of this sandwich.
Sliced cheese: Cheddar is amazing. We used Muenster which was also wonderful.
Instructions:
Combine tuna with onion, pickle, mustard and spices. Slowly add the mayonnaise. The goal is a mixture that is creamy but stays together. My first attempt was messy! Really good, but messy.
The sandwich is then assembled and toasted. I find 3-5 minutes a side does the trick. You want the bread nicely browned and the cheese melted.
Slice in half and enjoy. I love serving this sandwich with oven fries!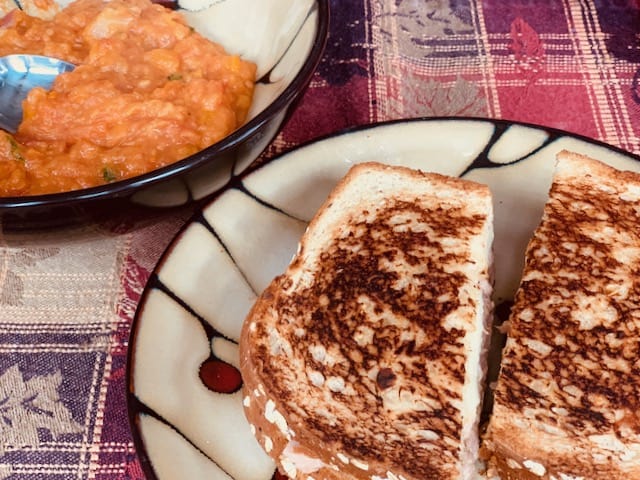 What beats a combination of soup and a sandwich? My chunky tomato soup is also a delicious accompaniment to the tuna melt. Enjoy!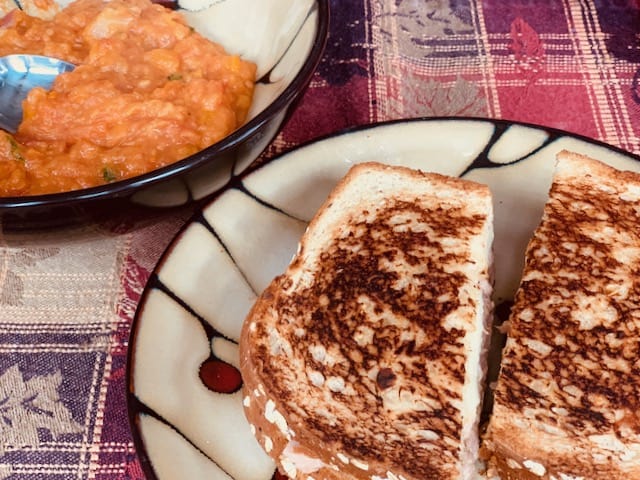 Tuna Melts
Ingredients
2

(5-ounce)

cans water-packed white tuna

drained

¼

cup

red onion

finely diced

2

Tbsp

dill pickle

finely diced

1

tsp

brown spicy mustard

1

tsp

Sriracha

red pepper flakes to taste

fresh ground black pepper

1-2

Tbsp

mayonnaise

unsalted butter

at room temperature

4

slices

of bread

2-3

slices

vine-ripened tomato

cheese slices
Instructions
In a bowl, combine the tuna, onion, pickle, mustard, Sriracha and pepper; mix until incorporated. Slowly add mayo, starting with one tablespoon until somewhat creamy but not sloppy.

Spread tuna mixture evenly on two pieces of bread. Top with tomato and cheese slices. Top with remaining slices of bread and butter the top layer of bread.

Heat a heavy skillet over low heat and place sandwich buttered side down in the skillet. Butter the other side before turning sandwich.

Toast the sandwiches until the cheese is melted and the bread is golden and toasted. Serve warm.