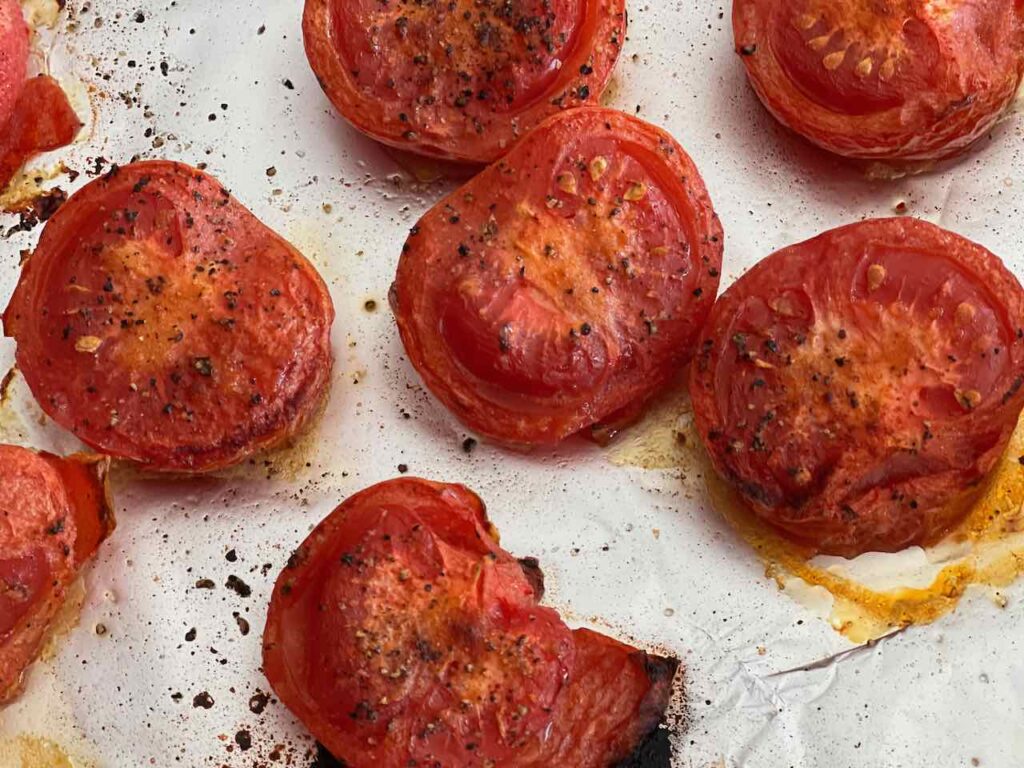 Fire-roasted tomatoes add great flavor to your soups and sauces. The natural sugars of the tomato get caramelized, and the roasting creates a rich smoky flavor.
You can buy canned fire-roasted tomatoes in the grocery store, but they are so easy to make at home.
Recently, I added a soup recipe to my weekly menu that called for a can of fire-roasted tomatoes. I didn't have one in the pantry, but I did have a fair amount of fresh tomatoes on my counter that needed to be used.
It will be a great way to use up my (hopefully!) abundance of garden tomatoes to turn into delicious recipes.
Ingredients
Whole Tomatoes: Four medium to large tomatoes will yield about 2 cups of diced, fire-roasted tomatoes.
Olive Oil: Olive oil is great for roasting.
Salt: Salt brings out the flavor of tomatoes.
Pepper: Adds a delicious pungent flavor to the tomatoes.
Cayenne Pepper: If you are planning to use your tomatoes in a spicy dish, a little cayenne is great to get a head start on the spice. Otherwise, you can omit it.
Instructions
Preheat the oven to 450 degrees. You want a nice, hot oven for roasting the tomatoes.
Grab a sheet pan and line with foil. It will make cleaning up a breeze. I have no proof of this, but I swear the shiny surface of the foil helps the roasting process.
Wash your tomatoes and cut them in half. Remove the stems and arrange them cut side up.
Sprinkle with salt, pepper, and optional cayenne pepper.
These fire-roasted tomatoes will make your next batch of soup or stew taste even better.
Fire Roasted Tomatoes
Ingredients
4

whole tomatoes

medium to large in size

1

Tbsp

olive oil

½

tsp

salt

½

tsp

ground black pepper

¼

tsp

cayenne pepper

optional
Instructions
Preheat the oven to 450 F. Line a sheet pan with foil for easy cleanup.

Rinse the tomatoes and slice them lengthwise. Arrange the tomatoes with the cut side facing up.

Drizzle olive oil on the tomatoes, then sprinkle evenly with salt, pepper, and cayenne pepper.

Place the tomatoes in the oven and roast for 40-45 minutes until roasted and the tops are starting to look charred.

Once cooled, store in the refrigerator.