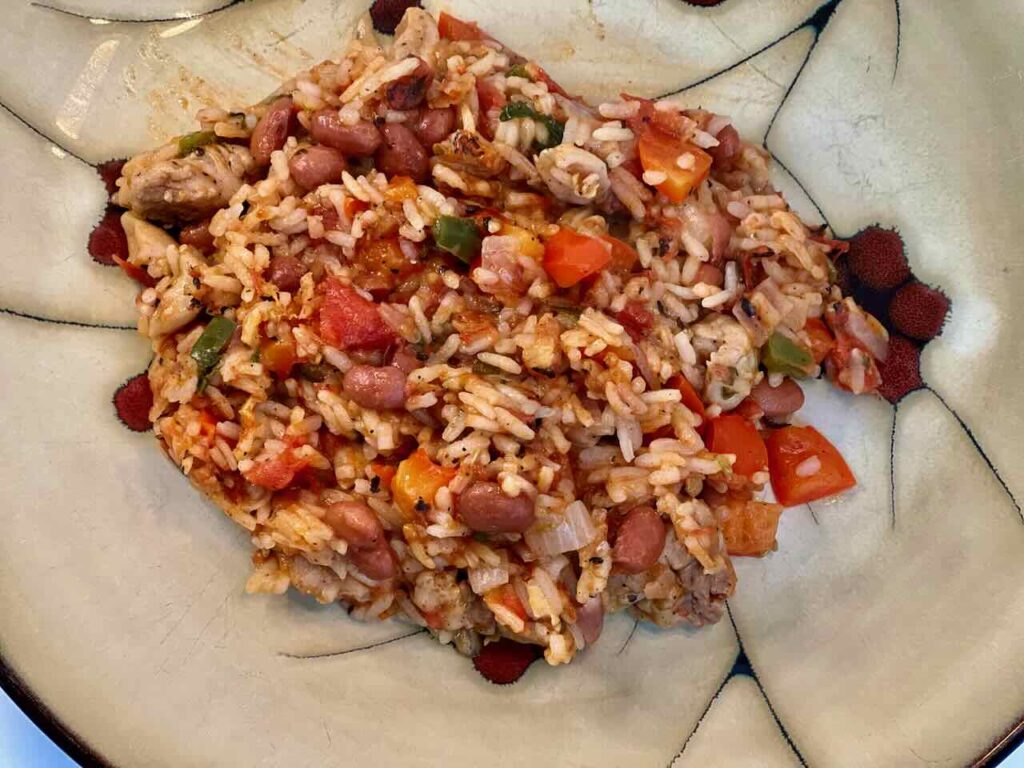 Skillet cajun chicken with red beans & rice is the warm, filling, flavorful dinner we all crave this time of year. Since it is still pretty chilly outside, I crave comfort food in the evening.
The entire dish is made in one skillet in under an hour, making it very doable any night of the week.
We have loved cajun seasoning since first trying it in jambalaya. It makes basic staples like rice and beans incredibly delicious and flavorful. When we discover different seasonings we enjoy I really like trying new ways to enjoy them.
Ingredients
Chicken Breast or Thighs: Thighs are particularly good for this recipe as they stay tender and moist with the extended cooking time.
Cajun Seasoning: Typically contains a mixture of pepper, garlic and onion powder, and paprika.
Olive Oil: Used to sauté the chicken, onions, and peppers.
Onion: I like red onions for spicy dishes like this, but white or yellow onions are perfectly fine.
Bell Pepper: Green bell peppers are typically used in cajun dishes, but I much prefer ripe red, yellow, and orange peppers.
Jalapeño Pepper: Diced jalapeño pepper adds more spicy flavor. Could be omitted if you would prefer the dish to be milder.
Rice: We are using basic white rice here.
Low Sodium Chicken Stock: Cooking rice in chicken stock gives it great flavor.
Red Beans: Red beans and rice is commonly found in Louisiana Creole cuisine. Beans add great texture and flavor to any dish. They are also filling, so the meal is more satisfying. Canned beans make the recipe quick and easy.
Fire-Roasted Diced Tomatoes: A can of fire-roasted tomatoes adds another depth of flavor. You can also roast your own tomatoes!
Cilantro: Cilantro adds a bright, fresh flavor.
Salt & Black Pepper: Added to taste. I always like a bit of fresh ground black pepper. There is typically salt included in store-bought cajun seasonings, so you may not need much if any, additional salt.
Instructions
This is so easy to make. Basically, you just place the ingredients in the skillet, do a little stirring, and let the rice cook, and the flavors meld. So simple!
After you chop the chicken and add it to the skillet, you can start chopping the veggies. While the veggies are sautéing, gather the rice, chicken stock, beans, and cilantro. Once all the ingredients are in the skillet, give it a good stir and cover. Allow the dish to simmer for about 25 minutes. Stir occasionally to keep the rice from sticking to the bottom of the skillet. I typically give a stir about every five minutes.
After 25 minutes most of the liquid should be absorbed. Taste test the rice and add a couple of splashes of additional chicken stock if you find it too chewy. Cook for another five minutes until the rice is tender.
I like to serve skillet cajun chicken with red beans & rice with a simple side vegetable like roasted broccoli for a complete meal.
Enjoy!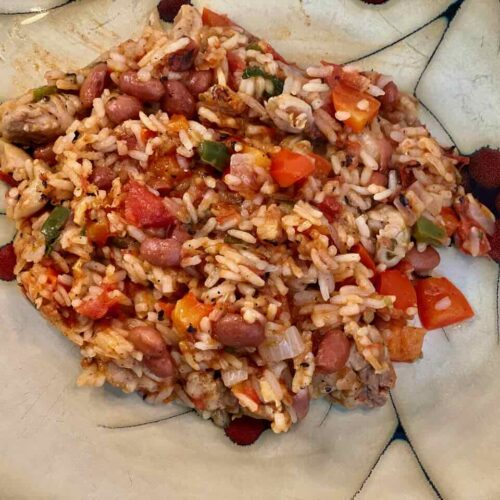 Skillet Cajun Chicken with Red Beans & Rice
Ingredients
1

large

chicken breast or two small chicken thighs

chopped into bite-sized pieces

2

tsp

cajun seasoning

divided

1

Tbsp

olive oil

1

small

onion

peeled and diced

1

ripe

bell pepper

diced

1

jalapeno

pepper

diced

1

cup

long grain rice

1½

cup

low sodium chicken stock

1

can

red beans

drained and rinsed

1

can

fire roasted diced tomatoes

with the juice

2

Tbsp

fresh cilantro

chopped

salt and freshly ground black pepper

to taste
Instructions
Start by chopping your chicken into bite-sized pieces. Sprinkle the chicken pieces with 1 tsp of cajun seasoning.

Heat olive oil in a skillet and add the chicken. Sauté the chicken until browned, then transfer to the plate and set aside.

Add the onion and peppers to the skillet and sauté until softened.

Pour in the stock, rice, and remainder of cajun seasoning. Add the beans, tomatoes and chopped cilantro. Stir and add the chicken and salt and pepper to taste.

Cover and simmer until rice is tender, about 25 minutes. Most of the liquid will absorb as the rice cooks. If most the liquid is absorbed and the rice is still too chewy, add another splash or two of chicken stock and simmer for 5 more minutes.