Dinner doesn't get much easier than lemon garlic herb grilled chicken. The chicken is marinated with a few fresh, simple ingredients which add so much flavor.
Lemon is so wonderful with chicken. The bright, citrus flavor of fresh juice and zest is the start of my favorite baked lemon chicken.
Ingredients
Chicken Breast: I use one medium-to-large chicken breast for the two of us.
Lemon Juice: Lemon juice is the base of marinade.
Lemon Zest: As much flavor as lemon juice gives recipes, I think the zest adds even more.
Olive Oil: Oil helps the chicken stay moist as it grills and helps the garlic and herbs impart flavor to the meat.
Brown Mustard: A sharp, tangy contrast to the other flavors. If you don't have brown mustard, a Dijon mustard would also work.
Fresh Herbs: Thyme, rosemary, basil, and parsley are all great choices of herbs for this recipe.
Garlic: Sharp, pungent garlic compliments the bright citrus flavors perfectly.
Salt & Pepper: Helps enhance all the flavors.
Instructions
Start by marinating the chicken. Unlike sugary sweet recipes like BBQ chicken, this marinate wouldn't burn on the grill. Therefore, the chicken can absorb the flavors for a couple of hours prior to grilling.
Place the chicken in a sealable container. A zip-lock bag works well. Stir together the marinade and pour into the bag over the chicken. Swish the marinade around to assure all the surfaces of the meat are covered.
At our house, once it's time to grill, Hubby takes over. 😉
Pull the chicken from the marinade. Reserve the liquid as once you have browned both sides of the chicken you can pour some marinade over the chicken as it cooks for more flavor.
Once the chicken is done, let it rest for a few minutes prior to serving. Serve with simple sides like baked potato and green beans. Lemon garlic herb grilled chicken is also delicious with a creamy pasta sauce like Alfredo.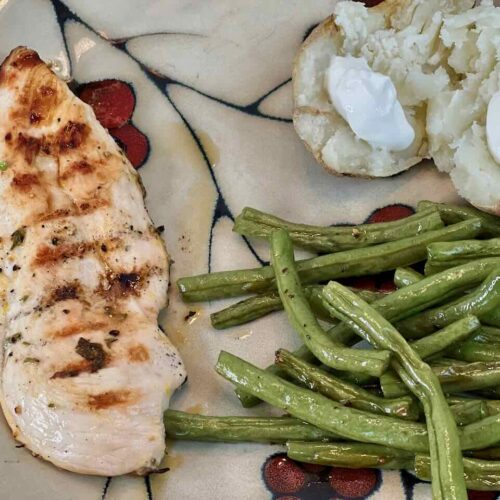 Lemon Garlic Herb Grilled Chicken
Ingredients
1

large

boneless, skinless chicken breast

sliced in half lengthwise

2

Tbsp

lemon juice

1

tsp

lemon zest

1

Tbsp

olive oil

1

tsp

brown mustard

2

Tbsp

finely chopped fresh herbs

1

tsp

fresh garlic

minced or grated

½

tsp

salt

½

tsp

pepper
Instructions
Place the chicken in a large zip-top plastic bag. Set aside.

In a bowl or measuring cup, whisk together the remaining ingredients until completely combined. Pour marinade into the bag with the chicken. Seal the bag and gently toss to make sure that the chicken is completely coated in marinade. Refrigerate for up to 2 hours.

When ready to cook, remove chicken from the bag, reserving the marinade. Place chicken on prepared grill over direct heat and sear both sides. As the chicken grills, you can pour some of the marinade over chicken.

Allow meat to rest for a few minutes before slicing and serving.