Pumpkin pie is the perfect finishing touch to your holiday dinner. It's the traditional dessert of Thanksgiving, and for good reason.
Pumpkin, along with apple, are the flavors of fall. So it makes sense this luscious pie became the essential holiday pie. Unlike many pies, it is also make-ahead, which makes it perfect for Thanksgiving. Who needs to prepare dessert on a day of the feast when you are dealing with the turkey, mashed potatoes and gravy, stuffing, green beans…you get the idea.
Ingredients
Unbaked Pie Crust: I do this easy homemade pie crust, or you can use store-bought.
Eggs: Add richness and binds the ingredients to form the custard filling.
Brown Sugar: Brown sugar adds a touch of molasses, which goes so nicely with pumpkin.
Pumpkin Puree: Use a can of pumpkin puree or fresh pumpkin if you happen to have it available. I have a sugar pumpkin on my counter I need to roast one of these days.
Cinnamon, Nutmeg, Ginger, & Cloves: The classic combination of spices to perfectly enhance and enrich the pumpkin flavor. I go a little heavier on cinnamon as I absolutely love it.
Salt Balances the sweetness and enhances the flavor.
Evaporated Milk: Thickens and enriches the pie filling.
Instructions
Start by preheating your oven and grabbing your pie pan. There are many options. I have two glass Pyrex pie pans that have been used for countless pumpkin pies, and they are popular for good reason.
I start by making my pie crust and placing it in the pie pan. The filling of the pie really couldn't be easier. Combine the eggs and brown sugar, then add the pumpkin puree and the spices. Using a whisk, beat the mixture until well combined and the spices are thoroughly distributed. Finally, whisk in the evaporated milk.
Now comes getting the pie in the oven. The filling is quite thin and sloughy, and unless you have an extremely steady hand, it will be challenging to get a filled crust into the oven without spilling. I pour half into a large measuring cup. The other half goes in the pie crust. Place the pie in the oven and then carefully pour in the remaining filling.
To keep the crust from browning too much, place tin foil or a pie shield around the edges for the first 30 minutes of baking.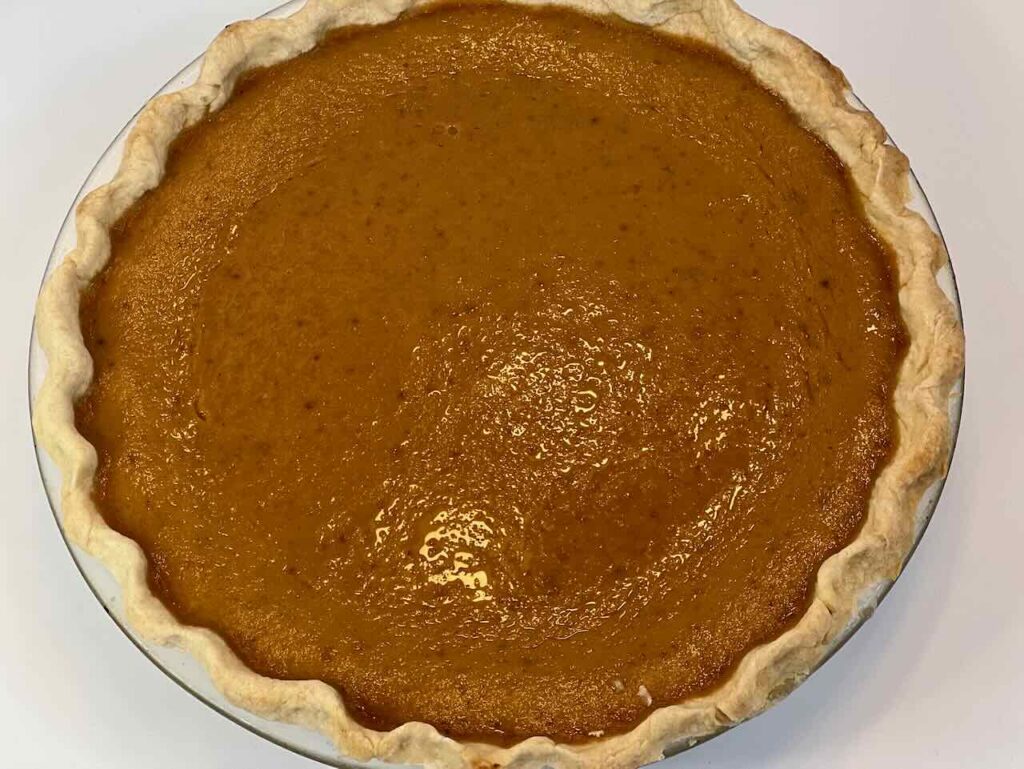 The pie will start at 425 degrees for 15 minutes and then finish at 350.
Allow the pie to cool completely. Refrigerate for at least four hours, and preferably overnight. I find pumpkin pie tastes best the day after baking.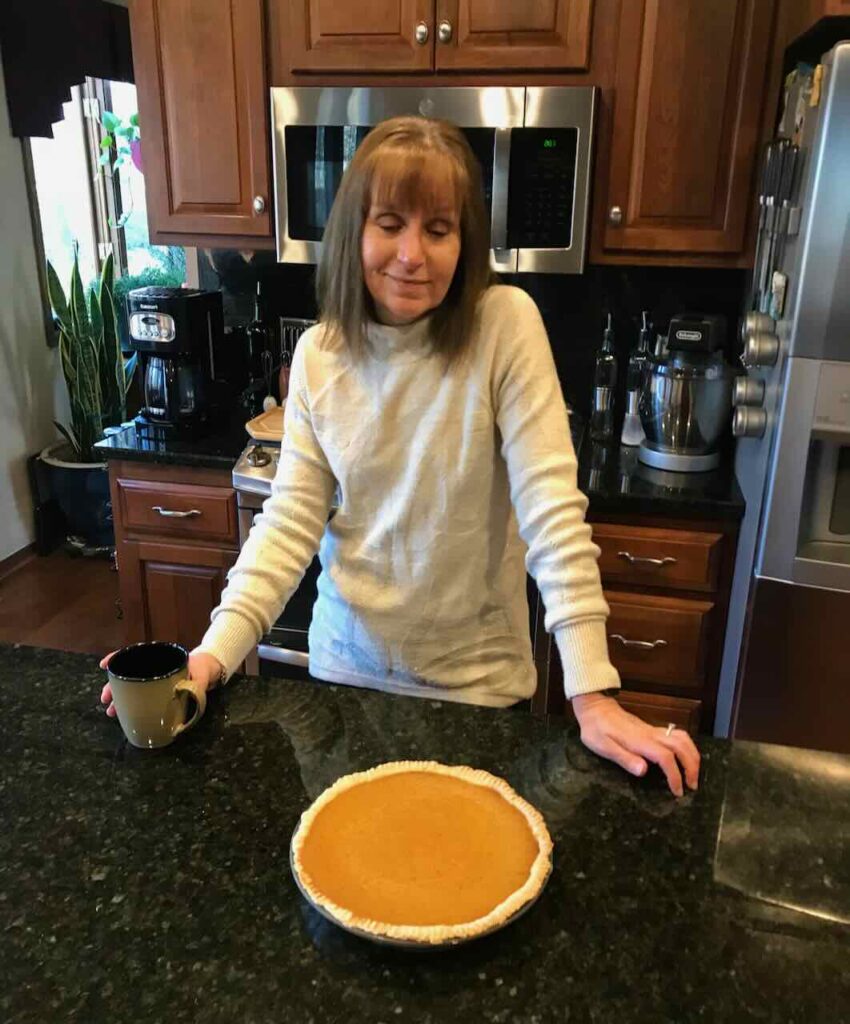 Of course, take the time to admire your creation. 🙂
Serve with a hefty dollop of whip cream and enjoy!
Pumpkin pie
Ingredients
1

unbaked

pie crust for 9 inch pie pan

homemade or store-bought

2

eggs

¾

cup

brown sugar

1

can

(15 oz) pure pumpkin puree

1

tsp

ground cinnamon

½

tsp

ground ginger

¼

tsp

ground nutmeg

¼

tsp

ground cloves

½

tsp

salt

1

can

(12 oz) evaporated milk
Instructions
Preheat oven to 425℉. Prepare pie crust and place in 9 inch pie pan.

Beat eggs and brown sugar in a large bowl until well combined. Stir in pumpkin puree. Add all the spices and combine thoroughly until no streaks of the spices remain. Add evaporated milk and mix until combined.

Pour half of the mixture into a prepared, unbaked pie crust. Place in oven and pour remaining mixture in. I like to pour part of the mixture into a large measuring cup to make it easier to pour into the crust.

Place pie crust protector around the edge of crust for the first 30 minutes or so to prevent over-browning.

Bake for 15 minutes at 425℉. Reduce heat to 350℉ and bake an additional 30 minutes. Bake until the pie puffs up and is not jigging too much when moved.

Allow the pie to cool and refrigerate at least four hours before serving. Serve cold or at room temperature.