Turkey shepherd's pie is a hardy mixture of ground meat and veggies covered with mashed potatoes and baked to perfection.
Shephard's pie originated in the UK, and traditionally ground lamb or beef is used. I don't eat either, but I love ground turkey. I also like lots of veggies to amp up the flavor and nutrition. Finally, who doesn't like mashed potatoes? A little time in the oven makes them extra delicious.
Shephard's pie is easy but takes a little time to prepare the ingredients and then time in the oven. It makes a nice, cozy weekend dinner.
Ingredients
Russet Potatoes: Russets are my go-to for baked and mashed potatoes and oven fries. I rarely peel potatoes and mashed potatoes are no exception as I think the peel adds great taste and texture.
Sour Cream: Makes the mashed potatoes thick and rich.
Half & Half: You could also use milk, but half & half adds great flavor and richness.
Salt & Black Pepper: Be sure to add a generous amount to the potatoes and the meat mixture to bring out all the flavor.
Olive Oil: Used to sauté the veggies.
Onion, Celery, and Carrots: This classic mix of flavorful veggies gives the dish great color and texture.
Ground Turkey: I usually use 90% lean ground turkey.
Garlic: Garlic makes every savory dish better.
Frozen Peas: I always keep a bag on hand. Frozen peas are as delicious and nutritious as their fresh counterparts.
Chicken Stock: Provides a nice base of flavor for the meat and veggie mixture.
Ketchup: Adds color and tangy flavor.
Worcestershire Sauce: This fermented sauce adds a savory, salty touch.
Rosemary & Thyme: Rosemary and thyme are wonderful with poultry and vegetables. I use fresh herbs whenever available but dried herbs can certainly be substituted.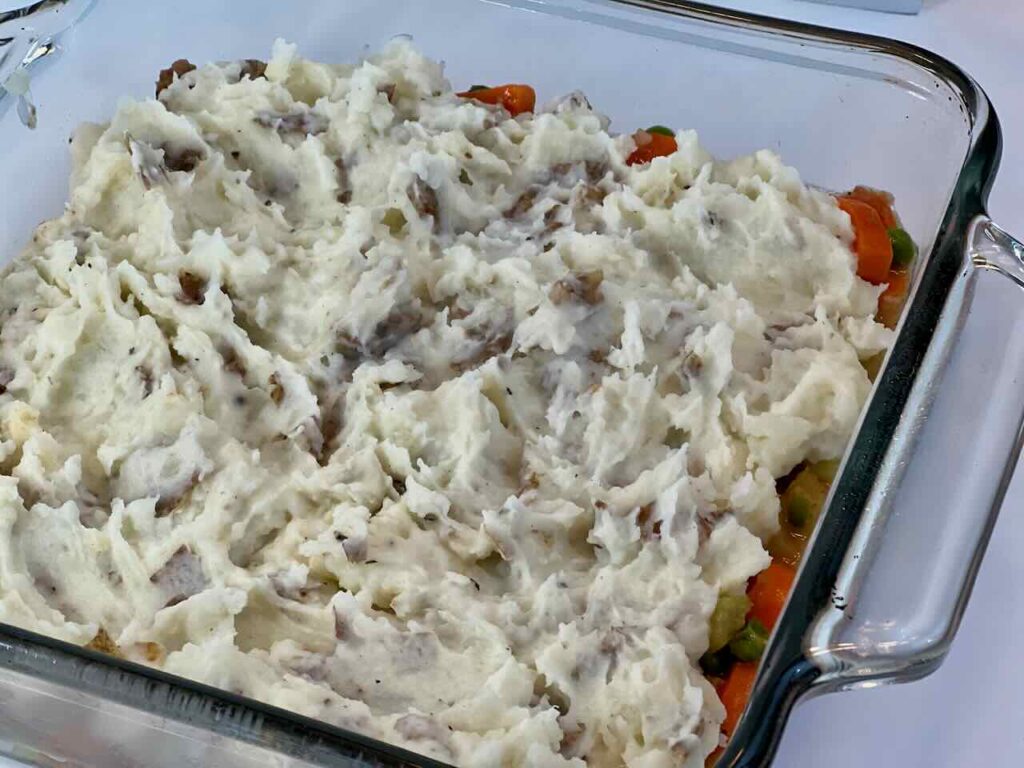 Instructions
Preheat the oven and spray a casserole dish with nonstick spray. Despite the word pie being right smack dab in the title, I have never made shepherd's pie in a pie dish! Most versions I see use a casserole dish.
This dish requires a bit of multitasking, but easy stuff. While your potatoes are boiling, you will make the meat and veggie filling, which is just chopping and stirring.
I like to leave my potatoes unpeeled. Therefore, I cut them pretty small, as I don't want huge chunks of peel in the finished product. If the potatoes are peeled, you can leave them in larger chunks.
While the potatoes are boiling, start the filling mixture by browning the ground turkey and cooking the vegetables.
When the potatoes are tender, mash them up along with sour cream and half & half. Be sure to add salt and pepper, as potatoes definitely need seasoning.
Finish the turkey and veggie filling. The mixture should be thickened, but still a little saucy.
Spread it evenly into the bottom of the casserole dish, followed by the potatoes. Spread the potato mixture across the filling, but leave a few peaks and valleys.
Bake until hot and bubbly.
Turkey shepherd's pie can be a stand-alone dinner or served with a simple side veggie. This warm and comforting dish will be a welcome dinner this winter.
Turkey Shepherd's Pie
Ingredients
Potatoes
3

medium

Russet potatoes

peeled if desired

¼

cup

sour cream

¼

cup

half & half

salt and freshly ground black pepper
Filling
1

Tbsp

olive oil

1

medium

onion

diced

2

celery

stalks

chopped

2

carrots

diced thin

½

pound

lean ground turkey

1

garlic

clove

minced

¼

cup

frozen peas

1

Tbsp

flour

½

cup

low sodium chicken stock

1

Tbsp

ketchup

2

tsp

Worcestershire sauce

1

tsp

fresh rosemary

chopped

1

tsp

fresh thyme leaves

chopped

salt and freshly ground black pepper
Instructions
Preheat oven to 400℉. Spray an 8×8 casserole dish with non-stick spray.

Cut potatoes into chunks. If leaving the potatoes unpeeled, cut into small chunks. Place in a large pot, and cover with water. Bring to a boil and simmer until soft, about 20-25 minutes, depending upon the size of the potatoes. Drain thoroughly.

Use a potato masher to smash the potatoes into small chunks.

Add sour cream and half & half to the potatoes. Using the potato masher or a hand mixer, mash or whip to desired consistency. Season to taste with salt and pepper.

Meanwhile, add olive oil to a large pan and add onions, carrot, and celery. Stir and sauté then mixture for 5 minutes as the vegetables start to soften. Add the ground turkey to the pan. Break up the meat into small pieces as it cooks. Add the garlic and cook for one minute.

Stir in flour and cook another minute. Add frozen peas, chicken stock, ketchup, Worcestershire sauce and herbs. Season with salt and pepper and simmer 5 minutes as the mixture thickens.

Spread the ground turkey mixture on the bottom of the prepared casserole dish. Top with the mashed potato mixture, leaving some peaks and ridges on the top.

Bake for 25 minutes until the turkey mixture is bubbling and the potatoes are golden.