Overnight pizza dough crust is extremely easy and tastes absolutely sublime. Your pizza dough will be crisp enough to hold up to toppings, but still soft and chewy. The dough bakes up light, airy, and full of flavor.
As I mentioned, I made a change in my pizza dough the last few weeks of football season due to running out of whole wheat crust. The result was this recipe using bread flour, and it is wonderful.
Once fall and football season rolls about, and we are making homemade pizza on the reg again. (Sometimes I wonder why we stop?) I will experiment with a combination of bread flour and homemade wheat flour. I do really enjoy the flavor the whole wheat flour gives a pizza crust.
Ingredients
Bread Flour: Gives the crust that soft, chewy consistency.
Yeast: Basic active, dry yeast is used in this recipe. You can use one package or measure from a jar. Instant yeast is another variety that results in a dough that rises quicker.
Kosher Salt: Salt adds flavor and strengthens the dough by adding the gluten structure.
Water: You want room temperature, lukewarm water. Water that is too hot will kill the yeast.
Instructions
The night before you make pizza, you will want to mix your dough. I will mix my dough mid-afternoon the night before when we were planning pizza for lunch.
Add the bread flour, yeast, and salt to a large bowl. Stir to thoroughly combine the dry ingredients.
Add water and stir until there is no visible flour and the dough is a rough, lumpy ball. At this point, the dough is ready for the refrigerator.
Cover your bowl with a lid or wrap tightly with plastic wrap. You want the dough sealed in the bowl.
The next day, you will pull your dough from the refrigerator to shape it prior to topping and baking. Plan to pull the dough 1 1/2 to 2 hours prior to pizza time.
I used to use aluminum foil to spread my dough, I now use parchment paper. Either works, but be sure to spray foil very well with cooking spray. I had to carefully peel pieces of foil off my crust more than once, not fun!
Coat your hands with a little flour or a coating of olive oil to add in handling and spreading the dough. I prefer olive oil and Hubby likes flour.
Spread the dough onto two pieces of parchment or aluminum foil.
Cover with a sheet pan while the dough rises.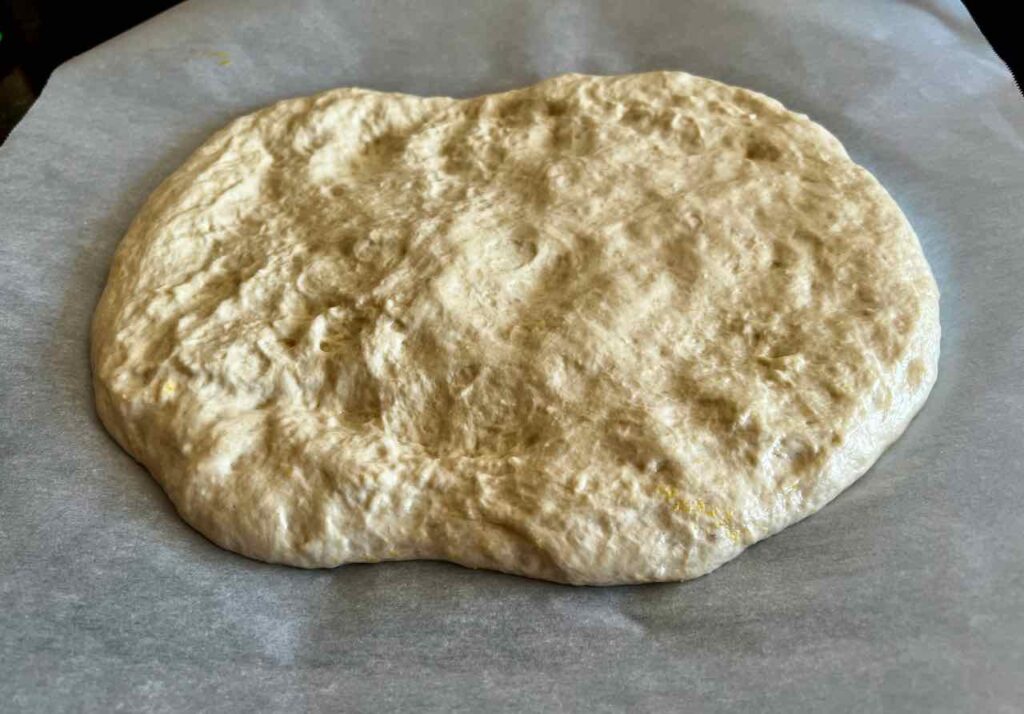 After an hour or so, the dough will be risen and look puffy. It's pizza time! Preheat oven to 500 degrees. You want a nice hot oven to get the crust crispy.
Spread with sauce, topping, and cheese of your choice.
Slide pizza into the oven, parchment paper and all, using a sheet pan. I transfer my pizza onto a stone. Husband uses a perforated steel pizza pan similar to this.
Baked for about 12 minutes until cheese is melted and browned to your liking.
Let sit a few minutes, then slice and dig in!
Whether you like a veggie-centric pizza like me or the traditional meats with a few vegetables like Husband, this overnight pizza dough crust will make your homemade pizza delicious!
Overnight Pizza Dough Crust
Ingredients
3

cups

bread flour

2¼

tsp

yeast

1

tsp

kosher salt

1½

cups

room temperature water

not hot
Instructions
Make:
In a large bowl with a secure fitting cover, add flour, yeast, and kosher salt and stir to combine thoroughly. Add water and stir thoroughly until a shaggy dough foams. You shouldn't see any dry flour, and the dough will resemble a lumpy ball. There is no need to knead the dough.

Cover and place in the refrigerator overnight. If you don't have a bowl with a cover, you could cover tightly with plastic wrap.
Shape:
1½ – 2 hours before you plan to bake, spread out the dough. First set out two pieces of parchment paper. You can also use foil, but be sure to spray the foil thoroughly, so the pizza doesn't stick. There is no need to spray the parchment paper.

Lightly oil your hands with olive oil or spread a light layer of flour on your hands. Separate the dough in half and spread each half onto the parchment paper.

Cover the dough with a sheet pan and set in a warm area and allow to rise.
Bake:
When you are ready to bake your pizza, add your pizza stone or steel to your oven and preheat the oven to 500 ℉.

Add sauce and topping of your choice. Bake for 12 minutes, or until cheese is melted and browned to your liking.