Filling, nutritious, and, above all, delicious, these peanut butter raisin overnight oats are a wonderful breakfast treat!
I started making overnight oats with cinnamon and raisins. Loved it. The recipe was a great option whenever I wanted a really quick breakfast. One day I wanted the oatmeal to be a little more filling and stirred in a dollop of peanut butter when I pulled it out of the refrigerator. So good! I have been using peanut butter ever since. But now, I stir in the peanut butter from the beginning. The result is a thick, rich, sweet treat for breakfast.
Ingredients
Rolled Oats: Use old-fashioned, rolled oat, not instant oats for this recipe. The instant oats wouldn't hold up during the soaking process and turn to mush.
Almond Milk: I love almond milk with typical weekday morning cereal, and it's my choice for overnight oats.
Honey: Just a teaspoon of honey for a little sweetness.
Raisins: Regular or golden raisins are both excellent. Add a bit more than a tablespoon if you really like raisins.
Vanilla Extract: Adds a great touch of flavor.
Cinnamon: Cinnamon brings such beautiful warmth. The perfect spice with raisins and oats.
Peanut Butter: The peanut butter makes the oatmeal thick, rich, and filling. I love how it combines with the other flavors. I really like natural peanut butter, but whatever kind you prefer is fine.
Fruit: Sliced banana and a few fresh berries really complete this breakfast.
Instructions
You will want to mix your overnight oats at 5 hours, or in most cases, the night before to give the oats sufficient soaking time.
If I am eating breakfast at home, I mix my overnight oats in a cereal bowl and cover it tightly with plastic wrap. If the oatmeal will be eaten on the run, a mason jar with a lid works well to transport.
Simply combine the oats, milk, honey, raisin, vanilla, cinnamon, and peanut butter. Stir to thoroughly combine and make sure all the oats are submerged in the liquid so they soak and become tender.
Next time you need a quick, easy, and tasty breakfast, try peanut butter raisin overnight oats!
If you love oatmeal, try these muffins for another quick morning treat.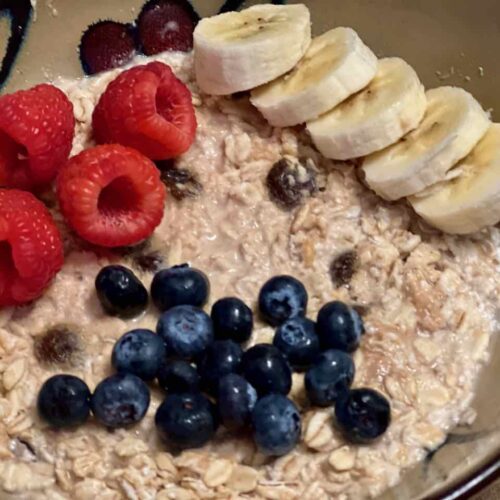 Peanut Butter Raisin Overnight Oats
Ingredients
½

cup

rolled oats

½

cup

almond milk

1

tsp

honey

1

Tbsp

raisins

⅛

tsp

vanilla extract

¼

tsp

cinnamon

1

Tbsp

peanut butter

Banana or berries for serving
Instructions
Pour oats into a cereal bowl or glass jar with a lid. Stir in almond milk, honey, raisins, vanilla, cinnamon, and peanut butter. Stir the mixture until completely combined and make all the oats are submerged in the liquid.

Wrap the bowl tightly with plastic wrap or seal the glass jar. Store in the refrigerator at last 5 hours or overnight.

Serve with banana or berries, if desire.