Happy Sunday!
Our hot, dry summer continues. The temperatures finally cooled off this weekend, and we got a bit, though not enough, rain.
I celebrated my birthday this past week. Lots of emotions surround birthdays, let's face it. But there is a lot to be said for a day to celebrate, be grateful for another year, and get to pick where you wish to go for dinner! At least that is my wish when my day rolls around every year!
My day started, as always, with exercise. I am sure some people would say skip exercise on your birthday, but it is honestly my gift to myself. I enjoy it and feel great afterward.
On that topic, I am testing out my race-day plan today in anticipation of the 5K next weekend. Last year was virtual, but this year I run in person with actual people! Wish me luck. 🙂
Sweet Hubby's gift was a weighted blanket! I have had my eye on them for a while as someone who has always struggled with sleep. Of course, the weather has been so hot lately that blankets of any kind have been a no-go. Even given that, I like the feel and look forward to trying it for real.
After a very nice morning with my awesome coworkers at work, I enjoyed a salmon salad at home.
Quiet afternoon at home, then dinner out.
Picture before dinner. 🙂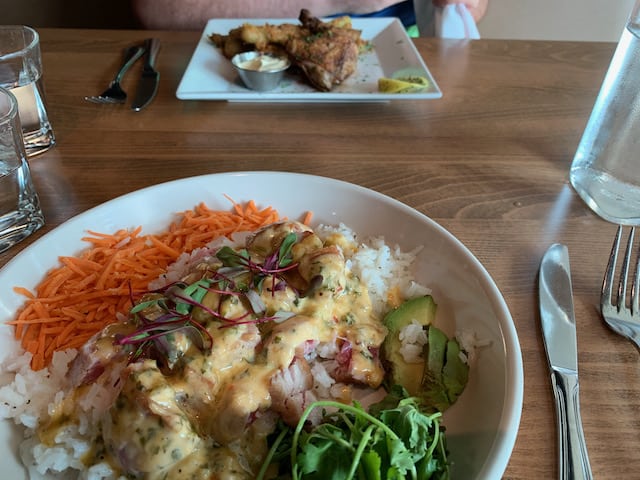 Ahi tuna poke bowl for me. Yum! Husband had chicken and asparagus fries. Also, a couple of tap beers to toast the occasion.
Birthdays mean dessert, am I right? We walked a few blocks down to a local ice cream shop that has become one of our favorite spots this summer. I selected a bowl of Moose Tracks flavor, which we split. It was fantastic!
What caught my eye this week
My birthday also represents a year since I started/resurrected my blog.
Body acceptance and appreciating your beautiful self.
Health benefits of sweat. Every. Single. Day.
Background shows, perfect for multitasking. New Girl, Gilmore Girls, and The Great British Baking Show are my favorites.
Capsule wardrobes sound so simple.
Bella looking for someone to pet her. She usually succeeds!
Have a marvelous weekend.