Tex-Mex chicken cauliflower rice is a tasty, easy, one-pan dinner. Tender chicken breast, lots of vegetables, and just enough cheese to make this dish a crowd pleaser!
Cauliflower rice really had a moment a few years ago, touted as the low-carb alternative to rice. I prefer to think of each as delicious on its own. Personally, I like them both.
Frozen cauliflower rice is readily available and makes this dinner so quick and easy. Of course, it isn't hard to make your own if this is your preference.
Ingredients:
Chicken: I typically use chicken breast, thighs would also work very well.
Onions, Peppers & Garlic: Onions, bell peppers, and jalapeño pepper are traditional Tex Mex veggies. It can be adjusted according to taste and spice preference.
Cumin & Chili Powder: I typically use hot chili powder. These can also be adjusted according to taste preference.
Cauliflower rice: One bag of frozen cauliflower rice goes straight into the skillet. So easy!
Canned Black Beans: One cup is half of a 15 ounce can.
Corn: I usually use frozen corn which thaws right along with the cauliflower rice.
Tomato: Adds great color and flavor.
Cilantro: Classic herb of all Mexican inspired/Tex-Mex dishes.
Cheddar cheese: A pepper jack cheese would also be delicious.
Sliced Avocado: Optional. A wonderful accompaniment to any Tex Mex dish. If you only need part of an avocado I recently shared a great way to save the other half for later!
Instructions:
Start by heating olive oil in a large, deep skillet. Add chicken, onions and pepper and stir. Cook and stir occasionally until chicken is browned and vegetables are getting tender.
While the chicken and vegetables are cooking I like to start collecting and prepping the remaining ingredients.
Add garlic and spices and stir. Cook for one minute.
Add frozen cauliflower rice and stir to break up the chunks. If using frozen corn add along with cauliflower rice. Cook and stir occasionally until the cauliflower is thawed.
Add black beans, chopped tomato and cilantro. Stir to combine. Continue to cook, stirring occasionally, for about 3-5 minutes. Any moisture accumulation from the frozen cauliflower and corn should be mostly evaporated.
Top with cheese and cover the skillet. Cook until the cheese is melted.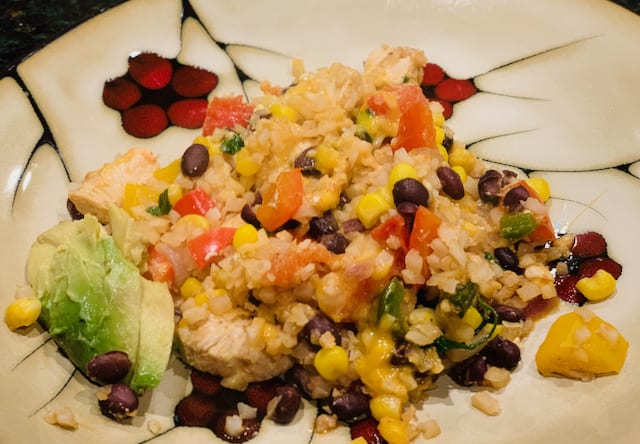 Serve immediately with sliced avocado, optional but recommended!
This Tex-Mex chicken cauliflower rice is a delicious, healthy dinner in about 30 minutes.
Enjoy!
Tex-Mex Chicken & Cauliflower Rice
Ingredients
1

Tbsp

olive oil

1

large

chicken breast

chopped

1

small

onion

chopped

1

cup

red pepper

chopped

1

jalapeno pepper

diced

1

garlic clove

minced

1

tsp

ground cumin

1

tsp

chili powder

kosher salt

freshly ground black pepper

1

10-12 ounce

package frozen cauliflower rice

no need to thaw

1

cup

canned black beans

rinsed and drained

1

cup

corn

fresh or frozen

1

medium

tomato

chopped

¼

cup

cilantro

chopped

1½

cup

cheddar cheese

shredded

sliced avocado

optional
Instructions
Heat oil in a large skillet over medium heat.

Add chicken breast, onion, red pepper and jalapeño pepper and cook until chicken starting to brown and vegetables are starting to get tender; about 5-7 minutes.

Stir in garlic, cumin and chili powder and cook until fragrant, about 1 minute.

Add cauliflower rice; no need to thaw if frozen. If the corn is frozen add as well. Season with salt and pepper and cook, stirring occasionally, until rice is tender, 3 to 5 minutes.

Add black beans, corn (if thawed), tomatoes, cilantro and stir until evenly combined. Continue to cook and stir for 3-5 minutes and allow most of the moisture to evaporate.

Top rice with cheddar cheese, then cover with a tight-fitting lid and cook until cheese is melted, about 3 minutes.

Serve immediately with sliced avocado if desired.