Hardy and filling, a Tex-Mex breakfast skillet is a delicious way to start the day!
We love bold, spicy flavors and breakfast is no exception. Huevos Rancheros has been a favorite weekend breakfast for years. Tex-Mex flavors are on regular rotation on my weekly menus.
This recipe is very versatile and can be made so many different ways. Pick your potato, and your veggies, and prepare your eggs however you like. You could also add meat. I usually add some turkey sausage to hubby's portion.
Ingredients
Russet Potatoes: I typically use Russet potatoes but, honestly, any potato would probably work just fine. I occasionally use sweet potatoes for my portion, which I highly recommend!
Butter & Olive Oil: Work together to give the veggies great color and flavor.
Peppers, Onions & Zucchini: I like to use ripe bell peppers, and jalapeño peppers for some heat, along with red onions and zucchini.
Garlic: Adds great aroma and flavor.
Cumin & Chili Powder: The classic Tex-Mex spices. Also gives the veggies nice color.
Salt & Pepper: Added to taste. Potatoes always benefit from a bit of salt and pepper.
Eggs: I really like scrambled eggs for this dish. An over-easy egg would also be really delicious.
Avocado, Salsa, & Cilantro: My personal choices for accompaniments. A sprinkle of cheese is always good too.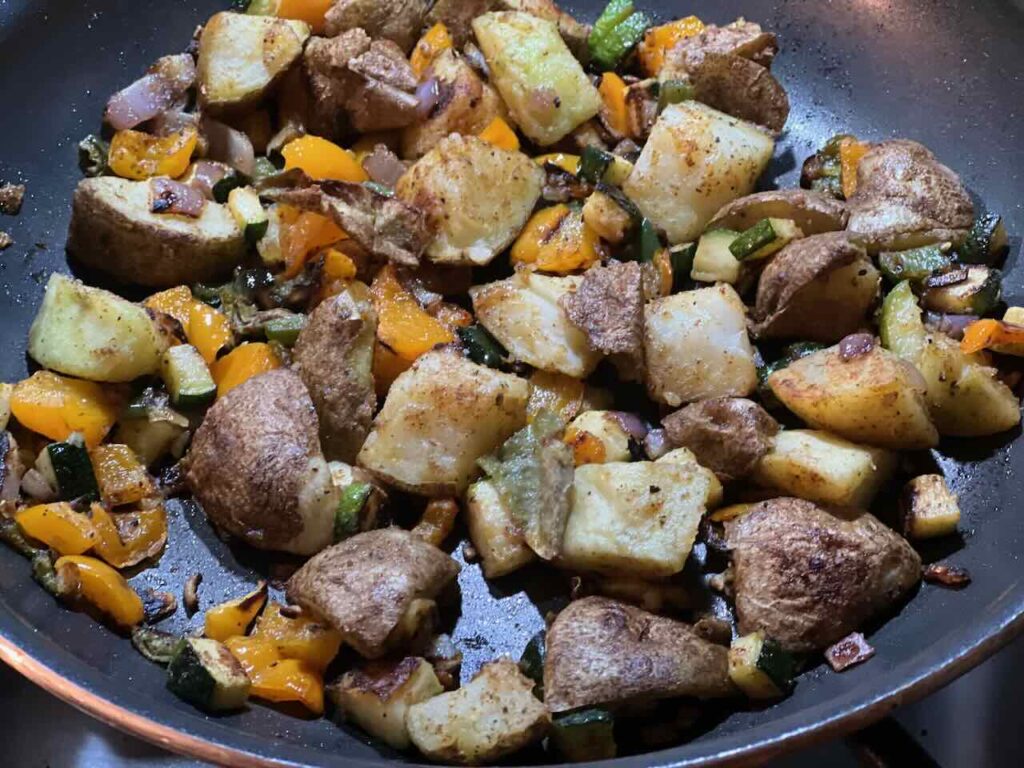 Instructions
You will start by chopping your veggies and prepping your potato. This makes great use of a leftover baked potato. Otherwise, you can microwave a potato until tender. Once cooled to the touch, chop your potatoes into bite-sized pieces.
Sauté veggies in the butter and oil mixture until tender. Add potato. Continue to cook, stirring occasionally. The potatoes should develop a nice, brown crust. Add garlic and stir for a minute. Stir in the spices, salt, and pepper.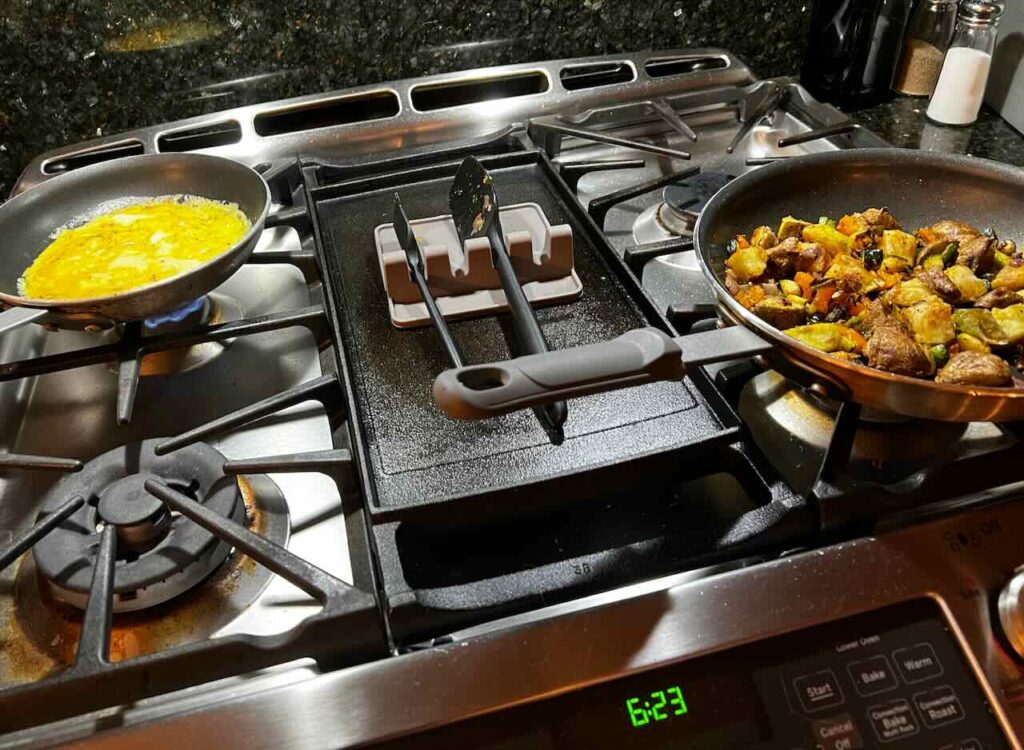 When the veggies are nearly done, you will want to start your eggs. As you can see, this takes a bit of multitasking. 😉
If you want to add meat to your breakfast, you will also want to prep it as needed.
Prep your desired toppings. Once the eggs are done, plate your veggies, and top them with eggs and desired toppings. Enjoy your Tex-Mex breakfast skillet immediately.
Tex-Mex Breakfast Skillet
Ingredients
2

small

russet potatoes

scrubbed clean

1

tsp

butter

2

tsp

olive oil

½

cup

ripe bell pepper

chopped

½

cup

zucchini

chopped

½

medium

red onion

chopped

1

jalapeño

pepper

finely chopped

1

garlic

clove

minced

½

tsp

chili powder

½

tsp

cumin

Salt and freshly ground black pepper

to taste

2

eggs

prepared as desired

sliced avocado or guacamole

salsa or chopped tomato

fresh cilantro

chopped
Instructions
Pierce both potatoes a few times, put in the microwave and cook on high until cooked through, 5 to 7 minutes. Dice both potatoes and set aside. Alternatively, leftover baked potatoes work great.

In a medium skillet, melt the butter over medium heat. Drizzle in olive oil. Add the bell pepper, zucchini, onion, and jalapeño pepper and sauté until the vegetables are starting to soften. Add the diced potatoes to the veggies and cook until golden brown. Add minced garlic and sauté for another minute. Season chili powder, cumin, salt and pepper.

While the potatoes are browning, prepare eggs as desired. Plate potato and vegetable mixture with eggs served on top. Serve with sliced avocado or guacamole and salsa and a sprinkle of fresh cilantro.