Even if I weren't a morning person, small-batch pancakes waiting for me would get me out of bed really early.
I love a savory breakfast; truly. Broccoli frittata and turkey spinach breakfast casserole are serious weekend regulars. But, occasionally I want a little decadence; sweet, tender pancakes with pure maple syrup. These pumpkin pancakes are also a favorite.
This recipe makes five or six small pancakes; perfect for Husband and me. Enough to get our fill, but we maybe don't need a three-hour nap immediately after breakfast. 😉
Ingredients:
Sugar, baking powder and baking soda: A little sugar for some sweetness and both baking powder and soda to give the pancakes some lift and height.
Half & half and milk: Adding part half & half gives the pancakes richness.
Vinegar: Sounds odd; but does help the pancakes rise.
Egg: Gives richness and texture.
Almond extract: Optional but definitely recommended. The almond adds a lovely scent and sweetness to the batter.
Vanilla extract: Vanilla extract makes everything better.
Butter: Much like vanilla, butter makes everything better. 🙂
Instructions:
Making homemade pancake batter is a lot like baking. Mix the dry ingredients, then the wet ingredients, and combine until just mixed.
To keep the pancakes light and fluffy take care not to over-mix the wet and dry ingredients. Error on the side of under-mixing. There will be lumps in the batter when mixed, and they will cook out as the pancakes cooks on the griddle.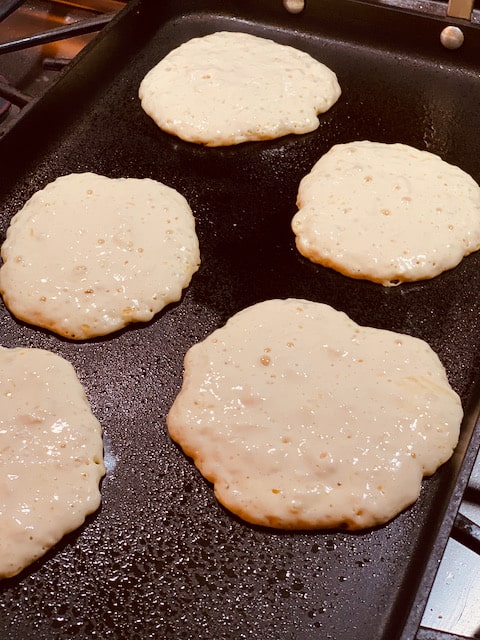 Pancakes are ready to flip when they develop bubbles on the surface and start to look dry on the edges.
Serve immediately with pure maple syrup. We also like turkey sausage and some fruit.
Enjoy every bite of your delicious breakfast! It doesn't get tastier then small-batch pancakes.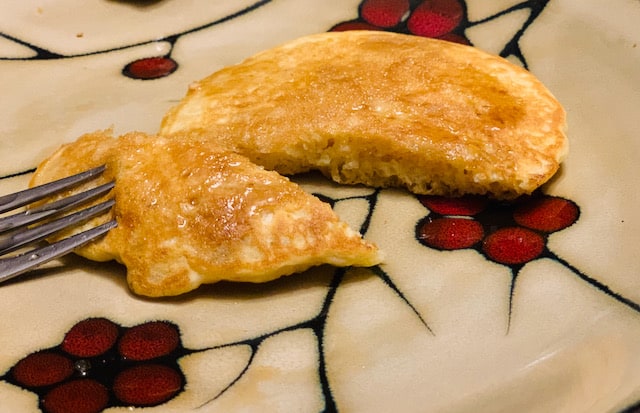 Small batch pancakes
Ingredients
Dry Ingredients
1

cup

flour

1

Tbsp

sugar

1

tsp

baking powder

½

tsp

baking soda

pinch of salt
Wet Ingredients
¼

cup

half & half

¾

cup

milk

½

tsp

white vinegar

1

egg

dash of almond extract

optional

dash of vanilla extract

1

Tbsp

butter

melted
Instructions
Combine flour, sugar, baking powder, baking soda and salt in medium bowl.

Combine the wet ingredients in a 2 cup glass measuring cup starting with the half & half, milk and white vinegar. Add egg and whisk thoroughly. Add almond extract, vanilla extract and melted butter. Whisk to thoroughly combine.

To make batter pour wet ingredients into dry ingredients and slowly mix together with a fork; taking care to not over-mix. Small lumps are fine. Transfer batter back to measuring cup.

Spray griddle with non-stick spray. Spoon or pour onto hot griddle.

Cook 2 to 3 minutes on each side; turn when bubbles start to form on the inside of the pancake and the outer edges are starting to appear dry.

Serve immediately with maple syrup.