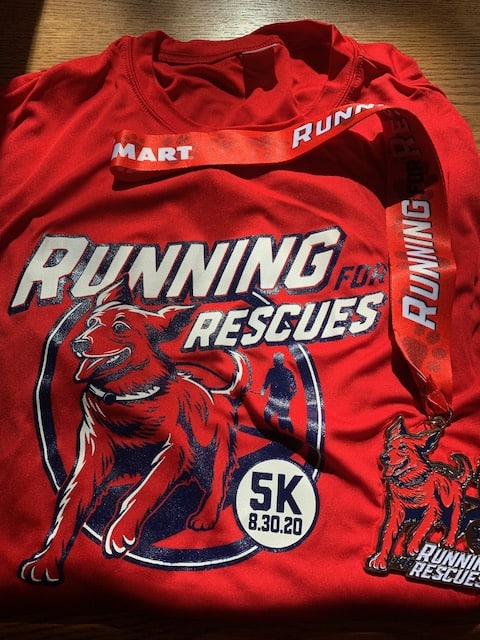 I have been exercising regularly for many years. I love it. First thing in the morning; as it's the only way it gets done. I do cardio, strength training and some Pilates or yoga to balance things out; not to mention test my balance! This plus lots of walking; anywhere I can.
Last summer I started dabbled in running. Never with any frequency and no real plan; I certainly didn't have a goal in mind. I just occasionally did some running, or jogging, as I called in my head during my walks outside, or on my treadmill, or around the basement.
This past February I signed up for a 5k benefitting the local humane society. The event was scheduled for the end of August which was perfect for me. I knew I wasn't going to be the person out training for a 5k in cold Minnesota winter or early spring. The heat has usually subsided by late August as well. Important as running in humid 90 degree weather didn't interest me either.
I've been running a couple times a week since early summer. I got new running shoes, running socks and made good use of the Apple AirPods I treated myself with this past Christmas. I absolutely love the running socks and wear them for all my workouts; very comfortable, a little support, and they stay in place.
A couple weeks ago I ran a complete 5k (about 3.1 miles for us non-metric peeps ☺️). It was hard and exhilarating and such an accomplishment. I was definitely looking forward to the morning of the race to do for real. Or again, for real.
Last night we got together with friends for literally the first time since everyone quarantined back in March. We sat outside on their backyard patio, six feet apart, properly social distanced, and had build-your-own grilled pizza. Fun and so delicious.
Dessert was my responsibility; carrot cake; which was scrumptious…if I do say so myself.
We drank wine and enjoyed a gorgeous evening. Fortunately the heat from last week didn't carry over into the weekend.
Race morning after fun, lots of food and wine. Did I plan this right?? ?
6:30 AM I headed out. Other then pausing to switch podcasts I ran straight through. The temperature was 55 degrees. I am no expert but that seems like perfect running weather to me.
My breakfast when I got home; it's never tasted better.
Of course, like everything else, the pandemic changed the entire structure of the race. Because of COVID-19 the 5k was virtual. Which meant instead of lining up with hundreds of other people I run on my own this morning at a time of my choosing. Instead of enjoying our finishes together we all put on our masks and picked up our shirts and metals ahead of time. But everything is different and weird this year. I still completed a 5k and I am proud of that.
While I think I will stay a running dabbler I definitely get it. Completing the 5k gave me a great sense of accomplishment and pride. The runner's high is the real deal.
How to start running. The best advice I found for a new runner.