Lemon ginger chicken rice soup is the perfect cozy dinner for a chilly fall night.
I mean, I am assuming we will eventually be craving some warm comfort food when the weather turns cold. But as I began writing this post, it was nearly 90 degrees outside. The air conditioner is on. It's October!
But once the weather matches the calendar, I will be ready. I am actually really craving some warm, hardy, comforting dinners. During the winter, I make soup, stew, or chili at least once a week.
Ingredients
Oil: I typically use olive oil, which is my favorite when I need to sauté veggies.
Onion, Celery, Carrots: This classic combination of veggies is found in so many soups and stews, such as this wonderful turkey noodle soup.
Garlic: Adds a sharp pungent flavor.
Ginger: Adds a bright, sort of peppery flavor. I always have fresh ginger in the freezer. It lasts a long time and ginger is very easy to shred when frozen.
Thyme & Rosemary: Two of my favorite herbs. They go perfectly with chicken.
Turmeric: Gives the soup a bright yellow color and punchy flavor.
Cayenne: Adds a little spice. Can definitely be omitted if you prefer.
Flour: To thicken the soup a bit.
Chicken Stock: The base of the soup. We always use a low-sodium variety.
Rice: I used a white, long-grain rice. The rice cooks right along with the chicken stock and spices and soaks in the flavor.
Chicken Breast: You could also use a couple of chicken thighs.
Lemon Juice: Adds bright, citrus notes and acidity for depth of flavor.
Half & Half: Just a splash to make the soup a little creamy.
Parsley: Adds fresh flavor and a nice pop of color.
Salt & Pepper: Adds to taste to enhance the flavor.
Instructions
Drizzle some oil in the pan and chop your veggies. Sauté until the veggies are slightly tender. I like the veggies to still have a little crunch when the soup is done.
Next, add the spices and stir in the flour. The flour will thicken the stock as the soup simmers. Add the chicken, rice, and stock and simmer for about 20 minutes until the rice is tender.
Carefully pull the chicken from the soup and shred it into small pieces. I use two forks to shred the chicken. You can also use a meat shredder claw, or some people use a stand mixer.
Add the chicken back to the soup and stir in the lemon juice and half and half. Add salt, pepper, and parsley. Ladle lemon ginger chicken rice soup into bowls and enjoy!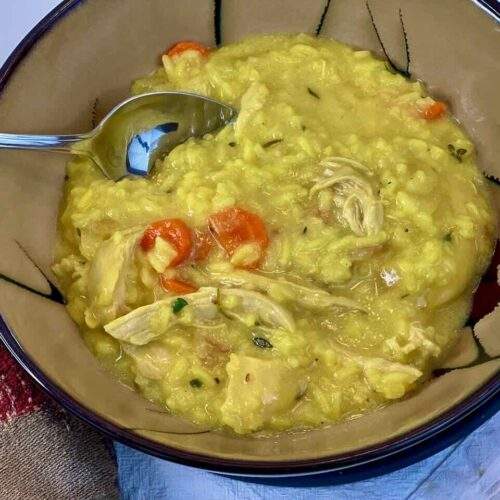 Lemon Ginger Chicken Rice Soup
Ingredients
1

Tbsp

oil

½

cup

onion

diced

1

rib

of celery

diced

2

medium

carrots

diced

1

clove

garlic

grated or minced

2

tsp

ginger

grated or minced

2

tsp

fresh rosemary

chopped

2

tsp

fresh thyme

chopped

¼

ground

turmeric

¼

tsp

cayenne (optional)

1

Tbsp

flour

2½

cups

low sodium chicken stock

½

cup

long grain white rice

1

large

boneless and skinless chicken breast

1

Tbsp

lemon juice

2

Tbsp

half & half

1

Tbsp

parsley (chopped)

Salt and pepper to taste
Instructions
Heat the oil in a large saucepan over medium-high heat, add the onion, celery, and carrots, and sauté until starting to get tender, about 7-10 minutes.

Add the garlic, ginger, rosemary, thyme, turmeric, and cayenne, and cook, mixing, until fragrant, about a minute. Add the flour and stir until the flour is incorporated.

Add the stock, rice, and chicken, bring to a boil, reduce the heat and simmer, covered, until the rice is just tender, about 20 minutes.

Remove the chicken and shred using two forks or chop the chicken into small pieces. Add the chicken back into the soup.

Add the lemon juice, half & half and season with salt and pepper to taste. Stir in chopped parsley and serve.