Sticky sweet & spicy chicken is the latest in my extensive collection of quick, easy stir-fry dinners. We eat Asian-inspired meals at least once a week, and I am always on the lookout for new ways to enjoy one of our favorite foods.
This recipe has some similarities to this delicious baked orange chicken, which is one of my favorites. Both have a sweet, tangy, and slightly spicy sauce. The orange chicken is pan-fried and then baked for an hour. This recipe is much quicker, making it manageable for a busy weeknight.
Ingredients
Chicken Breast: I used one large boneless, chicken breast for the two of us. You could also use two small thighs.
Ripe Bell Pepper & Onion: I like the texture and color that veggies add to stir fry.
Canola Oil: You will want an oil with a high smoke point for stir-fries. Peanut or sesame oils are also good choices.
Garlic: Adds sharp, pungent flavor.
Ginger: I love the bright, fresh flavor that ginger gives to stir-fry recipes.
Crusted Red Pepper Flakes: Add a pinch for a touch of heat or more depending upon your preference and tolerance. I like the pop of red color it adds to the sauce.
Orange Juice: Adds sweetness and acidity to the sauce.
Brown Sugar: Sweetness to balance the acidity.
Ketchup: Gives depth of flavor and a nice color to the sauce.
Apple Cider Vinegar: Adds acidity to the sauce.
Soy Sauce: A necessity for any stir-fry sauce. We use low-sodium soy sauce.
Cornstarch: Cornstarch thickens the sauce to allow it to coat the chicken.
Rice: The classic accompaniment to stir-fry. White, brown, or fried rice would all work.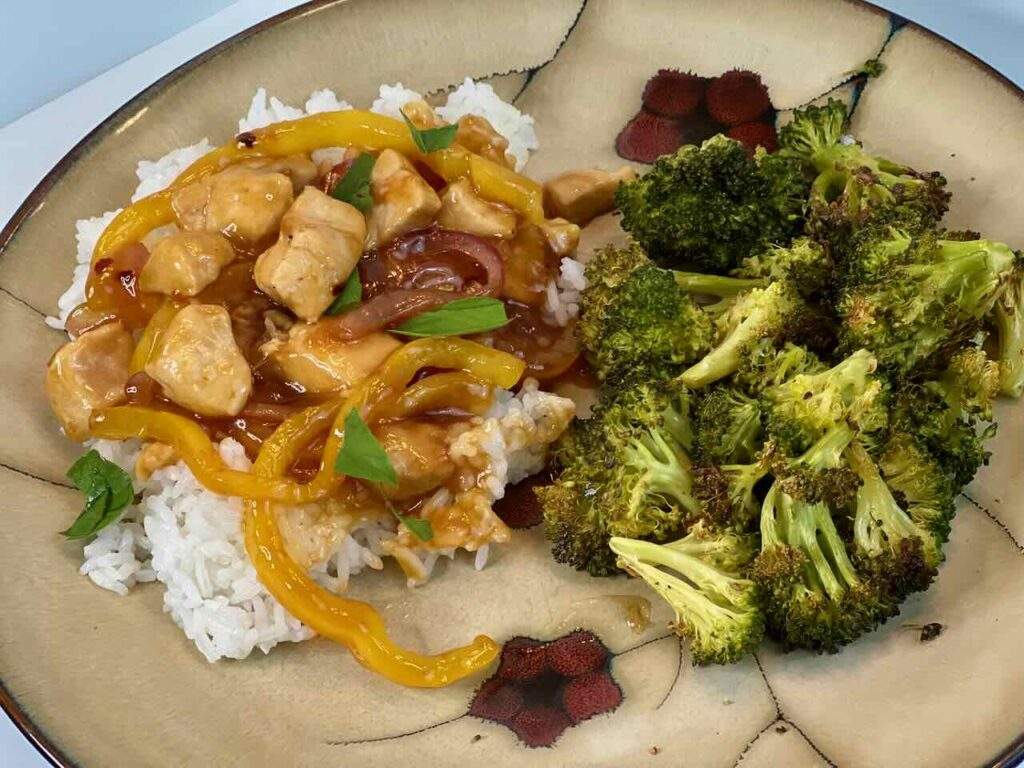 Instructions
First thing, start your rice. I say this every time, but it is really annoying to be halfway through a quick stir-fry and realize you haven't started your rice!
Heat up a large skillet or wok and prep the chicken, peppers, and onions. Once the oil is nice and hot, add your chicken, followed by the veggies.
Combine the sauce ingredients as you keep an eye on your skillet. Once the chicken is cooked through and the veggies are softened, add the sauce. Stir while the sauce thickens and coats the chicken.
Serve sticky sweet & spicy chicken immediately over rice. If I have Thai basil, I like to sprinkle it over the top. I like to serve with a green veggie like roasted broccoli.
Sticky Sweet & Spicy Chicken
Ingredients
1

large

chicken breast

cut into bite-size pieces

½

ripe bell pepper

thinly sliced

½

cup

onion

thinly sliced

1

Tbsp

canola oil

1

garlic

clove

grated

1

tsp

fresh ginger

grated

¾

tsp

crushed red pepper flakes

¼

cup

orange juice

¼

cup

brown sugar

loosely packed

2

Tbsp

ketchup

1

Tbsp

apple cider vinegar

¼

cup

soy sauce

1

Tbsp

cornstarch

2

servings

of rice

for serving
Instructions
Add chicken pieces. Allow the chicken to brown one side before turning. Add the sliced peppers and onions. Cook the chicken until lightly browned.

While the chicken is cooking, combine grated garlic and ginger, red pepper flakes, orange juice, brown sugar, ketchup, apple cider vinegar, soy sauce, and cornstarch. Stir to combine throughly until the cornstarch is resolved in the mixture.

Add the sauce to the skillet with the chicken and bring to a simmer as mixture thicken. Stir to coat the chicken in the sauce.

Serve over rice.