Pickled red onions are a great addition to salads, sandwiches, or bowls.
I discovered pickled red onions while on vacation in San Diego. We went for dinner in one of the fabulous restaurants in the Gaslamp. I ordered a delicious Mexican-style shrimp bowl with avocado, black beans, and these wonderful pickled onions. They added a vibrant pop of color and wonderful flavor. I was pleased to find out how incredibly easy they are to recreate at home.
Apple cider vinegar, the ingredient that gives pickled onions their zing, has had a real moment in the health and wellness industry. Maintenance Phase, one of my favorite podcasts, did a hilarious, and informative, deep dive into the mostly debunked claims.
These onions make a colorful, delicious addition to all sorts of foods. I actually just plucked a few out of the jar and ate them as a snack!
Ingredients
Red Onion: Surprise! The recipe starts with, guess what, a red onion! 😉 One medium-sized onion provides 4-5 servings.
Apple Cider Vinegar: Will it cure all your ails? Probably not. But it adds a tangy, yet slightly sweet, kick to many recipes and gives an excellent flavor to the onions.
Hot Water Dilutes the vinegar a bit and allows the sugar and salt to dissolve.
Sugar: The magic of this simple recipe is the mixture of tangy and sweet. A little sugar takes the edge off the vinegar.
Kosher Salt: Enhances and balances out the flavors.
Instructions
Start by slicing the red onions. The goal is very thin slices, and this is the perfect use for a mandolin if you have one. I don't happen to have one, but a sharp knife is all you need.
Add your sliced onions to a mason jar or other container with a tight seal.
Combine the apple cider vinegar, sugar, salt, and hot water. Stir and allow the sugar and salt to dissolve. Pour over the onions.
Allow enough time for the onions to sit in the refrigerator for at least a few hours before use. Preferably, you want them to sit overnight to really let the flavors meld. They will stay fresh in the refrigerator for a week or so.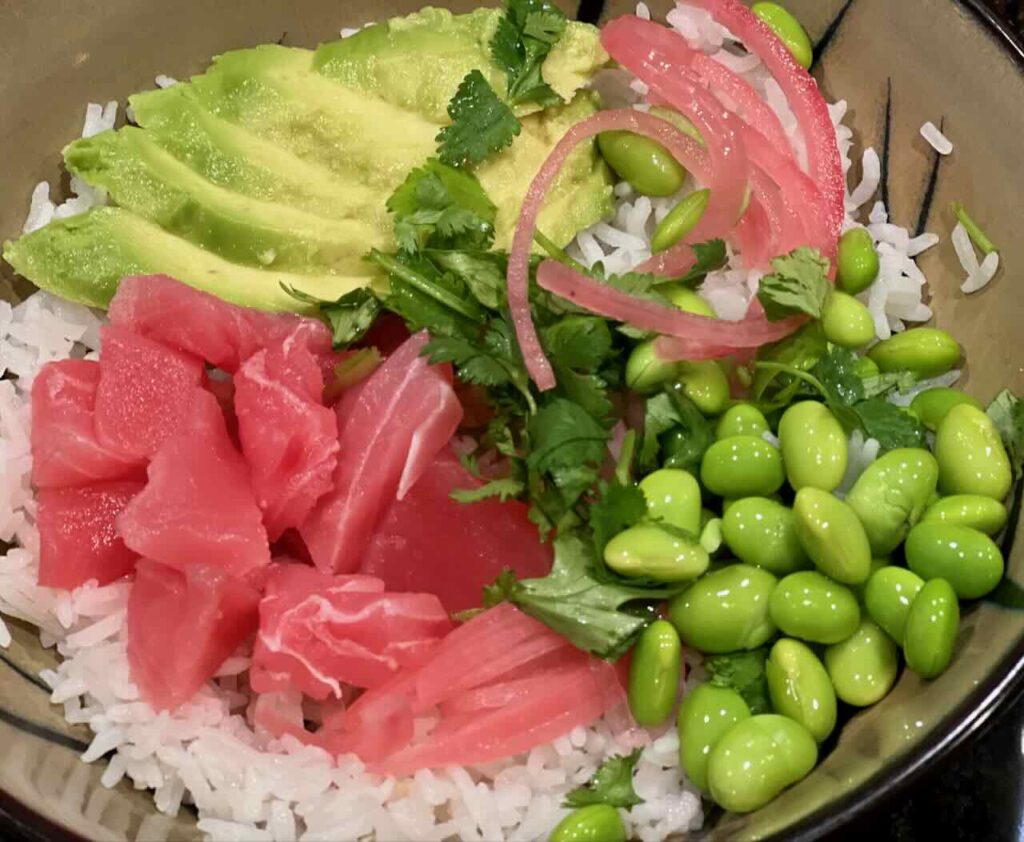 I first enjoyed pickled red onions in a Mexican-inspired bowl. They are also a wonderful addition to poke bowls, and I loved them in my lunch salads.
Pickled Red Onions
Ingredients
1

medium

red onion

very thinly sliced

½

cup

apple cider vinegar

⅓

cup

hot water

1

Tbsp

sugar

½

tsp

Kosher salt
Instructions
Slice the onion in half and remove outer skin. Use a sharp knife to slice the onion into uniform, thin slices. You want the slices to be about ⅛-inch thick.

In a medium jar or bowl with a tight fitting lid, combine the vinegar, water, sugar, and salt. Stir until sugar and salt dissolve.

Add the red onion slices and stir, making sure the onion is covered.

Refrigerate for a few hours, or preferably, at least overnight to let the flavor meld.