Tender baby potatoes in a creamy sauce are an easy, delicious side for any meal.
I love potatoes of all shapes, sizes, and varieties. Russet potatoes are a staple in my kitchen. They are wonderful simply baked, in a hardy chowder, for breakfast, or as the base of a classic summer salad.
Baby potatoes are made for a quick, easy meal. They are very thin-skinned, which means no need for peeling, although I rarely peel full-sized potatoes! These little guys also cook very quickly, making them perfect for a weeknight.
Ingredients
Baby Potatoes: Exactly as the name implies, baby potatoes are simply harvested when young and small. You can find them conveniently pre-packaged or loose in bags or bins in the produce section of the grocery store. If selecting the potatoes individually, try to find similar-sized potatoes. They are available in multiple varieties, and they are all delicious.
Olive Oil: Great for sauteing vegetables.
Butter: Just a bit of butter adds great flavor and richness.
Onion: Onions and potatoes go so well together. Red, white, or yellow onions are all great choices.
Bell Pepper: Adds nice flavor and texture.
Garlic: Fresh garlic is another perfect compliment to potatoes.
Flour: Thickens the sauce.
Half & Half: Gives the dish its creamy texture.
Parmesan Cheese: A little parmesan cheese makes a good recipe even better. It adds a wonderful salty bite that is perfect with potatoes.
Salt & Pepper: I am not a big salt person, but potatoes always need a healthy shake of salt.
Parsley: A little fresh parsley adds a nice pot of color.
Instructions
You will start with the potatoes. I made the recipe by steaming the potatoes and alternatively using the microwave until they are tender. Both methods produced excellent results.
While your potatoes are doing their thing, heat up a skillet with oil and butter. Add onions, peppers, and, once the veggies are tender, your garlic.
Stir in flour, then add half & half and grate in the fresh parm. Stir and allow the sauce to thicken.
Add the tender baby potatoes, salt, and pepper. Heat through and sprinkle with parsley.
Creamy baby potatoes are wonderful with a variety of main dishes. I recently served them with grilled, marinated chicken and roasted Brussel sprouts.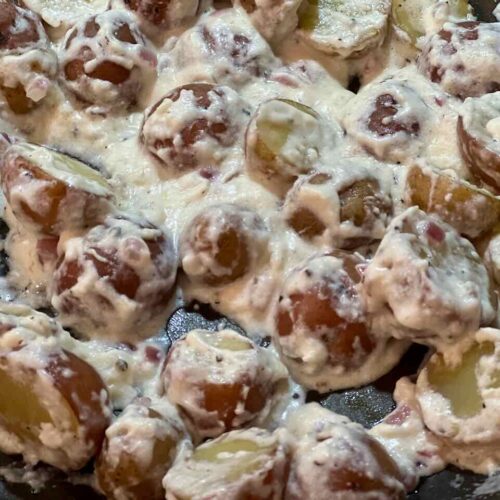 Creamy Baby Potatoes
Ingredients
2

cups

baby potatoes

sliced in half

2

tsp

olive oil

1

tsp

butter

¼

cup

onion

finely chopped

¼

cup

ripe bell pepper

finely chopped

1

clove

garlic

minced

1

tsp

flour

½

cup

half & half

¼

cup

freshly grated parmesan cheese

salt & freshly ground black pepper

to taste

1

Tbsp

fresh parsley

finely chopped
Instructions
Start by prepping the baby potatoes. A quick, easy way to cook the potatoes is to microwave for about 4 minutes until tender when pierced with a fork. If you prefer, you could boil the potatoes in the saucepan on the stovetop. Add about an inch of water to the pan and boil the potatoes until fork tender.

In a large skillet over medium to low heat, add olive oil and swirl in the butter. Add onion and peppers and sauté for 5 minutes. Add garlic and sauté for 1 minute.

Sprinkle flour over onions and peppers and stir until combined. Add half & half and parmesan and stir while the mixture thickens. Season with salt and pepper to taste.

Add boiled baby potatoes to the skillet, stir until combined with the sauce and heated through. Garnish with chopped parsley.