Blueberry muffins are a great addition to breakfast, a quick snack, or post-dinner treat. Sweet and tangy blueberries in a soft, tender muffin taste great anytime.
I am really new to eating blueberries; actually just in the last year. They have always been one of Husband's favorite fruits, but I was content to stay away. While I loved raspberries, blackberries and strawberries somehow blueberries just seem overly tart and not very flavorful.
While I have always known blueberries are super healthy I just couldn't embrace the flavor.
But Husband persisted and kept giving me the best, sweetest, plumpest blueberries he could find. What can I say? I was finally converted. Now I like them so much that these blueberry muffins became a worthy part of our brunch last Christmas morning.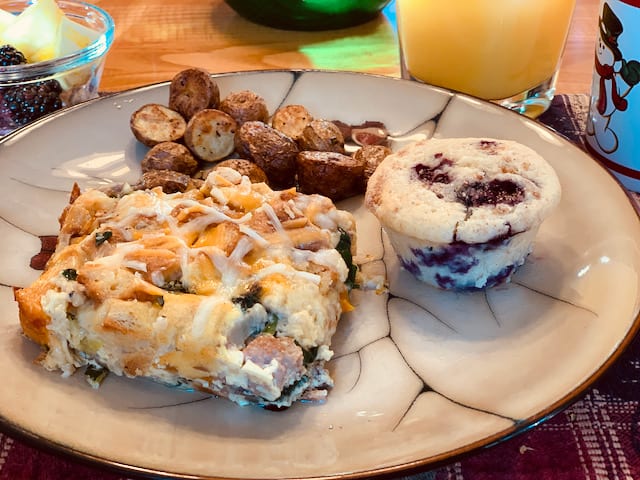 Ingredients:
Blueberries: Fresh or frozen berries are fine. If you use frozen do not thaw the berries to prevent the berries from spreading and discoloring the batter.
Butter, sugar, eggs, vanilla: All the good stuff to make the muffins sweet and tender. Butter should be softened and eggs at room temperature.
Milk: Adds moisture to the batter.
Cinnamon sugar: Sprinkled over the top for a little crunch and makes the muffins extra pretty.
Instructions:
Combine the dry ingredients and set aside.
In a large bowl whip the softened butter and sugar. Beat in eggs and add vanilla.
Add half the flour followed by half the mix and stir to combine. Repeat with the remaining flour mixture and milk. This method results in a soft, tender muffin.
Finally, fold in the blueberries; taking care, so they stay as intact as possible. Broken-up blueberries result in blue/green colored muffins. They will still taste fantastic, just not be quite as pretty.
Fill muffins tins or silicone cups nearly full then sprinkle with cinnamon sugar mixture.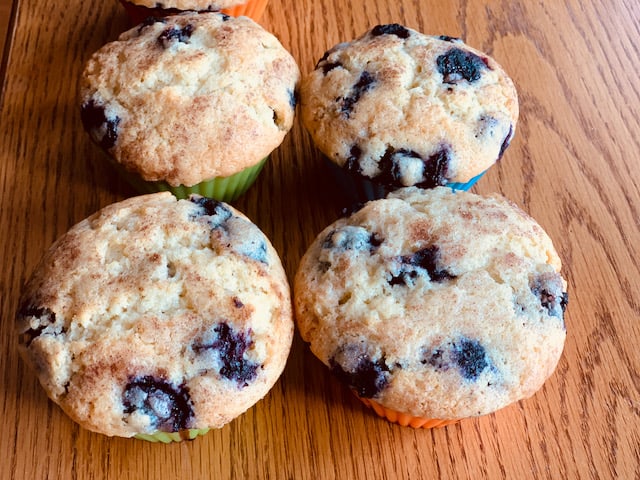 Bake for 30 minutes until muffins are beautifully risen, golden and springy to the touch.
Allow the muffins to cool slightly. I would definitely recommend eating your first blueberry muffin warm out of the oven. 🙂
They freeze very well. Microwave for one minute to thaw.
Enjoy!
Blueberry Muffins
Ingredients
Wet ingredients
½

cup

butter at room temp

1

cup

granulated sugar

2

large

eggs

1

tsp

vanilla
Dry ingredients
2

tsp

baking powder

¼

tsp

salt

2

cups

all-purpose flour

½

cup

milk

2½

cups

fresh or frozen blueberries
Topping
1

Tbsp

granulated sugar

½

tsp

cinnamon
Instructions
Spray 14 regular-size muffin cups or arrange 14 silicon muffin cups on the baking sheet.

Combine baking powder, salt and flour in a medium bow. Stir to combine.

Combine topping mixture of sugar and cinnamon; set aside.

In bowl, mix butter until creamy. Add sugar and beat until fluffy.

With spoon, fold in half of flour mixture, then half of milk into batter; repeat with remaining dry ingredients and milk.

Fold in blueberries. If using frozen blueberries do not thaw the berries. This will help them remain intact in the muffin batter.

Spoon into muffin cups, filling the cups nearly full. Sprinkle sugar and cinnamon mixture onto each muffin.

Bake about 30 minutes, until golden brown and springy to touch.