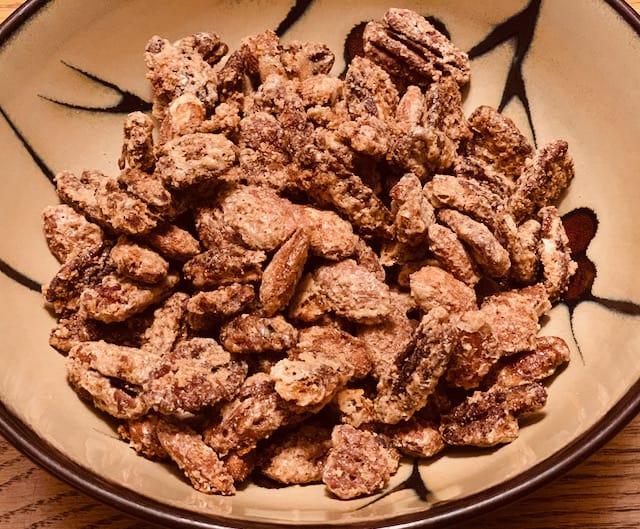 Spiced nuts-the sweet, crunchy treat that makes you want to go back for one more handful. The maple syrup and sugar provide the crunch and sweet along with great flavor from the cinnamon and nutmeg. Finally, a touch of cayenne pepper for just a hint of heat. So deliciously addictive.
I always seem to have pecans around Christmas. They are delicious in pie, bars and muffins. These spiced nuts are a great way to use up the leftovers while they are still fresh.
Almonds are always on hand in my pantry. They are one of my favorite snacks. We always need snacks right? 🙂
Ingredients:
Pecans & Almonds: I start with unsalted for both nut varieties. You could use just pecans or just almonds if that is your preference.
Egg white: Whisked until frothy to provide the base for all the flavors. I always try to save the yolk to use in an upcoming breakfast frittata or casserole. An egg yolk will last in the refrigerator for two days
Maple Syrup: I love maple syrup with pecans; such a wonderful combination.
Cinnamon and nutmeg: Both give great warmth and aroma. Cinnamon makes everything better and has health benefits!
Cayenne pepper: Optional, but I really recommend it. Not near enough in the recipe to make the nuts spicy; but it just adds a little something.
Instructions:
This recipe couldn't be easier. After preheating the oven line your baking sheet with parchment paper. I wouldn't recommend skipping the parchment paper. The sugar and spice mixture is extremely sticky and parchment will make the process much easier.
Using a whisk froth the eggs and maple syrup. Add the nuts and mix until nuts are thoroughly coated. Then add dry spices and mix again until nuts are coated.
Spread evenly on baking sheet and bake for about 30 minutes. The egg/spice mixture will puff up during the baking process due to the egg white. Stir a couple of times during the baking process.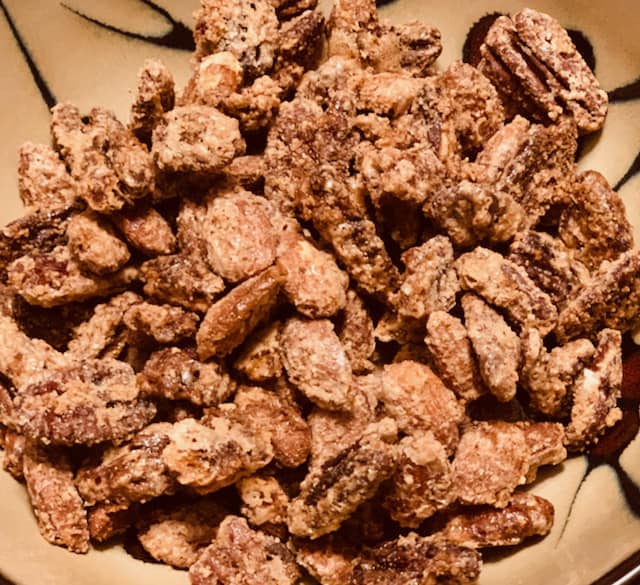 Allow to cool and store in an airtight container. While I am always tempted to eat them warm they actually taste better when allowed to completely cool. I also think the taste improves the next day; making them perfect for a make-ahead snack.
Enjoy this easy, delicious treat!
Spiced Nuts
Ingredients
1

egg

white

2

Tbsp

maple syrup

2

cups

whole pecans

1

cup

whole natural almonds

½

cup

granulated sugar

½

tsp

salt

1½

tsp

ground cinnamon

½

tsp

nutmeg

¼

tsp

cayenne pepper

optional
Instructions
Line a large rimmed baking sheet with parchment paper.

Add egg white and maple syrup to large bowl and whisk until frothy.

In a small bowl combine sugar, salt, cinnamon, nutmeg, and cayenne pepper.

Add the pecans and almonds into the bowl of the egg white and maple syrup. Toss the nuts and coat them well.

Add the spice mixture to nut mixture and stir until spices equally cover the nut mixture.

Pour the entire bowl onto the lined baking sheet and spread in an even layer.

Bake for 30 minutes, occasionally turning the nuts so they don't burn.

Store in an airtight container.