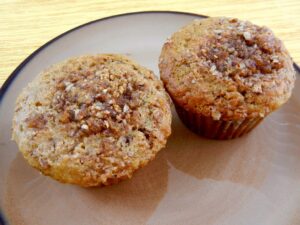 I made these muffins for breakfast last Saturday; which seems like forever ago. It's been a week.
They tasted delicious and we were really hungry while they baked; all that cinnamon with the pecans, vanilla and brown sugar made for a wonderful smelling kitchen. I loved the crunchy, streusel-like topping and it was extra good having a second layer of pecan goodness in the middle of the muffin.
Supposedly these freeze really well; but I can't speak to that. They didn't last long enough to freeze.  I can say they make great snacks and breakfast the next morning.
Buttermilk Pecan Muffins
Equipment
Muffin tin or silicone muffin cups
Ingredients
1/4

cup

butter, softened

1

egg

1½

cups

buttermilk

½

cup

sugar

½

tsp

vanilla

1

tsp

cinnamon

2

cups

flour

¾

tsp

baking power

¾

tsp

baking soda

½

tsp

salt

¼

cup

brown sugar

½

tsp

cinnamon

½

cup

finely chopped pecans
Instructions
Heat oven to 350 degrees.

Grease well a 12-cup muffin tin or line with paper cupcake liners.

In a bowl beat butter and sugar until smooth; add in buttermilk, egg and vanilla and mix well.

In another bowl combine flour, 1 teaspoon cinnamon, baking powder, baking soda and salt. Slowly beat the flour mixture into the bowl, mixing thoroughly.

In a small bowl, mix 1/2 teaspoon cinnamon with the brown sugar and pecans.

Fill muffin cups half way up with batter. Spoon in some brown sugar-pecan mixture, and repeat with a little more batter to fill the muffin cup up three-quarters. Sprinkle the top with the brown sugar-pecan mixture.

Bake 25 minutes. Makes 12 large muffins. They can be frozen after baking and completely cooled.